If you were happily married but gradually your family became hostage to the growing paranoid schizophrenia of your husband, would you stay married? And would you write about it?
Pauline Hansen chose to do both, telling her story in her memoir, A PATCHWORK REALITY: HAPPILY MARRIED TO A SCHIZOPHRENIC.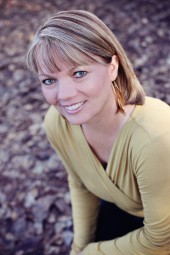 ME:  You say you grew up in a small town, one to which you've now returned, but exactly how tiny is it? Please give us a clear picture of what your childhood and youth was like there (plus a picture or two of you growing up). And is it any different for your own kids, or are they all grown up?
PAULINE:  The town I grew up in and have now returned to is indeed tiny. It has remained, throughout the years, at about 150 people. We like to joke that there are probably more dogs than people : )
Life growing up in my hometown was typical of country life. We weren't farmers or ranchers, so we didn't have cattle or fields of hay, but other than that, we did many of the other things well known to country life: in the warm months, we grew a massive garden, played in the ditch as children, ran everywhere barefoot, climbed the surrounding rocks and mountains, went on picnics and went camping, then in the winter, we'd build snowmen, go sledding and snowmobiling, and hunt for a fresh Christmas tree every year.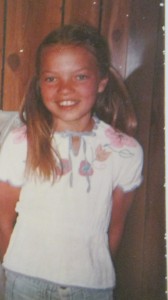 (Pauline at 10)
My own children, two of which were still school-aged when we moved here, do some of the same things – mostly the climbing and hiking and such, but they were 13 and 15 years old, so they didn't have near the country life experience that I did while growing up.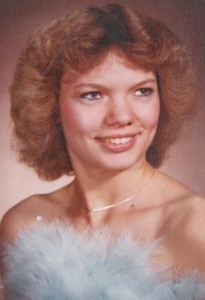 (Pauline as a senior)
ME:  How old were you when you first dreamed to one day become an author, and which book exactly prompted that dream?
PAULINE:  I remember when I'd read as a youth, sometimes a book a day, I would be in awe of anyone that could actually write a book. It was something of a miracle to me back then. I remember wishing that maybe someday, I could write a book, but that's all it was – a fanciful wish.
(So, it sounds as if it was no particular book, just books in general.)
ME:  What kind of book did you imagine yourself writing when you grew up and how did that differ from what you ended up producing?
PAULINE:  As a youth, when I dreamed of writing a book someday, I always wanted to write a romance, and I planned to include every spine-tingling, heart-racing, breath-taking romantic thing I could think of. I have, in fact, written a romance, but as it stands, it needs a lot of work, so when the thought occurred to me that I should write my memoir and publish it, I figured that was the best idea to go with first. I'm still revising the romance, though!
(Great! Then we know what to expect next.)
ME:  Since your book, PATCHWORK REALITY: HAPPILY MARRIED TO A SCHIZOPHRENIC, details your husband's descent into paranoid schizophrenia in his mid-thirties and its effect on you and the children, please tell us how you met and what your relationship with him was like before those nine years of extreme psychological stress. (I'd love to post a picture of you and the family from those earlier years.)
PAULINE:  Curtis and I met at a dance at Dixie College. My roommate was the girlfriend of Curtis's best friend, so that helped to bring us together, but once we did meet, there was no turning back. Although I had had numerous boyfriends in the past, I knew my relationship with Curtis was special and lasting, almost from the start. It didn't take us long to want to date exclusively, then we were engaged after only 4 months, and married 3 months after that.
The book describes what the first fourteen years of our marriage were like, and in a nutshell, we had it all–laughter, babies, vacations, and ball games. Life was good, with your typical ups and downs, arguments over disciplining the kids and the finances, lots of expenses that come with raising five children, and lots of love and good times.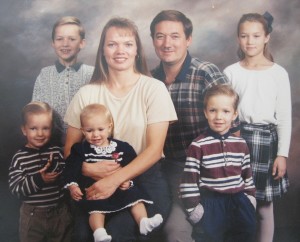 (Pauline, Curtis, and the kids in the good times)
ME:  How did you come to the decision to write your story?
PAULINE:  One day in February of 2012, I felt the greatest urge to write something. It was a desire I couldn't shake, but everything I attempted to write just didn't feel quite right. Then one morning as I lay in bed contemplating, it occurred to me that I had a story to tell, one that would be different than anything anyone had ever read. And maybe, just maybe, someone would gain some insight when they read it, or realize there's hope amidst difficult trials, or as my husband so eloquently put it, realize that marriage is worth fighting for.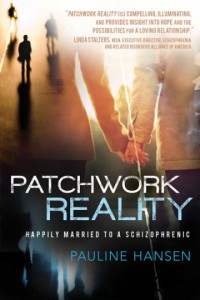 ME:  How did your husband and children feel about the book?
PAULINE:  I admit at first I worried that my husband wouldn't want me to write our story, since it would be so personal and put him in an awkward light. But all he kept repeating whenever I would ask him if he was SURE he was okay with me writing it was, "Of course I'm sure. After what I put you through, I have to let you do what you feel you need to."
He must have known it would be rather therapeutic for me to write, plus I think he feels, too, that shedding some light on such a mysterious illness would be a good thing in the long run.
As far as the children go, they've been immensely supportive throughout the process of having me write and publish our experience. They knew very little of what went on, and yet even when they read the nitty gritty parts, not one of them has judged me or their dad for it.
ME:  What prompted your move back to your tiny hometown, and did it have anything to do with your husband's condition?
PAULINE:  My husband's condition had everything to do with moving back to my tiny hometown. He was jobless and did not play to look for a job anytime soon, which was very rare for him. He had always been a very hard worker and very dedicated to his job. We were at our rope's end and needed a place to go, so we moved in with my parents temporarily until we could decide what our next move was.
We loved it here so much we decided to stay, and it's a good thing, because the lower stress, slower pace of life, no traffic, and very few people have been a huge factor in my husband's recovery.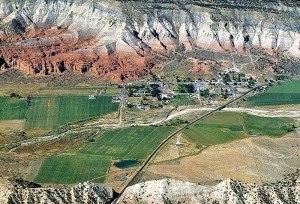 (An aerial view of their isolated town in Utah)
ME:  Tell us about the writing process you followed in creating this book, including beta readers and/or critique groups. And did you seek out any experts in schizophrenia?
PAULINE:  I had already been attending writer's conferences before I even knew of my husband's condition (and decided to write about it), and once I knew I wanted to write our story, I went to even more conferences with the intention of finding other authors that I could connect with and ask advice of. I only used one beta reader, and her advice was invaluable. (That's a big YES for beta readers!)
I joined ANWA, American Night Writers Association, where I could post any question I had about the writing or publishing process on their Yahoo group sites. They've been a huge help and I've made some wonderful friends! (That's a big YES for ANWA too!)
As far as seeking experts on schizophrenia, my intention was never to write a book as a resource for those seeking help about mental illness. The Internet is a wealth of knowledge for that, and I would just muddy the waters if I attempted to give any advice.
ME:  What are you working on now, or what do you plan to write next, and why?
PAULINE:  I am once again attempting to work on the first novel I wrote, a romance based in my own little hometown. We'll see if it ends up publish-worthy. :D I also have a rough outline and quite a few pages of ideas for a dramatic romance I would love to write some time, plus I have a children's book series in mind that begs to be written, but that concept is definitely in its infancy.
I don't always feel an extreme urge to write, but when that urge hits, I obey. I love to read, and I love the written word, and the stories in my head will, at the right time, break free and land on the page.
ME:  Finally, please describe your writing space—the room or place you used most in writing PATCHWORK REALITY—and tell us what makes it your own. (And I must have a picture.)
PAULINE:  Our home is small, but still, I claim a lot of our overcrowded space as my own when I'm in the middle of a project. When I wrote PATCHWORK REALITY, we only had one computer that the whole family shared, but if I needed it everyone else knew they had to let me use it. It is centrally located, in the living room, so although I was often engrossed in my work, I was still out amongst the family if they needed me.
At the time, my husband rarely got on the computer. He was just learning how to use one back then. Now, though, he's on the family computer a lot more, so it was a huge blessing when my children gave me a laptop for Christmas last year.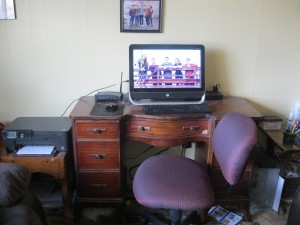 (Pauline's work space)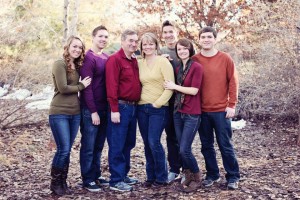 (And here's Pauline, Curtis, and their kids today)
Pauline's memoir is available from Amazon, Barnes & Noble, and at Books & Things. If you want to learn more about the author and her work, check out her website.
On tap for next Wednesday is Rebecca Talley, a former president of LDStorymakers and author of two LDS novels and a children's picture book.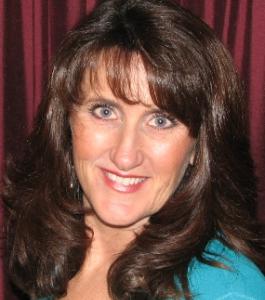 Originally posted 2014-03-12 06:00:46.