Okay, I missed a week, but hey – this time it was ONLY a week.
For this part, I promised to reveal what I've learned about narrating, recording and producing through my own experience–both the good and the bad.
I've now recorded and produced three audiobooks that are available for retail–THE RECKONING (my own), INTERLUDE AT COTTONWOOD SPRINGS by Liz Adair, and WHERE IS RALPH? by Valerie Hocker. I've also finished recording two more–Donna Hatch's THE STRANGER SHE MARRIED and Liz Adair's next Spider Latham Mystery, TROUBLE AT THE RED PUEBLO. I'm waiting for final approval from the authors before I send those to retail.
FIRST, THE BAD:
I jumped into my first production (my own novel), thinking I would learn from my own mistakes so as not to mess up other authors' books when I recorded theirs. But I was in such a hurry to get going with Liz's book that, after having my own finally approved by Audible, I figured I was good to go. Notice the word "finally"? You see, on my first try in submitting my narration to ACX, I got an email back noting that there were extraneous noises, not to mention mouth noises, that I would need to clean up.
I was in a quandary. I'd already contracted with Liz to have her book completed by a certain date and I didn't want to let her down. But what was I to do about cleaning up my recording?
First Mistake
Too proud to contact my teacher, I rushed and grabbed onto some editing solutions (a de-clicker program, etc.) provided by a classmate who had a lot more experience with recording and editing. His solutions cleaned up my sound alright, but I wasn't happy with what it did to my voice. Still, I didn't think I had any other option, and besides, this time ACX accepted my submission.
Have a listen to the finished retail sample (a 5-minute or less segment from the beginning of the book) for my own novel:
THE RECKONING
Second Mistake
I should have waited for some reviews. There are a whole lot of audiobook fans out there on Audible, Goodreads, etc. and those who have been fans the longest tend to be merciless in their expectations for clear and clean sound. They're used to listening to books that have been produced in big studios by professional sound engineers and editors. So, when they hear something that isn't up to snuff, they'll let you know.
And as a beginner, you can't shy away from the truth. You want to know what you're doing wrong, as well as what you're doing right.
But did I wait for their response? No. I hurried on to get Liz's book recorded to meet that deadline (which, by the way, I found out later need not be a hard and fast deadline…you can easily re-negotiate a deadline with the author, if need be, outside the purview of ACX, as long as the author is willing).
By the time, I began to read reviews for both our books, they were already available on Amazon, Audible, and iTunes…and once they're there, you can't pull them off the shelf and fix them. They're there in all their glorious imperfection for 7 years! (After 7 years, the authors get the rights back and can fix them all they want.)
More than one reviewer pointed out that words were getting clipped off here and there and the volume was dropping off from time to time at the end of words or phrases. To be honest, Liz and I had both noticed this problem and thought we'd caught it and fixed it for the most part, but you can even hear it in the (GROAN) retail sample:
INTERLUDE AT COTTONWOOD SPRINGS
Third and Fourth Mistakes
By this time, I knew I had a real recording problem on my hands and was ready to swallow my pride and contact my teacher, David H. Lawrence XVII. Unfortunately, I had already recorded all of Donna's Regency Romance, using the same editing techniques to get rid of extraneous noises. Still, I hadn't yet submitted it to ACX for approval.
However, because I didn't follow my Master Class teacher's instructions to the letter, and keep original, unedited WAV files for each chapter and section, it was looking like I'd have to re-record everything. And I did, but not before I had a Skype session with my teacher, in which we figured out that I hadn't had my microphone situated correctly in the first place!
He showed me how to place it so as to cut down on extraneous noise and focus on my voice, and also how to make my narration process easier by allowing me to look at both the script and the Audacity recording program at the same time.
Here's my setup with the mic now (and you know I've tossed my pride out the window to share such unflattering pictures):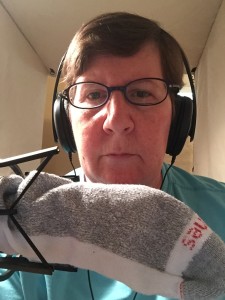 Not only do I have my mic in a horizontal position so that I can speak across the top of its side, but you'll notice the cheap athletic sock pulled over it to take care of pops, etc.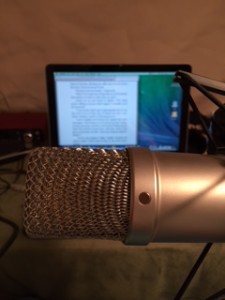 I took the sock off so that you'll see the front of the microphone, indicated by the small gold dot, should be at a 45 degree angle from your mouth and your mouth should be about the width of three fingers away from the mic (you do the Boy Scout salute with the side of your index finger against your mouth to measure), as you'll see in the next picture.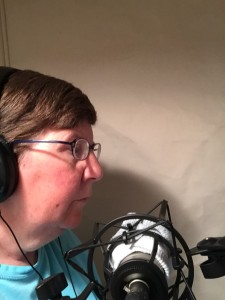 (I really can't stand this picture for obvious reasons, but it gives you a clearer idea of where my mouth is in relation to the mic.)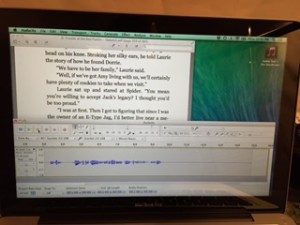 And here's what I mean about being able to see the script and the Audacity recording program at the same time. Even though the script is partially covered behind, I can scroll up as I read further in the text.
Once I had everything set up properly, a lot of the background noises, etc. went away and I didn't have to deal with any editing software (which was great because it was so time-consuming…now I can edit faster).
I tested it out on my next book, WHERE'S RALPH?, and sure enough it passed muster with ACX. No complaints about extraneous noise AND I had my real voice back. Here's the retail sample:
WHERE'S RALPH?
NOW, THE GOOD:
I learned I could trust my voice and natural reading ability. Sure, I still need to keep hydrated as I record, and I need to stop for lunch when my stomach starts growling; also, every time the air conditioning comes on (and I'm sure it will be the same way with the heater in colder months) I take a quick 1-2 minute break from recording because, yes, the mic picks that noise up too. I also have to record around the grounds crew in our neighborhood every Tuesday.
Take a listen to my two latest retail samples from THE STRANGER SHE MARRIED and TROUBLE AT THE RED PUEBLO:
THE STRANGER SHE MARRIED
TROUBLE AT THE RED PUEBLO
I've found I can finish a 350-page manuscript in 10-12 days of recording. That means about 2 books a month. Granted, some will take more time because of accents, foreign words, lots of different characters, etc. but still, that's being rather productive. I'm averaging 3-4 hours of work for every finished hour produced. If I'm not doing a pure royalty share or a hybrid share, then I charge $200-400 per finished hour, so if I produce 2 books a month, at the low end that will be around $4,000 a month (if the books are just 10 hours long…more if they're longer).
I think this may conclude my series, unless you want a Part 5, focusing on working with authors and auditioning. Let me know in the comments below. Otherwise, I'll consider this a wrap.