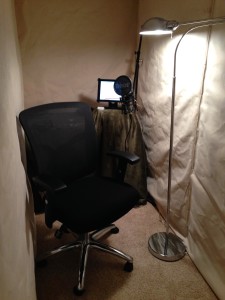 (A peek into my home recording studio)
A little over two years ago, I thought about venturing into a new market with my books–the world of audiobook listeners. I dove straight in on the Internet and soon discovered this site called ACX, which stands for Audiobook Creation Exchange. At the time, I didn't fully understand the site but learned this much:
If I wanted to, I could narrate and produce an audiobook version of both of my books and make it available on Amazon and Audible. (I don't recall if iTunes was part of the deal then, but I do know that this was before Amazon bought Audible.)
The idea REALLY appealed to me. Why? Because, for as long as I can remember, I've loved reading aloud to other people. I think I got it from my mom, who, at 89, still tries to read things aloud to us. And besides, the others in my writing groups were always telling me I should look into doing it professionally because I read so well and with such characterization, etc.
So, I got a few recording items that Christmas–a really nice microphone, boom stand, shock mount, pop filter, nice headphones, and an external hard drive. I got those particular items because they were on sale and they were all recommended by the video guy on ACX as being necessary to any home studio. And I never even took them out of their boxes. They stayed stowed away in my closet, along with my ambition, to hibernate for another year and a half.
Then on January 1, 2014, we moved to Southern Utah. The boxes came with us. And I still didn't open them. This time I had a better excuse. The recording space I needed to set up in was currently being occupied by our daughter, who had moved with us. I bided my time, planning some day to pursue the audiobook thing.
One day in May, as I and a good friend and fellow writer were driving back home from the LDStorymakers Conference, we got to talking about goals. I mentioned my intention to eventually try recording my own audiobooks and, like she often does, she basically grabbed the ball and began to run with it.
MY FRIEND:  "What would you need to get going on it?"
ME:  "Well, I need the right recording space, but right now the room's being occupied by my daughter."
MY FRIEND:  "Do you have to be in a separate room? Can't we make kind of a portable, soundproof recording booth?"
ME:  "Well, maybe…"
MY FRIEND:  "How big would it need to be? What should it be made out of?"
ME:  "I don't know. I'm not an expert at this, but I do know that cloth or clothing muffles sound well. That's why so many people set themselves up in their walk-in closets."
MY FRIEND:  "Well, there you go. Use your walk-in closet."
ME:  "Can't. It's got marble flooring, no carpeting like back in Washington."
I thought that would do it, but my friend is as persistent as the mule that once took her down (and that's a whole other story you ought to hear some time), and she was soon back on the idea of building me some kind of portable booth that I could set up in any quiet corner of our home.
She had a bunch of canvas material left over from another project she and her husband had taken on, and she knew where she could buy big styrofoam panels. So she proposed a deal:
She'd build me a portable sound booth in the next 3-4 months in exchange for my narrating her re-write of one of her novels for free (after I first recorded my own novel, THE RECKONING). The rest of the ride south was taken up with setting some very specific goals, almost none of which we really accomplished.
But she was true to her word and she built me that sound booth. Unfortunately, by the time she delivered it, I'd had my fall and broken my left foot and was laid up, unable to venture very far from the living room sofa, much less go downstairs and attempt any recording.
So the seven canvas covered styrofoam panels, ingeniously designed to fit together with velcro straps to form a 4 x 6 foot cubicle sat in a storage closet along with my recording equipment, waiting for me to heal.
Fortunately, in the meantime, my daughter got engaged to a wonderful young man and we began planning a December wedding. My foot was strong enough to dance at that wedding and a few days after they left on their honeymoon, my husband helped me set up that portable booth in her now-empty bedroom.
That Christmas I also got the rest of the equipment I thought I needed (more on that in Part 2) and I finally began to assemble my home studio a month ago. I was in a hurry now because my friend had talked me into doing a presentation on our little audiobook adventure at the next ANWA Conference February 20th and 21st in Mesa, AZ.
Stay tuned for a rundown of all my mistakes next Monday.