Amy Orton at Walnut Springs has bent over backward and I'm now pleased to announce my cover for "A Night on Moon Hill":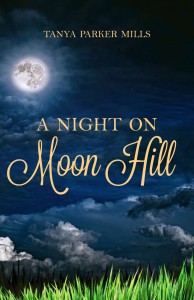 What do you think?
I'm happy and excited, and to celebrate I'm going to announce a special contest beginning on "Moleskine Monday" in which many of the prizes are…you guessed it…Moleskine products! (Any of my writer friends who would like to donate copies of their own books for the contest are also more than welcome!)
I was supposed to blog about networking this past Monday, but I just didn't get around to it because I was so stressed about the cover. So this next Monday, I'm launching this contest to test the powers of social networking in spreading the word about my book.
Check back Monday for more details about the book and all the prizes.
Originally posted 2012-08-16 17:20:12.