It's hard enough to write a book. Imagine having to illustrate it, too! I think the last time I tried illustrating my own story book was in kindergarten or first grade . . . and the result was not pretty. A little Picasso-esque . . . but not pretty.
Not anything like the efforts of Mikey Brooks, who has a brand new book out, THE DREAM KEEPER. He has authored and illustrated several books now. Indeed, his art has been seen in many forms from picture books to murals for community art productions. He creates full-room murals and loves to doodle on almost anything. He also works full-time as a cake artist and decorator at a bakery.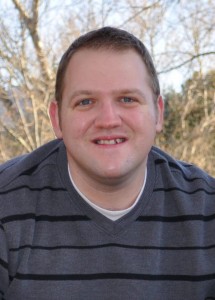 ME:  Did you ever draw on the walls as a child growing up, and, if so, what did you draw? How did your mom punish you, or could she tell you had talent even at that young age?
MIKEY:  I didn't draw on the walls but I did have a pretty naughty imaginary friend who did. He was constantly getting me into trouble. Cleaning the walls was my mom's form of punishment. I don't know why my imaginary friend always disappeared whenever there was work to be done…hmm…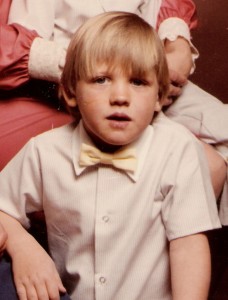 (Mikey at age 5 . . . see that imaginary friend he's leaning his arm on?)
(Oh, those imaginary friends and the things they made us do…)
ME:  Tell us about the first picture book you ever attempted, and how old were you at the time? (Also, I'd love a picture of you at that age.) What was the story about?
MIKEY:  When I was eight my grandpa told me a wild tale about how half his family saw an alien space ship one night at a big family gathering. (Maybe they'd had a little too much you know…) (Those must have been some gatherings!)
He described the ship to me and I drew it for him. That was the first time I'd ever been told I had some talent with drawing. My grandma, however, thought the picture was rubbish and then decided to teach me how to draw real stuff. My grandma was my first art teacher.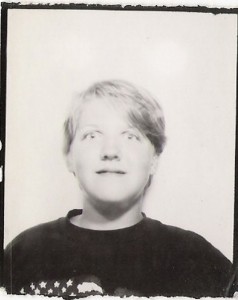 (Mikey at 8 . . . he looks like he's seen a space ship, doesn't he?)
ME:  If you had to choose one over the other, what would it be–writing or illustrating? And why?
MIKEY:  I think I'd choose writing. Although I love doing both, I made that decision a long time ago when I decided to get my degree in writing and not illustrating. I believe it's because writing is a form of art that can only be pictured in the minds of others. It's an ever changing form of art because one person will see a story differently than another. It's so dynamic. (Good answer! Of course, everyone perceives art a bit differently too, but still, I like the thought behind your response.)
ME:  You say you're always doodling on things. What is the strangest object or medium you've ever doodled on?
MIKEY:  I've doodled on anything from sidewalks to cakes. Once I did a doodle on some toilet paper—yes, you can even get inspired while in the bathroom. (That's true, which is why they sell illustrated toilet paper nowadays. Someone else took your idea and ran with it.) 
When I was in grade school I used to doodle all over my sneakers which in the end turned out pretty cool. They were a mixture of black, blue, and red ink of all sorts of things. I wish I still had those shoes.
(And I wish I had a picture of them.)
ME:  Who was most instrumental in your youth in terms of helping you see yourself as an illustrator and writer?
MIKEY:  My grandma was the biggest instrumental force. She had worked for a short time as an artist for the Walt Disney Company before she had my mom. (Cool! My son would be so jealous.) She taught me how to draw and paint in oils and water color. Unfortunately, she now has a nervous disorder which doesn't enable her to paint. As for writing, I was moved by stories by L. Frank Baum and C.S. Lewis. They became the foundation for my love of reading, which helped me become a good writer.
(All good influences!)
ME:  Since you work full-time as a cake artist and decorator, I was wondering what your most challenging cake decorating job has been so far. Also, have any of your jobs given you ideas for picture books or novels? (And we must have a picture of a couple of your decorated cakes. While you're at it, I'd love a couple of photos of your full-room murals, as well.)
MIKEY:  Unfortunately, I don't work full-time as a cake artist anymore. And I really miss it sometimes. Now I work as a freelance illustrator and do most of my writing in my free time. The most challenging cake for me was probably my own wedding cake. I did not want to let the expectations of my future bride down. In the end it turned out pretty good.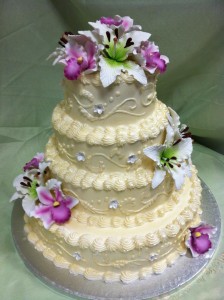 (I'll say! Or is it this one…)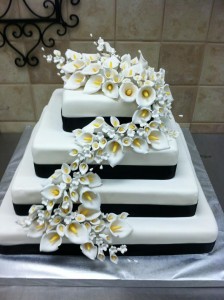 (Either way, I'm sure she was satisfied.)
My favorite time to make cakes was Halloween. I was able to incorporate my illustrating into cake. You can see lots of those cakes on my Pinterest board.
(I'll be sure and check it . . . after dinner.)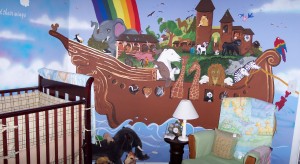 (And here's his Noah's Ark wall mural…)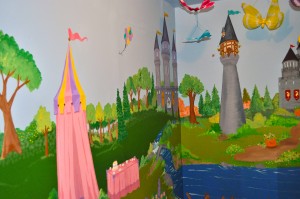 (…and a castle scene on two walls!)
ME:  Tell us about the books you've authored and what you're working on next.
MIKEY:  I have several picture books out including the bestselling ABC ADVENTURES: MAGICAL CREATURES and BEAN'S DRAGONS.

(The covers of his illustrated picture books)
And my newest book, an upper-middle-grade fantasy adventure novel, THE DREAM KEEPER, just came out on June 1st. It has already hit the top bestsellers on Amazon and is getting great reviews.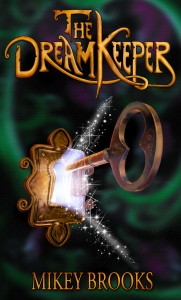 This is my first novel so I am very proud of it. It's about a nightmare trying to take over our world and two kids have to stop him. It deals with all sorts of things from bullying in schools to standing up for who you are in a social environment that doesn't encourage such things.
I have just finished the sequel and another middle-grade standalone, THE STONE OF VALHALLA. Currently, I am working on a super fun series about 5th grade witch hunters. It's very exciting!
(Great stuff! I'll have to check all these out.)
ME:  Please describe your process in creating a picture book and how it differs from your writing process when it comes to middle grade and YA fiction.
MIKEY:  I sometimes feel there is a lot more work that goes into writing a picture book than there is with a middle-grade or YA book. One thing is you are trying to entertain more than one reader (a child and the adult reading to the child). I get most of my of my ideas for picture books from my kids. They have wild imaginations and I try to play make believe with them as often as I can. It's there that I find the great stories to tell. Once I have the basic idea of the picture book I'll create storyboard and try to see how I want to tell the story. Do I want this part shown or told?—stuff like that.
When I write for older readers I start with an outline and work from there. I find I can write a lot faster when I know where the story is going. Sometimes it changes along the way, but then I just adjust the outline and continue.
ME:  And what about where you write? Could you describe your writing and illustrating space in the voice of one of your favorite original characters? (And provide a picture or two.)
MIKEY:  That nut-ball, Mikey, asked me to write a few words about his work space. Like I have time for that! I am trying to make sure my boss isn't running into any snags with those brats that somehow found a way into Dreams. Oh, let me see. Mikey's got two places he works. A small desk up against a black wall—I don't know maybe the guy is morbid or something? And the other place down in what he calls "his studio". Fancy word for a desk covered with papers with a bunch of random sketches. So that's about it. How else you want me to describe a desk? Sheesh! Until I see you in your nightmares, this is Cato, fire pixie and loyal follower of Fyren and Mab as seen in THE DREAM KEEPER.
(Terrific, Cato, but where are the pictures? Boo-hoo.)
ME:  Finally, how did you come to be involved with the Author's Think Tank Podcast, and what is its purpose?
MIKEY:  I was approached by Jennifer Bennett, my friend and the founder of the Authors' Think Tank Facebook group about doing the Podcast. It started out as just a group of us shooting ideas back and forth. We decided we also wanted a blog to accompany the show and divvied out who would do what.
The podcast itself has been awesome! It's a show by writers for writers. So I and the other hosts get top authors, agents, and editors on the show to answer some of the things writers might have concerns with. If you are a writer you will LOVE the content we have to share. Visit: www.foreverwriters.com to read the blog and listen to the show.
(Thanks! I think I'll do just that.)
If you want to know anything more about Mikey, check out his website, blog, Amazon Author page, and a profile of his new book on Goodreads. Or you can follow him on Twitter @MIKEYBROOKS or Facebook. (And if those aren't enough, he's also on WattPad.)
See you back here next week when I interview YA author Margot Hovley.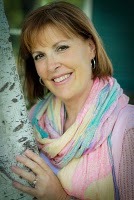 Originally posted 2013-06-12 06:00:29.