(NOTE: If you haven't yet heard about the contest I'm running through September 24th, go here to see all the prizes and details and enter. If you've already entered, remember that leaving a comment about this interview earns you another entry!)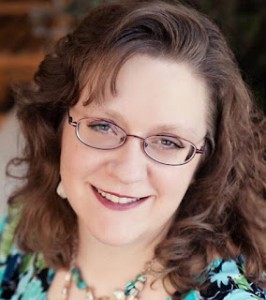 Tristi Pinkston has written historical fiction, nonfiction, even a cookbook…but lately she's best known for her mystery series involving an older group of female sleuths led by Ida Mae Babbitt. Think Miss Marple with more than a dash of humor. In fact, it's the first book in this series that she's offering as a prize in my contest. She's also a terrific editor and it shows in her clean writing style.
Me:  Tell us about your first masterpiece, "Sue the Dog." And please feel free to embellish, since writers can never quite seem to stop editing.
Tristi:  Sue was a little doggie with big dreams – she wanted to be a ballerina on the big stage. That's actually all I remember about the plot. My inspiration? My sister drew these really cute mice in ballerina outfits, and I blatantly stole her idea, stuck a dog in a tutu instead, and went from there. She wasn't very happy with me.
Me:  What happened in your teens to cause your poetry to turn dark?
Tristi:  My poetry wasn't so much dark as it was depressing–even at my lowest, I don't go too dark. But there were two causes. First, my parents divorced when I was in my early teens. Second, I thought all good poetry had to be depressing. It's the whole teenage angst/suffering for one's art thing.
Me:  How do you think being home schooled affected you as a writer?
Tristi:  Being home schooled allowed me a lot of freedom to explore who I was and what I wanted to pursue. I can't say that it did that more so than a public school education – I can't compare, because I've never attended public school. I can say that I'm the kind of person who likes to figure things out for herself, and I appreciate my homeschool background for giving me that personal space.
Me:  Where does Ida Mae Babbitt's voice in the Secret Sisters series come from? In other words, is it based, loosely or not, on any particular woman in your life?
Tristi:  Ida Mae (and Tansy, and Arlette) popped into my head fully formed and started talking. I never had to "create" them or construct a back story for them or anything – they showed up, they started talking, and I just wrote down what they said. They frequently surprised me with their revelations – I didn't know Ida Mae's husband was an alcoholic until she told me.
Me:  What does it take to get a story going in your brain, and which story took you most by surprise?
Tristi:  It takes no provocation whatsoever to get a story going in my brain. I've got one percolating in there almost all the time, whether I want one or not. I would have to say that Secret Sisters took me most by surprise because I hadn't been thinking about writing cozy mysteries, and the characters were so fully formed when they showed up in my brain. It has been a delightful journey with those three little ladies.
Me:  What are you working on at present in terms of your writing?
Tristi:  Right now, I'm writing the first novel in a series that will spin off Secret Sisters. It's about two FBI agents who come to my fictional town of Omni, Utah, and need to pose as Mormons in order to blend in. They don't know how to act like Mormons, so they call in the Secret Sisters to give them Mormon lessons. This series still has the comedy I've become known for, but the peril and the mystery are a little edgier. The book is called Tulips and Treason.
(Sounds fun, doesn't it?)
Me:  I'm into writers' offices. Please describe yours as it looks right now as if you were describing it for a novel.
Tristi:
My office consists of a nightstand right now. There's a story behind this.
The corner of my bedroom is set up with a desk and chair, with a computer, printer/scanner, pen cup–the whole bit. But last fall, I broke my foot and had to spend a month in bed. At that time, I moved my operations over to my bed and worked from there. My papers and books became stacked on my nightstand. After the foot got better, I had the gall to leave my house, and I was in a car accident with a semi. I spent another few months mostly in bed. I had the whole nightstand thing kind of down to a science by this point. Then, in March, I had even more gall and broke my foot again, this time getting a cast. So, yeah . . . I have a little office in the corner of my room, but I do most everything from my bed while my back is still healing enough to return to a desk chair.
It's pretty cool, though – I have all my editing clients and writing projects up on Post-It Notes over my nightstand so I can track everything at a glance, and I have my papers on a clipboard, and I basically rock the whole "office in a bed" thing.
I'll say! In fact, I think someone ought to suggest that Tristi give a presentation at the next LDStorymakers Conference. She could call it "Office in a Bed: Making Your Disability Work for Your Writing."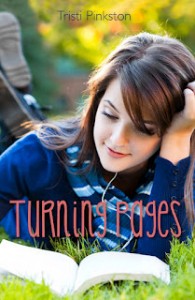 Tristi's latest release, by the way, is Turning Pages, available for order from Amazon here. For more fun details about her life and writing, please visit her website.
And be sure to leave a comment here to earn another entry in my contest. 
(On Friday, I'll be interviewing Margaret Turley and she's promised a special deal to go along with her interview, so don't forget to check back!)
Originally posted 2012-08-22 06:00:14.