Present word count of WIP:  55,312
Back Cover Copy:
Girl I've loved, girl I'm falling for. Now that they're both in view, the problem is clear.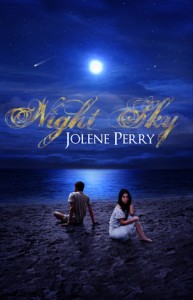 After losing Sarah, the friend he's loved, to some other guy, Jameson meets Sky. Her Native American roots, fluid movements, and need for brutal honesty become addictive fast. This is good. Jameson needs distraction – his dad leaves for another woman, his mom's walking around like a zombie, and Sarah's new boyfriend can't keep his hands off of her.
As he spends time with Sky and learns about her village, her totems, and her friends with drums – she's way more than distraction. Jameson's falling for her fast.
But Sky's need for honesty somehow doesn't extend to her life story – and Jameson just may need more than his new girl to keep him distracted from the disaster of his senior year.
My Review:
While I generally don't read Romance as a genre, I was interested to see how well the author, a woman, would be able to get inside the head of a teenage boy (partly because I'm attempting the same thing in my current WIP…though my protagonist is a good bit younger).
Jameson, or "Jay," comes off realistically in terms of his behavior. He's a top high school swimmer and he takes out a lot of his frustrations in his backyard pool. Living in Las Vegas with parents who work late hours in one of the local casinos, he freely roams the strip when he needs to get some air to sort out his thoughts. And when he loses his temper, he throws his phone (a couple of times) and even lays into the jerk who stole his best friend, Sarah.
His language and his sexual urges also come off realistically, sometimes uncomfortably so. (If you can't handle swearing and/or reading about what goes on in a boy's head when he's around a beautiful girl like Sky, this book is probably not for you.)
Some of his mental process didn't ring true for me, however. He seemed to obsess over his problems more like a girl would. Granted, he has plenty to think about:
The best friend he's secretly been in love with for the past three years has now got a controlling boyfriend who doesn't want Jay anywhere near her.
His dad and mom split up about a third of the way through the novel and there's no telling if they'll get back together…or even if he really wants them to.
And now he's fallen in love with Sky, a gorgeous Native American from Alaska, who insists on honesty in their developing relationship, yet seems to be holding something back.
As a coming of age novel, it took me a while to warm up to it. I didn't like Sky at first because she seemed way too forward (particularly so, once the reader learns more about her background later). Once more was revealed about Sky's clan and background, however, that was when the book began to get interesting. I was hooked. She was definitely the stronger of the two characters (meaning Jay and Sky). If this was meant to come off as a complicated love triangle, all I have to say is, his relationship with Sarah needed to be strengthened outside his head.
In any case, the writing was fluid and the pacing generally well done. If you want a good YA read, and aren't put off by language or somewhat sensual scenes, Jolene Perry's NIGHT SKY will more than satisfy.
Originally posted 2012-05-14 07:38:27.