Present word count of WIP:  60,234
If you haven't yet heard of The Newport Ladies Book Club, check the series out now with the third installment, "Paige" by Annette Lyon, launching this Saturday. If you click on the link now you can get into the "Spread the Love" contest and win some great books (paperback and ebook) or maybe even chocolate!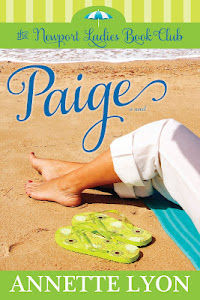 The Newport Ladies Book Club series is unique in that each Newport book is written from the point of view of a different woman in the book club. The first 4 books cover the same time period and the same book club meetings. But only with reading all 4 books, will you learn the whole story of each of the women and her full character journey. Think of it as a parallel series, not as a forward-moving series.
I read the first, "Olivia" by Julie Wright, and really liked it. I've still got "Daisy" by Josi Kilpack in my Kindle waiting to be read and now it will be joined by "Paige." A few months from now the fourth member of the book club will get her turn in "Athena" by Heather Moore.
Can't wait! (In fact, I need a break from all these murder mysteries and thrillers…"Daisy" coming up!)
Originally posted 2012-08-08 11:38:35.