Yes, I know the contest ended on Monday. Still, I had one more author who donated prizes that I didn't manage to squeeze in before the deadline. So I'm posting her interview now.

Patricia G. Stevenson didn't start out to be a writer (I think). But as she worked her way up to become vice president of Gastronomy, Inc. (that restaurant group in Salt Lake City that includes Market Street Grill and the New Yorker), the writing bug infected her and she began to churn out murder mysteries. She had seven written before she even began to think about publishing. And all of them revolve around Professor Del Channing, who travels the world (much like Patricia) solving mysteries.
Me:  I want to know when you wrote your first fiction piece and the circumstances surrounding it. Was it as a child or as an adult?
Patricia:  At the age of 12, I wrote a musical comedy, music, lyrics, set design, costumes, etc. And no, it will not be published. (Drat! I'd love to see it.)
Me:  Where did you grow up precisely, and did that have any effect on your writing? (I'd love to post a picture of you as a child.)
Patricia:  Yes and no. I lived in various places in the West. I have always been a people watcher, and seeing so many places gave me a lot to store in my memory.
(Hmm. No picture. I get the feeling she's pretty private and that's okay.)
Me:  How did you get involved with Gastronomy, Inc.?
Patricia:  Gastronomy is the parent company for the Market Street Grill restaurants. Our flag ship restaurant is the New Yorker. We also own buildings and parking lots. Their owner asked me to join them shortly after they organized in 1978.
(Now here's a picture I can share.)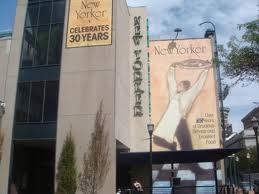 Me:  Was your position with that company what led you to travel so widely or was it something else?
Patricia:  No. I just enjoy far-away places and the people you meet there. (I'll say. She's been to such exotic locales as Bangkok, Bali, Istanbul, and the rain forests of New Zealand.)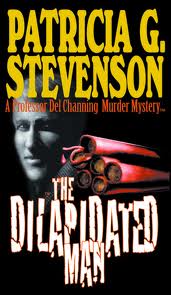 Me:  Why murder mysteries?
Patricia:  It's my favorite reading material.
(Okay. That makes sense. Short and to the point, too.)
Me:  Given your background with Gastronomy, how important a role does food play in your mysteries, and, if it doesn't, why not?
Patricia:  Food plays a great part only because it is a way for the reader to relate to and become a part of the story.
Me:  How did your main character, Professor Del Channing, evolve in your head? And please describe him for us.
Patricia:  Six foot 2, blond hair, charming manner, Del Channing is a professor of global history, seated at UMass in Amherst, Massachusetts. When asked "What did you learn from history?" he always answers, "That it repeats itself." As clues come to him he remembers certain facts in history and is able to solve the mystery.
Me:  Could you describe your work space in the voice of Del Channing, as if he were searching your desk for clues? What might he find there? (And I'd really appreciate a picture of your office or the area you use to write in.)
Patricia:  As I write on my lunch hour, eating delicious food in one of our restaurants, he would probably say, "This smells like my mother's kitchen. The food is marvelous."
(Okay, here's a picture of the interior of the New Yorker . . . and then a sampling of their food.)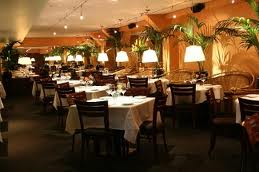 Can't you just see her eating here and typing away?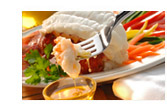 Yummy! I'd like to write like her…fueled by that kind of meal.
Me:  Give us an idea of your writing process fro the first idea to "The End."
Patricia:  I get an idea and begin writing. I develop the characters and eventually they take over and write the book for me. Believe me or not, I do not know "who done it" (and Professor Channing would correct me to say "who did it") until a couple of chapters from the end. Now that's exciting. (I'll say!)
Me:  Finally, what is Del dealing with next, or are you moving on to another series or genre?
Patricia:  There are another four books already written. The fourth book in the series, set in a ski resort north of Vancouver, is at the editor's being worked on as we speak. Each and every book takes place in a different location.
If you'd like to travel, eat well, and have an adventure, I'd say your best bet would be to pick up one of Patricia G. Stevenson's murder mysteries. Check out her website for more details about the three books that have already been published, as well as those that are coming.
Originally posted 2012-09-28 13:14:00.