In the mood for a mystery with a great twist right at the end? You might want to check out Tracy Winegar's latest, BLIND MAN'S BARGAIN.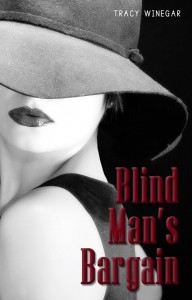 Synopsis
When a blind old man hobbles into Nelson Rune's private investigation office, the young PI doesn't expect to be hired to solve a forty-five year old murder mystery.
Harry Fletcher claims he adored his wife, Caroline — so why did he go to prison for her murder?
With the help of Cleo, his pretty neighbor, young Nelson will sift through clues of Harry and Caroline's marriage to clear Harry's name and find the real killer.
Tracy Winegar seamlessly weaves a story of love and secrets, opportunities and regrets in a novel that surprises to the very last page.
Excerpt
Nelson reviewed everything he had pertaining to Harry Fletcher's case and had come to the conclusion that there was nothing that he hadn't overlooked in his own trove of records and evidence. He determined that he would have to figure out a way to actually look at the evidence from that night. He would have to try to talk his way into being allowed to see it; that's what he would do. But how?
When he inquired into the matter, he was told that no one was allowed access to evidence, even to a case as old as the Fletcher case. It was an irritation, much worse than a burr under a saddle. To come so close to wrapping it up, to nearly having all of the loose ends neatly tied, and then be rebuffed was more than he could bear.
And then it dawned on him. As he struggled with sleep one night, the answer came to him in a soft sibilant murmur to his brain, as if someone else had given him the solution to his problem. If he wanted to see the evidence, he was going to have to steal it…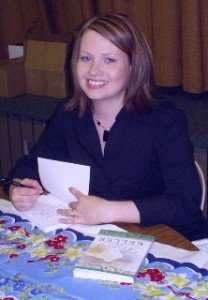 Bio
Tracy Winegar enjoys cooking and gardening in her free time. She loves all things vintage and considers several family heirlooms to be her prized possessions. She's also always on the lookout to score pieces to add to her growing Jadeite collection. Tracy lives with her husband and four beautiful children in Northern Utah. Although she doesn't mind living in the desert, she still misses the green of the Midwest where she was born and raised. Her philosophies of life, love, and family are deeply anchored in those small town Indiana roots.
(If you want to know more about Tracy, check out my earlier interview with her here.)
BLIND MAN'S BARGAIN can be purchased online from Amazon or Barnes & Noble.
Originally posted 2014-09-08 09:34:38.