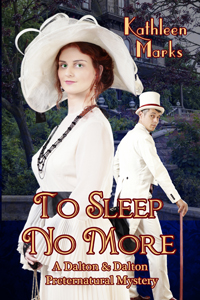 Ronda Hinrichsen has a new novella out (under the pseudonym Kathleen Marks) entitled TO SLEEP NO MORE. If you look at the subtitle, you'll note the term "preternatural mystery." I recently interviewed Ronda and she briefly discussed that term, so if you're puzzled, click here. But enough splitting terms. Here's a quick glimpse of TO SLEEP NO MORE:
Synopsis
Preternatural scientist Alexandra Dalton is near Yellowstone National Park, searching for preternatural mushrooms she hopes will help her find who kidnapped and murdered her young daughter, when she receives a telegram from her uncle's lawyer. Her beloved uncle is dead, it says, and she must return to Massachusetts ASAP. There, she is thrown together with her estranged husband, Richard Dalton, to unravel two mysterious "Night Hag" murders.
Excerpt
Alex pinched her cheeks to give them a hint of color and opened the door.
Her smile disappeared. Worse, her breath, her thoughts, and her pulse stopped. She stared into a man's hazel eyes the color of a stormy Atlantic sea surrounded by long, thick lashes lightly tipped with the same color as his blonde, wavy hair. The man was tall, straight, and had well-defined muscles. He was a man to be reckoned with—Richard Edward Dalton, her estranged husband.
"Hello, Alex," he said.
Alex clenched the door handle. What is he doing here? "Rick."
He quirked a tentative smile. "Can I come in?"
"Why?"
"I've been invited."
Author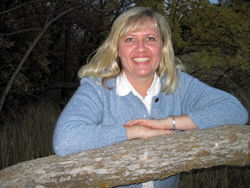 Kathleen Marks is a pen name for Ronda Hinrichsen, author of romantic suspense and speculative novels as well as the Heroes of the Highest Order chapter book series. She loves history and frequently travels throughout the world with her husband in search of intriguing settings, characters, and stories.
TO SLEEP NO MORE is available on Amazon and CreateSpace. You can also learn a bit more about the story and series on Ronda's website AND read all of Chapter One.
Originally posted 2014-03-24 06:00:51.