Ronda Hinrichsen writes romantic suspense as Ronda Gibb Hinrichsen and THE HEROES OF THE HIGHEST ORDER Chapter Book series as R.K. Hinrichsen. Her next romantic suspense novel, BETRAYED, will be released in June. I was lucky enough to get this interview in with her before her eye surgery. (Don't worry…she's fine.)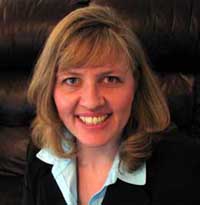 ME:  You've said you first knew you wanted to be a writer when you were in sixth grade and listening to your teacher read S.E. Hinton's The Outsiders. But my question is, when did you first realize you could be a writer, and what had you written (or what had someone said) that convinced you of that? (That said, I would love to post a picture of you from sixth grade, as well as another when you were a teenager.)
RONDA:  That's a hard question to answer. While I remember fearing I might never succeed at having a book published, I think I always thought it was possible for me to be a writer, I just had to figure out how to do it. In fact, I still have those same fears now as I submit and/or self publish. Fear and self-doubt is always there, but because being an author is important to me, I keep pushing through those things. For me, it's not trying that equals true regret.
(Very well said, and she's right…the fear and self-doubt never goes away.)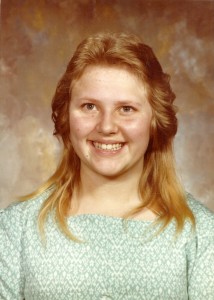 (Ronda as a sixth grader)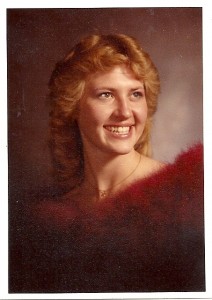 (Ronda's high school graduation picture)
ME:  Are there any other writers in your lineage? If so, how did they inspire you? (And please include a picture, if possible.) If not, which writer(s) inspire you the most and why?
RONDA:  I have an ancestor who crossed the plains as a child and later wrote for the church publications. In fact, I have written some of his stories for The Friend. His name is William Palmer. There are other writers too. My uncle wrote for a newspaper in Canada, and my Grandmother and aunts enjoyed writing poetry. (Ah, it runs in the blood, eh?)
ME:  Having grown up in Rexburg, Idaho, what gave you the urge to travel? What have been some of your favorite or most interesting destinations, and why? (And I'd love a picture or two of you and your husband en route.)
RONDA:  I did not travel much as a child, except to the occasional family reunion in Canada, but my husband loves to travel and has the desire to see every part of the world. I have the privilege of going along for the ride. So far, my favorite scenic places have been Austria and New Zealand. The place that deeply affected me, was visiting Auschwitz in Krakow, Poland. (That, I can well understand after having visited another concentration camp–Mauthausen–in Austria.)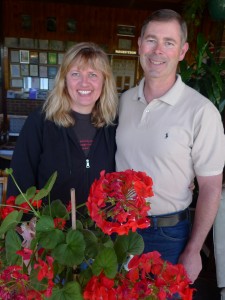 (Ronda and Rolin in Australia)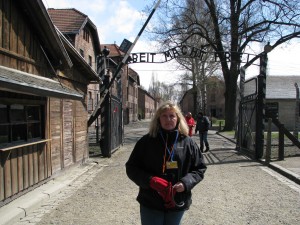 (Ronda at Auschwitz)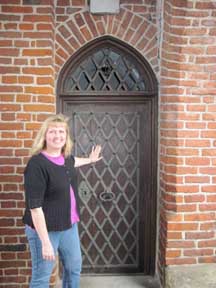 (In Krakow, Poland)
ME:  I know you began by writing short stories and magazine articles as you were raising your young family. Now that the short story form seems to be taking off again, have you given any thought to writing more of those?
RONDA:  I haven't thought of short stories too much, but I have self-published three children's chapter books under the series name of HEROES OF THE HIGHEST ORDER and I will soon release a preternatural mystery novella under the pen name Kathleen Marks. It is the first of a series.
(Okay, am I the only one confused about the difference between paranormal and preternatural? Here's an interesting posting that might shed a little light.)
ME:  Tell us about your first two novels, MISSING and TRAPPED. How are they different, and how are they alike? And which was easier to write?
RONDA:  MISSING and TRAPPED are similar in that they are both adventurous, romantic suspense novels. However, MISSING is a contemporary, realisitic novel with LDS characters, and TRAPPED is a contemporary, paranormal novel with a curse surrounding the "Kuhati," the elixir of life.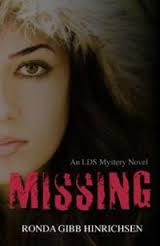 I suppose TRAPPED was easier to write since it was my second novel and MISSING was my first—not only first published, but also the first I'd ever written. It was my novel writing learning ground vs, as you mentioned earlier, short story writing.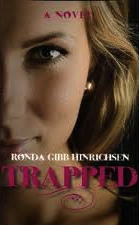 ME:  You've also begun a middle grade series, HEROES OF THE HIGHEST ORDER, in which your young protagonists kind of follow in the footsteps of different heroes in their quest to destroy the enemy of "The Hidden Kingdom." What criteria are you following when it comes to selecting those particular heroes?
RONDA:  HEROES OF THE HIGHEST ORDER is a chapter book series similar to The Magic Tree House. The heroes I choose for that series are those who are compassionate to all people and are brave in the face of difficult circumstances.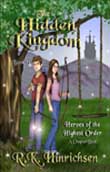 The first tells the story of a young pioneer woman who found peace with the Indians.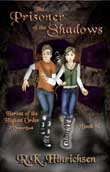 The second speaks of Mother Teresa, and the third teaches of Tadeusz Pankiewicz who helped save the lives of many Jews during WWII.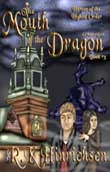 (You can learn more about the books and the series here.)
ME:  What are you working on now, and how would you describe your writing process?
RONDA:  My writing process is a juggling act. I gather ideas for a new book in a notebook while I'm writing another and perhaps editing or doing other writing/publication chores with another.
I just finished final edits on BETRAYED, a historical romantic suspense novel that comes out with Covenant Communications in June 2014. I have another novel under submission, I am preparing my preternatural novella for publication, and I am editing a YA fantasy novel I intend to submit to the national market. I'm also starting to have a few ideas for future books.
(One cook in the kitchen with a lot of pots stewing.)
ME:  How would you describe your writing space, and what five objects there differentiate it from that of any other writer? (You must include a picture or two.)
RONDA:  My writing space is a desk with a laptop, a second screen, a bookshelf, a wall board with various notes and lists, and separate piles of info from different books.
(Okay, that takes the record for the shortest answer to this question ever!)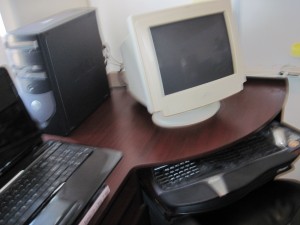 (I think this was the neatest part of her writing space. :D)
ME:  What has been your experience with both traditional publishing and self-publishing, which do you prefer, and why?
RONDA:  I believe there are strengths and challenges for each venue. Self-publishing gives me the power to bring whatever story I want to the world in whatever format I want. It also gives me the ability to earn money on a more "regular" basis, for I don't have to wait for the six month intervals of a traditional publisher. (Hear, hear!)
Traditional publishing provides support, experienced editors and cover artists/marketers, and the ability to distribute to markets that are not always available to self-published books. Traditional publishing also seems to have a better ability to help me build my name and to speak/teach in various venues.
(So it really comes down to which you prefer–support or control.)
ME:  Finally, how important is a critique group and what strengths does yours bring to your writing?
RONDA:  My critique group is VITAL to me. Each person has strengths that help me create a more viable, well-developed product. Different from many groups, we do not print out our weekly writing—yes, we meet weekly. Instead, we read what we've written to the group. The others listen, and then we comment on what is or isn't working or what needs a bit more strengthening. Our group focuses more on structure, rather than grammar, but some of us do have an ear for grammar, and we bring those things up.
(Excellent! With some exceptions, a writer is generally only as good as his/her critique group.)
Check out Ronda's website for more information about her and many projects. Her suspense novels are available on Amazon and Barnes & Noble. You can check out her chapter books at B&N and Books-a-Million.
Get ready for a serious interview next Wednesday with Pauline Hansen, author of a compelling memoir or her marriage to a schizophrenic.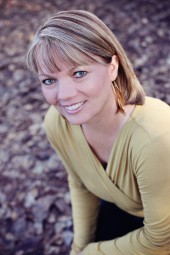 Originally posted 2014-03-05 06:00:16.