Clean romance author Rebecca Jamison appears to have jumped on the Jane Austen bandwagon at the right time with her modern take on Emma (a follow-up to her successful retelling of Persuasion last year) coming out only eight days ago. But there's much more to Jamison than her love of Austen and the classics.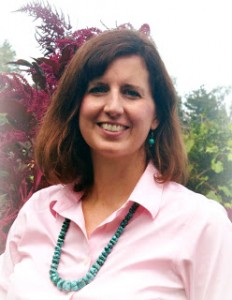 ME:  In researching you, I discovered you are tall (as in 5 feet 11 inches tall), and I wondered at what point in your childhood you began to tower over your classmates and how that affected you personally? When did you finally grow comfortable with your height, or was it never a problem for you? (I'd love a picture of you standing out among your elementary school classmates . . . or later, depending on when the growth spurt took place.)
REBECCA:  I was always one of the taller girls, but I never felt self-conscious about it. I remember in junior high, my friend told me I looked like a giraffe walking down the halls with my neck and head above everyone else's. I just laughed.
The only thing that really made me feel bad was that people who sat in back of me in class couldn't see when we watched a film or video. Because of that, I got in the habit of slumping down in my chair. Other than that, being tall didn't hold me back. I danced ballet en pointe, despite the fact that I could barely cram my size ten foot into a toe shoe.
(Good for you! My six-foot tall nieces didn't shy away from ballet either.)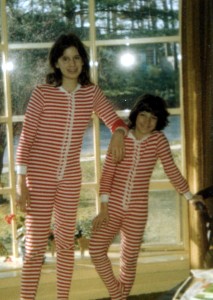 (Rebecca towering over her sister…in striped pjs, no less!)
ME:  I'll ask you the same question I asked Amanda Sowards (at least I think I did): If you had to choose between swimming and writing, what would you choose, and why?
REBECCA:  I'd choose writing. The great thing about writing is that it allows you to experience things in your imagination. I can write about swimming; I can't swim about writing.
(Clever and true, but there will be some swimming authors who can probably concoct whole plots while in the water.)
ME:  I spent part of my childhood in the Washington D.C. area (a year or two in McLean, Virginia and then six years in Bethesda, Maryland), so I wondered what you favorite adolescent memories of Vienna, Virginia were and how you dealt with the transition from the humidity of the east to the dryness of Utah?
REBECCA:  Vienna was such a fabulous place to grow up. There's so much diversity. I had friends who were Muslim, Catholic, Baptist and Buddhist. I researched a high school term paper at the Library of Congress. (Heaven!) My teachers took me on field trips to Amish country, New York City, and Russia.
(Excuse me? You had a school field trip to Russia? What kind of school did you attend anyway? I mean I know the public schools in Virginia have a high reputation, but Russia? Seriously?)
Everything there is green. (Amen!) We never watered anything. So, of course, it was a shock to come to Utah. I'd never experienced chapped lips before. I had to get used to applying lip balm. I also wasn't used to having to drink water. When my friends invited me on a short hike, I had no idea how important it was to bring a bottle of water. They all went out of their way to offer me sips from their bottles, and being the germaphobe that I am, I learned my lesson.
ME:  Since you grew up in the east, and I know you love beaches, please tell us what your favorite beaches were? Rehoboth, Bethany, Ocean City, or may farther south to Nags Head or Kitty Hawk, NC? (And please provide a picture of yourself having fun at the beach as a child.)
REBECCA:  My favorite beach on the East Coast is in Kitty Hawk, North Carolina. It's not as crowded. I'm an introvert at the beach. I like to read books, collect shells, swim, and take long walks. I don't care about the boardwalk and all that. (I hear you.)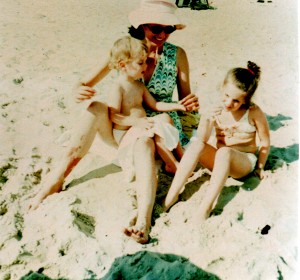 (At the beach at age 4 with her mom and sister)
ME:  If you could live on any beach in the world, where would it be? (And by the way, there are some lovely villas available for not too much money on the Cape Verde Islands, where you spent part of your mission.)
REBECCA:  If money and healthcare weren't an issue, I'd choose to live in Lagos, Portugal. I spent part of my mission there, too, and it's gorgeous. It's an ancient city with cobblestone streets, stunning views, and gracious people. Fig trees, hibiscus, palm trees, and bougainvillea grow beside the roads. I loved standing at the top of the cliffs to look out at the blue ocean.
(Sounds like paradise. And here are a couple of pictures to prove it.)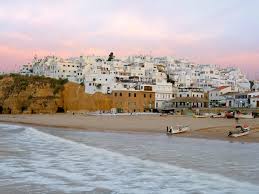 (The town situated above the beach)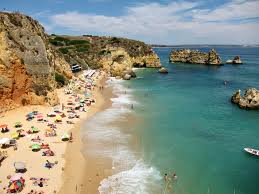 (The beach!)
ME:  I know you considered writing a hobby for many years, but what made you decide to get serious about it and pursue an MA in English with an emphasis in creative writing?
REBECCA:  At first, I wanted to be a high school English teacher, but my counselor convinced me I'd be better off teaching at the junior college level, which meant getting a Master's degree. Choosing creative writing as my emphasis was a practical decision. (Whoa! That somehow doesn't sound right.) I'd already taken two graduate level creative writing classes, which meant I was already halfway through the creative writing course work. (Ah, now I understand . . . you meant practical as in the quickest way to the degree.)
ME:  Tell us what prompted you to write your first manuscript, your Master's Thesis, and the process you followed in writing it.
REBECCA:  I had to apply for admission into the creative writing emphasis, so I put together a portfolio of short stories, and . . . I got rejected. (My short stories, written for Richard Cracroft, would have gotten me rejected too, I'm certain, had I tried to apply for the same program.)
Doug Thayer was my creative writing teacher at the time. (Lucky!) I'd taken his novel writing class, and he convinced me to reapply, using the chapters I'd written for a novel. That's how I got accepted. It's also the reason I ended up writing my first novel. I didn't realize it at the time, but that first rejection has been a huge blessing in my life. I don't think I would have ever written a novel otherwise.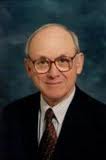 (The man who's influenced so many LDS writers for the better)
ME:  Your first published book, PERSUASION, was about fear and not letting it rule your life. Tell me honestly, are you like your main character in that you're afraid to go back to your Master's Thesis, revise it, and submit it to some major publishers? If so, why?
REBECCA:  You got me. I'm scared to death to delve back into that manuscript. There are so many problems with publishing it. For one thing, I'm a white woman writing from the point of view of a black African woman. For another, it starts out with her husband forcing her to have an illegal abortion. Then there are all the normal problems I need to work through with the plot, etc.
(I understand, but let me share an observation I recently came across from the respected author, Jonathan Franzen:  Fiction that isn't an author's personal adventure into the frightening or the unknown isn't worth writing for anything but money. Personally, I'm hoping you take that leap of faith and re-work your thesis some day for publication.)
ME:  Tell us about your next book, EMMA: A LATTER-DAY TALE and how it's different from the original work by Jane Austen.
REBECCA:  EMMA: A LATTER-DAY TALE is a modern, LDS version of Emma. The biggest difference from the original work is that my Emma is a much nicer person, but most people won't notice that because they're more familiar with the movie adaptations than they are with the book.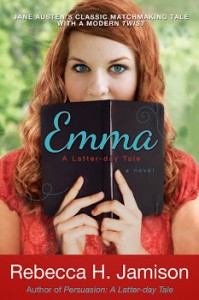 My Emma is an aspiring life coach, which means that each chapter starts with a motivational quote. I love that it has such a  positive, self-help-gone-haywire vibe to it. The story is set in Washington, D.C. It involves a country music star, a senator, and the paparazzi. It's funny and inspirational.
(Sounds like a fun read.)
ME:  I read that your husband tried to scare you out of a blind date with him by asking if you'd be interested in a game of Spin the Bottle. What was your response to him, if you can recall, and how soon after you met did you know this was the guy for you? (I'd love to post a picture of the two of you.)
REBECCA:  My husband had a string of bad blind dates before my roommate suggested he go out with me, so, of course, he tried to wheedle his way out of a blind date with me. My roommate made me promise to go out with him before I read the note he'd written me. I promised. Then I read the note and laughed. The note said, "Let's get together and play spin the bottle." I understood why he wouldn't want to go on a blind date, but I called him anyway. We hit it off immediately. Our first date was four hours long. (Yay! A blind date that worked!)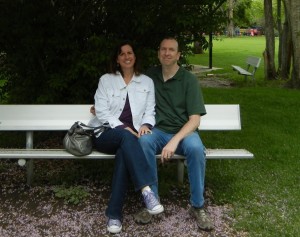 (Rebecca and her daring husband)
ME:  Finally, what are you working on now and where are you doing most of the writing? (I know you write a lot between household chores, but please provide a picture of your "stationary" office.)
REBECCA:  I am halfway through my version of Sense and Sensibility.
I do most of my writing on an old laptop without Internet access, so I don't get sidetracked by e-mail or social media. (Good for you!!!) Lately, I've been waking up early to write before my kids get up. I use a little desk in the corner of my bedroom.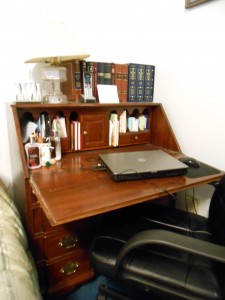 (Her little corner)
Check out Rebecca's website or blog for more details about her life and work. And here's a peek at her book trailer for EMMA: A LATTER-DAY TALE, available on Amazon and Barnes & Noble:
And next week, I'll be interviewing author and national presenter, Connie Sokol.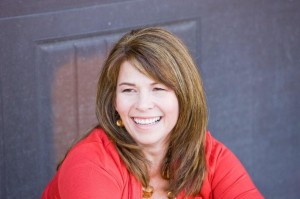 Originally posted 2013-08-21 06:00:34.