I met Ann a little over a month ago, thanks to a friend of mine, and now she's a member of our local ANWA Chapter, the Columbia River Writers. I wasn't surprised to find out she belongs to a few other writing groups, as well. And I have Ann to thank for passing along the invitation to take part in the recent Barnes & Noble Pacific Northwest Authors Event. While she has only published one book so far, I expect to see a lot more from her. Once you've read about her background, I think you'll understand why.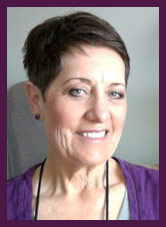 ME:  I heard some stories from the Pratt brothers in my BYU student ward back in the 70s about growing up in Colonia Juárez, Chihuahua, Mexico, but my memory's poor. Please describe what it was like for you growing up there and include a picture or two. Also, what took your family there?
ANN:  Think southern Utah about sixty years ago; farming community, wide roads, redbrick homes with tin roofs on an acre or two; add tall cottonwood trees and Maples lining the streets. That is Colonia Juárez. Until relatively recently, most of the roads weren't paved. One or two still aren't, like the one that passes the family homestead where my mother now lives. I was born in the front room—the big window on the ground floor.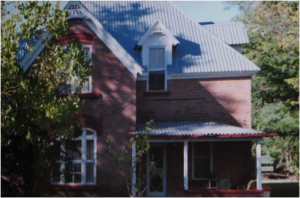 (Interesting. That is not at all how I pictured it.)
My great grandparents were among the many families who came from Utah about 1886, to colonize and farm the land purchased by the Mormon Church (The Church of Jesus Christ of Latter-day Saints) from the Mexican government. My parents left the Colonies around 1950 and didn't move back until 1980. But, we spent many summers visiting. My grandparents' house was built in 1920 and didn't have an indoor bathroom until the 60's. We knew about outhouses and chamber pots. Haha.
Hated them.
(Can't blame you.)
Summers in Colonia Juárez meant horseback riding, sneaking green apples from grandpa's orchard, and proving our courage on the swinging bridge—a footbridge made of rickety planks held together with cables that would sway with every step. The crazy kids would jump up and down causing the bridge to undulate, scaring the living daylights out of us more cautious types.
Electricity was not consistent, and many a night we depended on coal oil lamps for light. Grandma cooked from a wood-burning stove and we did our wash once a week with a wringer washer (Believe it or not, I remember those! My grandma had one. That's how old I am) and a big steel tub over a fire for the white clothes. I even remember weekly baths in the kitchen in one of those steel tubs. We all took turns. First one to bathe got the clean water. And it was never me.
(Hmm…too slow or didn't you like baths?)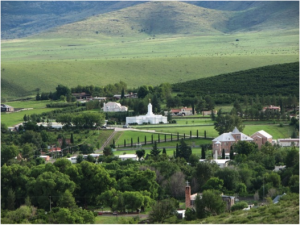 I thank Jeff Romney for permission to use this recent picture of Colonia Juárez. Central, in the background, is a Mormon temple, and bottom left in the foreground is a Catholic church. The building on the far right is the Juarez Stake Academy where students have attended high school since 1897. It is a private school owned by the LDS church with a dual-language program open to everyone for the price of tuition. My sophomore year was at the JSA. My parents lived in Peru, South America by that time, and their employer did not provide education after the ninth grade.
ME:  Why, when you were nine, did your family then move to Peru, and how did your years in Mexico compare to your ten years in Peru? Also, how have each of these places affected your writing? (And I must have a picture or two from your years in Peru, preferably one of them showing your whole family.)
ANN:  By the time I was five, my parents lived in Bisbee, Arizona. Dad worked for Phelps Dodge Copper Mine. About 1952 PD joined with other mines to form Southern Peru Copper Corporation. My father spoke Spanish and was hired in 1956 to help open the mine in Peru eventually becoming Drilling and Blasting foreman for SPCC. The picture below was taken about 1965. I'll spare you the myriad of pictures of blasts that made it so deep. Dad was proud of his work.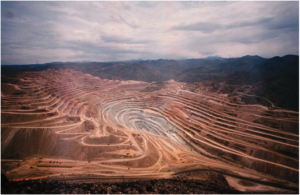 (Southern Peru Copper Corporation site)
Toquepala is a community carved out of the western slopes of central Andes Mountains for SPCC employees.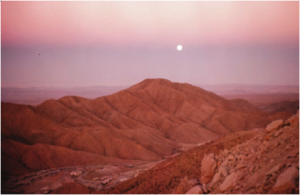 (You can make out the village in the lower left hand corner)
We lived at 9000 feet, the mine was at 11,000 feet, and the reservoir, where we liked to picnic, was at 12,000-14,000 feet, at the foot of the snowcaps. We could be at sea level in less than two hours. One learned to pop their ears or suffer the pain. Annual rainfall was about ½ inch. The mountainous desert was as barren as a sand dune. Close to the equator, Toquepala daytime temperatures never exceeded 75◦ and nighttime temperatures rarely dropped to freezing.
Naturally, life's experiences surface in my writing. Anyone reading my books will learn about green apples, weekly baths in steel tubs, wringer washers, the terror of earthquakes, and the expansive beauty and terrible force of the unforgiving Pacific.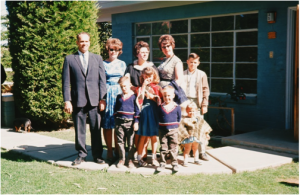 (Ann, front and center, with her family)
ME:  I'm curious about the reason you returned to Mexico for your sophomore year and why you didn't stay there to finish high school rather than go back to Peru (where you earned the rest of your high school degree by correspondence).
ANN:  After ninth grade, there were three options:  boarding school in Lima 600 miles away, return home to live with relatives, or correspondence.  My parents chose to send me to Mexico to live with my Dad's brother and his wife—wonderful people with a large family, who had a daughter my age. I was fifteen—too young, and terribly homesick. Returning to Peru for the summer, I decided to stay, choosing option three to continue my education. Through correspondence, I finished my junior and senior year in twelve months and enrolled at Brigham Young University at age seventeen. . .just.
(Good for you!)
ME:  Have you always wanted to be a writer and, if so, what was the first creative piece that convinced you that you could succeed as a writer? Please share what you remember about it.
ANN:  Haha. You should ask. It's not glamorous, nor impressive. My mother loved my letters and told me I should be a writer. (Yay for mothers!) She said it often enough, it became a recording in my brain, and when my last child entered high school, I signed up for a creative writing class.
Over a period of fifteen years, I wrote two novels—the first one about eight times. I didn't know if I was any good; I only knew that writing was my passion second only to chocolate and caramel. Finally, I braved a critique group about four years ago. The others were published authors who validated me as a writer. You would have thought I had won the lottery—or landed a publishing contract—I was that excited. Haha.
(We do have a responsibility, I believe, to validate each other as writers. Yay for critique groups and mothers!)
ME:  What were your earliest memories of Tucson, Arizona where your family ended up in 1965? Whether you remained there for college or went elsewhere, I'm curious if and how much you were affected by culture shock and what you ended up focusing on in college.
ANN:  I don't remember much culture shock, other than craving bologna sandwiches and Rainbow bread. Shopping was awesome. The young men didn't whistle or cat call. That was a relief. The biggest shock was seeing snow for the first time. I was seventeen. It quickly lost its charm. I remember one morning, my third semester, middle September, lying in bed groaning because I knew without looking, from the sloshing sounds of the passing cars, that it had snowed. Haha.
Out of money and at loose ends and very homesick, I quit school and joined my parents in Arizona. I planned to work a couple of years and go back to school. Instead, I served a two-year mission for my church in Mexico City and then got married.
(By the way, Ann and her husband are currently serving a local church service mission together here in Kennewick, Washington.)
ME:  I imagine you were (and probably still are) fluent in Spanish. After settling stateside, did you find yourself drawn to the Hispanic community? Where did you find your best friends?
ANN:  Four of my grandchildren are Hispanic. While I speak Spanish, my grandchildren don't, and their father learned to speak it when he was a missionary in a Spanish speaking country, as did four of my six children. I have great friends of both ethnicities.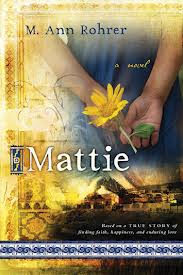 ME:  How did you come to write MATTIE, and what are the basic themes of the novel?
ANN:  I wrote a short story about an incident during the Mexican Revolution experienced by my grandfather. The professor suggested it would make a good chapter for a novel. It was the only positive feedback I got from him. Haha.
Except for a couple of chapters, MATTIE is set in Mexico. Based on the lives of my maternal grandparents, it is a story of struggle, faith, and courage with a hint of romance and a healthy dollop of history during the Mexico Revolution. Viva Pancho Villa!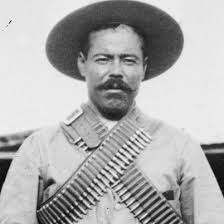 (A picture of the Mexican Revolutionary)
ME:  How would you describe your writing process and what are you working on now? Also, what is the most important principle you feel a writer should always follow?
ANN:  If at first I don't succeed, then to heck with it. Haha. I agonize over theme, story line, plot, and characters, and get it down from start to finish. Then, I do what I love, checking for consistency and fleshing out the story with description, emotion, and dialogue.
Currently, I am in the what-I-love phase of my second novel and in the agonizing phase of my third novel, a sequel to MATTIE. For now, the sequel is percolating on the back burner at about chapter three while I get book #2 ready to pitch to a publisher.
(I told you there would be more coming.)
The most important principle a writer should follow, you ask? Is there just one? Haha. I expect every writer has a list of what is most important. Let me add just one: don't get attached to your literary genius. Be willing to slash and burn, even if it's brilliant.
Very painful, indeed.
(Agreed.)
ME:  Finally, please describe your writing space as the character Enos would describe it from your novel. (And please include a picture of the same space.)
ANN:
"Enos thought he might find her at the kitchen table bent over a pile of papers writing in the flickering shadows cast by the coal oil lamp. Instead, she was comfortable in the family room sitting in a new fandangle chair with a hidden foot prop that whips out so she can put her feet up.  Surrounded by electric lamps, making the room bright as noonday, she opens what appears to be a black notebook without any pages. Placing it on her lap she stares for hours at a little picture-show, her fingers flying over rows of tiny squares with the alphabet painted on them in no particular order not making a lick of sense, but somehow it comes out right, like a printed page from a book."
(Love it!)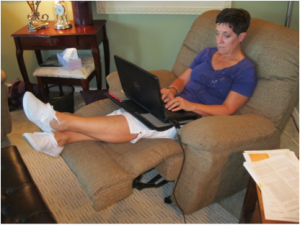 (And here she is at work!)
If you want to stay abreast of Ann's work, you can check out her website or blog, or connect with her on Facebook and Twitter. Her historical novel, MATTIE, is available on Amazon, Deseret Book, and Barnes & Noble.
Next Wednesday, I'll be interviewing another local Pacific Northwest author, Patty Old West, who, together with her husband, writes fanciful tales of the "Little People."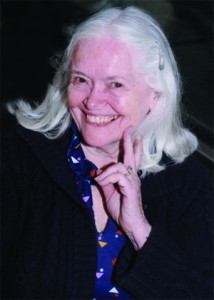 Originally posted 2013-09-04 06:00:45.