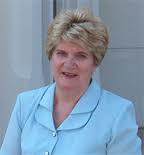 Everyone in the LDS publishing community knows who Jennie Hansen is. Besides having penned many of her own novels in several different genres, she reviews regularly for Meridian Magazine. And now she has a new novel out–WHERE THE RIVER ONCE FLOWED.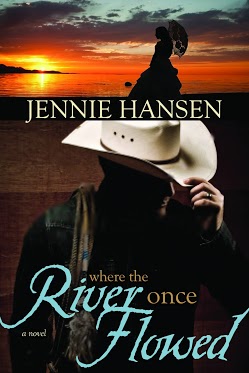 (Great cover!)
Here's a brief synopsis:
New Mexico, 1879—The Sebastian Hacienda is a lucrative and coveted ranch deep in the fertile wilderness of New Mexico, a property held for generations by the powerful Sebastian family. After the death of his son and heir, proud and formidable Don Sebastian has only one hope for the preservation of his land: his beautiful young granddaughter, Iliana. Desperate, he makes a shocking deal—the property will be sold to Ross Adams, an American cowboy, on the condition that he marry the stunning young Iliana and bequeath the land to her sons. A bargain is struck, but not everyone is pleased with the outcome. Neighboring rancher Ben Purdy has his eye on pretty Iliana—and on ownership of the Sebastian Ranch. In his ruthlessness, Purdy is willing to go to terrible lengths to acquire them both, even if it means destroying everything in his path . . . Utah Territory, 1891—Travis Telford was born to be a cowboy. He left his family to chase the dream of someday owning his own ranch, but years of nomadic living as a ranch hand have proven taxing. After several seasons of horse trading with the American owner of the Sebastian Ranch, Travis finds his life dramatically altered by a routine stop at the property. He finds the ranch in chaos and the rancher's beautiful widow Iliana in the midst of a turbulent land battle. His instinct to protect Iliana is undeniable, and as the danger mounts, only their reliance upon each other has the power to save them.
For those of you intrigued by the story, here's the link to purchase Jennie's latest in ebook form.
Now let's get to know her a bit better.
ME:  As I understand it, you were first published at age seven in a farm magazine. You said that you'd read an article about a cat in that magazine, and that you were certain your cat was much smarter, so you wrote about her. Being a cat person, myself, my question is, why were you so certain your cat was smarter? (Also, I'd love to share a picture of you with your cat at that age.)
JENNIE:  I don't remember anything about the cat in the article I read, but my cat, Streaker, could run really fast, jump from the treehouse to the next tree, catch mice and gophers, wiggle out of any doll clothes I put on her, sneak past KC the gander, and she found a hidden spot inside the barn to have her kittens where the coyotes couldn't get them. (Okay, I'm duly impressed!)
My mother didn't often get out her old box camera, and most of the few pictures she had were ruined in a flood when I was eight. I have only a couple of pictures of me at that age, but my cat isn't in either one. One is of me in my blue satin Sunday dress…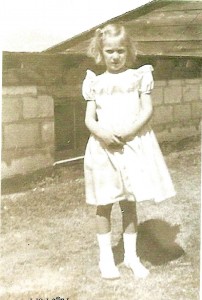 …and the other is of my cousin, Colleen, and I riding my brother's horse.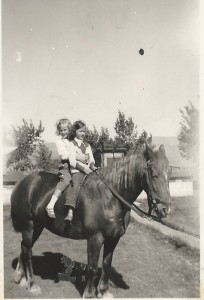 (There's Jennie in back)
ME:  Like you, I moved around a lot as I was growing up, so I can identify with your sentiment about your siblings being among your closest friends. Do you still get together frequently, and have any of them made it into your novels as characters? (I'd love a picture of the whole family when you were young.)
JENNIE:  My siblings and I are still close and we get together as often as possible, which isn't as often as we'd like, but we live in three different states. Cancer took one brother and one sister not long ago. I've never put any of my siblings in any of my books. My characters are always entirely products of my imagination, but I suppose there are bits and pieces of real people in my head that creep into those imaginary characters' makeup. (I wouldn't be surprised.)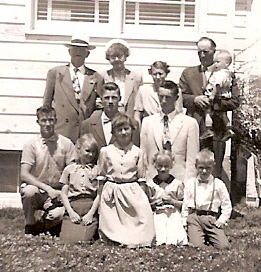 (Jennie in the front row, far left, with her family)
ME:  As you moved between Idaho and Montana, which state did you come to prefer and why? Or was there no real difference between them? And how does Utah now compare?
JENNIE:  I found a great deal to love about each state, and I associate Idaho with my early childhood and later teens, while Montana holds my memories of those "tween" years from eleven to thirteen. I found the most enduring friendships in Idaho, but Montana can't be beat for fishing, hiking, and outdoor fun. I love living in Utah now with its mixture of indoor and outdoor opportunities. It's where we raised our children and holds the best of my adult memories.
ME:  I can understand how an early bout of rheumatic fever gave you the time to really develop your love of reading, but who or what got you interested in politics at an early age?
JENNIE:  My dad had strong political views, which he shared with us kids. I also had a history and civics teacher in high school who encouraged us to learn political analysis, as did a college economics professor. My years as a newspaper reporter honed my interest in politics, as well, since it brought me in close contact with many political figures and, in a way, led me to run for the town council, work as a page for the legislature, and hold various party offices.
ME:  Of all your awards in journalism and writing, which means the most to you and why?
JENNIE:  That's hard to answer. Offhand, I'd say the national award I received for editing from the National Federation of Press Women, yet awards for various individual articles I wrote mean a lot to me too. This award matters to me because it was my first big award and because journalism played such a strong part in my life.
I felt extremely honored to be one of the first recipients of LDStorymakers' Lifetime Achievement Award (as part of the Whitney Awards). And the Silver Trumpet Award from my publisher holds a lot of personal meaning for me. I really can't say one means more to me than another. They both touched me deeply because they're a tangible symbol of something I worked so hard to achieve.
ME:  Please tell us how your diagnosis of cancer affected your writing. And how do you maintain the kind of inspiration needed to keep producing novels at the rate you do–24 now (particularly since you also regularly review books for Meridian)?
JENNIE:  I was diagnosed with cancer four weeks after my first novel was released which kept me from an active role in marketing it. I gained some insights from my experience fighting cancer that affected subsequent books, but I never really wrote about cancer other than a brief bit in JOURNEY HOME a few years later. I did help a couple of other writers who were writing about cancer with their research. 
I always thought I'd write more extensively about cancer or have a character fight cancer in one of my books, but having lost two siblings to it, struggled through four bouts of the nasty C with a couple of my children, and recently undergone a pancreatectomy to keep it from destroying me in the near future, I find I can't do it–at least not yet. (Wow…I'm not surprised.)
As far as the inspiration to keep writing goes, I'm presently taking a break from novel writing. I don't have another novel started yet; I'm simply concentrating on getting well and focusing on my Meridian reviews. However, Covenant is putting out a Mothers' Day book this spring that will have a short story by me concerning my two miracle granddaughters which I actually wrote while at the rehab center. I'll always write–I have ink in my veins–but it might be awhile before I write another novel.
ME:  What gave you the idea for your latest novel, WHERE THE RIVER ONCE FLOWED, and what are you working on next?
JENNIE:  WHERE THE RIVER ONCE FLOWED has a convoluted history. I was in the middle of a six book historical series (The Bracelet series) when Covenant, my publisher, was purchased by the Church and fell under the same umbrella as Deseret Book. The new management decided my series and another series by another well-known author should switch from hardbound to soft cover and be only four books instead of six.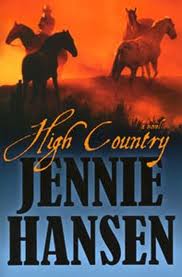 I already had Diamond completely written and was well into Sapphire. I hurriedly changed both books to leave out the jewels. Sapphire became HIGH COUNTRY with a different ending than originally planned. My publisher decided Diamond was much too long, and I wrote two other books, SHUDDER and IF I SHOULD DIE, while I figured out how to break up Diamond. As you've probably guessed, those two books became THE HEIRS OF SOUTHBRIDGE and WHERE THE RIVER ONCE FLOWED.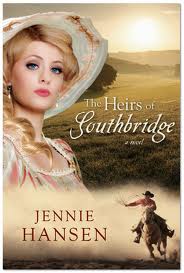 As for my next book? I don't know; I'm not ready yet to undertake a task as large as writing a book. (I think you deserve a rest, too.)
ME:  As the first Whitney Awards Lifetime Achievement Award recipient, I think you're in an excellent position to measure the growth of this particular awards program. How has it been successful, and what ways do you imagine it might expand in the future?
JENNIE:  It has brought a lot of attention to LDS fiction and educated readers to the fact that LDS fiction is not one-size-fits-all but represents every genre. In the future, I'd like to see these awards move away from peer awards and better represent the views of readers, but I've no idea how that might be accomplished. 
I support the concept of awarding and acknowledging quality writing in the LDS market and hope to see the  program grow. I'm not fond of the Best Book of the year part of the awards since I don't think it is possible to  compare apples and oranges and determine a speculative book is somehow better than a Mystery/Suspense. It is my hope that, in the future, these awards will highlight better and better professionalism in LDS novels and perhaps even include nonfiction and novellas categories.
(I'd even suggest short story anthologies, since that seems to be a growing segment.)
ME:  And how about the state of LDS fiction? You probably read more of it than any of us. Are LDS writers getting better? Does it help that some are getting national exposure, or are there inherent dangers in going national?
JENNIE:  LDS fiction covers a wide quality range. We still have a lot of cheesy, poorly written novels. We also have many novels that can hold their own in any measure of professionalism. I see supposedly LDS novels that exhibit no adherence to Church standards or doctrinal accuracy and others that are so preachy I wonder why they consider their sermons to be novels. There are those that bend over backward to make sure there are no references to the Church and others that read like missionary tracts. 
I don't know whether LDS writers are getting better or not. Some are; some aren't. Editing is becoming more sloppy and I'm not sure if that is because of the large number of amateur editors offering their services (note I said amateur, not freelance. Some of the freelance editors are very good.), colleges aren't producing as many qualified editors, the economy has made hiring and maintaining good editors more difficult, our general reliance on electronics instead of real people, or the fact that some small publishers and self-publishing for e-readers do no editing at all. There are plenty of well-written, well-edited books by LDS authors, but sometimes it's hard to tell which is which until you've spent your money.
I'm pleased to see LDS writers succeeding in the general market, but most are really no better writers than those who are sticking to the LDS market. Most of that success seems to be in the teen market and is heavy on the supernatural, sensationalism, dystopia, science fiction, or some type of fantasy. Though those genres are all represented to some extent in the LDS market, there isn't as much demand for them. Those writers are writing what they enjoy and the general market is where the demand for their type of writing is.  Equally good writers are staying within the LDS market to write what they enjoy and know.  I don't think LDS writers succeeding in the general market is good or bad, and I believe it is a fallacy to think general is somehow better. I think it's great that LDS writers are succeeding and making a difference no matter where they find their audience.
(Very well put.)
ME:  Finally, please describe your writing space in the voice of one of your favorite protagonists (your choice, but tell us who and from which novel, okay?). (Also, please provide a picture of said space.)
JENNIE:  This isn't going to work for me. Once I finish a book and it is published, I really can't get back in a character's head. Almost half of my books are historical and my protagonists in those books would have no idea what my phones, printer, computers, cameras, Kindle, paper cutter, etc. are.
Kallene in IF I SHOULD DIE would probably wonder why I don't upgrade my laptop and do more cleanup on my desk computer. She'd probably wonder, too, why I have a printer with more features than I need and is more suitable for a business office than a home office.
The mother-in-law, Barbara, in THE RIVER PATH, would likely tell me I need to dust more often, shred instead of stack papers I don't need, and clean out my files better.
Macady from MACADY wouldn't care one way or another what my office looks like, but would be more interested in meeting my family and checking to see if I have a horse or two.
(I think that gives us a pretty good idea of your space.)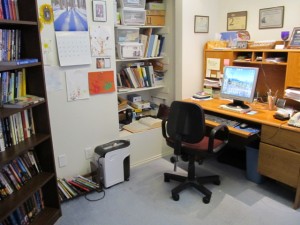 (And here are a couple of views)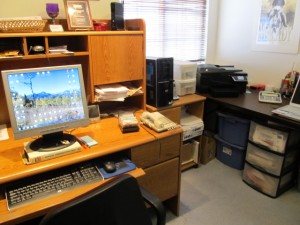 (The business model printer must be hiding in the corner. :D)
If you'd like to get to know Jennie even better, be sure and check out her blog.
By the way, Monique Bucheger won the copy of Craig Everett's Toby Gold and the Secret Treasure in last week's Rafflecopter giveaway.
Come back next Wednesday when I'll be interviewing Maria Hoagland about her new book, Family Size, and how she has developed as a writer.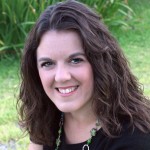 Originally posted 2013-02-20 06:00:38.