As part of a book tour launching David R. Smith's first novel, THE DARK EAGLES: FIRST FLIGHT, one lucky reader who comments on the interview below will receive a free, autographed copy of his book. So keep reading and get ready to respond!
First, a bit about the book: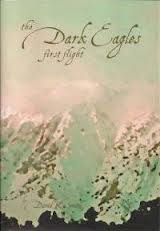 "The book was wonderfully written. It is a book for all ages and gender. Boys may like that it is from a young man's point of view with all the adventure. I enjoyed the character development and the friendships formed from the adversity they faced."
The Book Rack, Arcadia, CA
The Dark Eagles:First Flight
A Tale of Adventure and Freedom
Kief loves exploring the rugged mountains on his horse, Natch, with his
best friend Tarc.  But when he receives a mysterious map on his birthday,
left behind for him by his dead grandfather, Kief is thrown into an
adventure beyond even his imagination.
Leaving home to pursue his childhood dream of attending the merchant
academy on the coast, extraordinary events unfold propelling Kief, along
with his friends and his map, toward the same perilous destiny.
"Author David R. Smith does a fine job with his dialogue, which flows smoothly and wittily throughout. His interactions between characters are genuine, and the portrayals of his young female characters in particular are refreshing."
The Deseret News, Salt Lake City, UT
And now for a bit about the author. (This will be two weeks in a row that I feature a writer who loves horses. :D)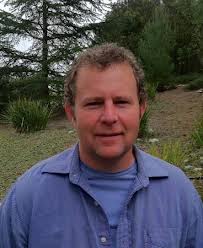 David grew up spending a lot of time on a farm in Heber City, Utah and so he came by his love for both horses and the mountains quite naturally. As a youth, he thought he wanted to direct movies, but after a bachelor's degree in engineering and a master's in business administration, he ended up in the corporate world. We all know you can't keep a writer completely happy in that environment. Before long, the itch to let his mind create grew too powerful, so he set off to follow his dream (with the support of his wife and children).
Now, let's really get to know him.
ME:  What was the most memorable adventure you had while exploring the Wasatch Mountains on your horse and how old were you? (I'd really appreciate a picture of you as a boy on your horse.)
DAVID:  When I was 12 years old, I had just finished reading The Ash Staff by Paul Fisher. My friend and I loved that story. One day after school, we saddled our horses and with our homemade swords (metal pipes smashed flat with a hammer on an anvil) we set off to explore the oak brush forests at the base of the mountains. We galloped through the narrow passes, darting around them, fighting off imaginary goblins and monsters.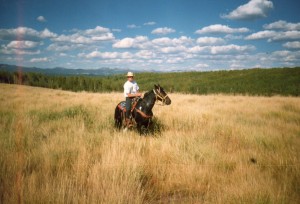 (Okay, he looks a little older than 12 here, but use your imagination)
At one point, we came upon a group of deer that scattered deeper in the forest. Had we had bows, we were sure we could have killed our own dinner. We continued exploring at a walking pace to give our horses and us a rest. Then we darted off again.
I was in the lead and as I came around a bend there was a massive anthill. My horse was spooked and jumped sharply to the left to avoid the mound. My body, on the other hand, continued in its straight course and landed directly on top of the anthill.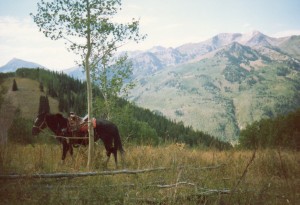 (Smart horse, eh?)
I rolled off and sprang to my feet, brushing the red ants from my arms and clothes. I felt myself a true warrior since I had skillfully avoided receiving a single ant bite. My friend laughed so hard he almost fell off his horse. For us, it had been a grand adventure.
ME:  What made you want to be a movie director growing up? And what was your most ambitious movie project?
DAVID:  As a kid, I saw Star Wars 17 times. And that wasn't on video, it was in the movie theatre. (Serious cash for a kid! No wonder he went for an MBA.) And I think I came close to that number with The Raiders of the Lost Ark. Those two movies had a huge impact on my childhood. (Not to mention your wallet!)
I wanted to be like Lucas and Spielberg and top what they had done. I saved my money (okay, I'm not going to make the obvious comment here) and bought a Super 8 movie camera. I filmed a number of very short pieces and then set out to make my first full-length (4 minute) Super 8 movie (a roll of film had just over 4 minutes on it).
We opted for a cowboy movie since we had all the props. It was the typical outlaws-robbing-the-bank-and-the-sheriff-finding-their-secret-camp-to-get-it-back movie. All the outlaws died, complete with bloody ketchup bags and one outlaw rolling six times across level ground until his bag of ketchup broke for the zoom-in blood frame.
I remember one scene where I told my younger brother, "Okay, you are dead. You can't move in the background on this next scene." He told me okay. As soon as I started to roll the film, he stood up in the background, dusted off his hat, and walked off, completely forgetting what I had said. (I don't know…it may have been intentional. After all, he was a younger brother, right? A perfect opportunity to get you back for all those times you must have lorded it over him. :D)
The movie ended with a panning of all the dead bad guys lined up like a Clint Eastwood movie. One of my friends couldn't hold it in and had a big ole grin on his face. With no editing tools and no ability to re-shoot (I had used up my only roll of film), that would have to do.
(I hope you kept it to show your kids.)
ME:  How have your early experiences with movie-making and your later studies in engineering, physics, and business administration prepared you to be a writer?
DAVID:  Movie-making helped develop my natural creativity at a young age. Whether it was a movie I actually shot or one I planned for, I developed my ability to visualize and tell a story. Even now that I'm 43 years old, I still see scenes in my head from which I write my stories. I see pictures and then put them into words. I sometimes wish I had started writing books at an earlier age. But my engineering background and experience in the business world with people and relationships has given me a great perspective and insight that I have pulled from in my writing. My basic understanding of planetary motion came from my physics courses, which I used to create the world of Fundautum. I wanted the world to be as realistic as possible. There is something about making fantasy believable that adds to the appeal of it. Tolkien created a history and language, Rowling connected her wizard world to that of humans in England. By making it relatable it becomes more believable, even with fantasy. We want to increase our chances of going there, being a part of it. That is what I've tried to do, create a new world but one that readers can feel a partial connection to.
ME:  Where and when do you do your best writing, and why do you think that is so? (Please share a picture of your writing space.)
DAVID:  I have so often heard of writer's block. It is something that I have never yet experienced. My imagination goes so fast that the problem I usually have is getting all that is in my head down on the paper. I can write anywhere. I have no problem blocking out the world.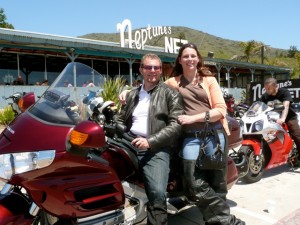 (Yep, this is definitely a first for a writer's space.)
I ride a motorcycle 140 miles roundtrip to work through northern Los Angeles. I come up with many scenes as I ride. Then, when I get to work early, I will spend time writing or I will stay up late in the evenings. Saturday mornings and holidays are especially great as everyone usually sleeps in and I have a few hours to focus. My wife often drives on longer road trips and I get a lot of writing done then as well. With lovely California weather, I enjoy writing outside on our back patio whenever I can.
ME:  I left Southern California partly to get away from the traffic, the overbuilding. Are you ever tempted to move back to Heber City, Utah? Or does some other locale seem tempting?
DAVID:  Once the mountains are in your blood, it's hard to get them out. I've thought many times about moving back to Utah or Idaho or Colorado. But I was fortunate four years ago to find a small town called Newbury Park about 50 miles northwest of Los Angeles. It borders the Santa Monica Mountains that run along the coast. The highest peak is around 3,500 feet, which is small compared to Utah mountains, but considering it drops to sea level in a few miles, they aren't just hills. And then I drive 20 minutes through open farm fields to get to a rugged, secluded beach where I surf until sunset with my boys while my wife walks our dog, Alex, on the beach. It's hard to beat!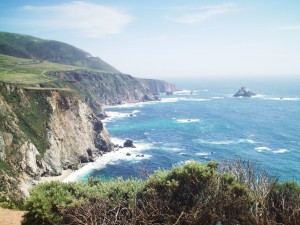 (You've convinced me! Click on the picture to get a much bigger view.)
ME:  I'm curious about the title of your series, THE DARK EAGLES. Why that title, and how does it relate to the theme of your series?
DAVID:  A dark eagle is a special bird that is central to the story. I hate to give away anything, so I will leave it at that. (Hmmm…we're going to have to read the book.)
ME:  Okay, let's say we put two authors who have influenced you–Robert Louis Stevenson and Suzanne Collins–smack in the middle of the Hunger Games. Who would get out alive and why?
DAVID:  Ha ha, that's an easy one. (Oh, really?) It would be Robert. He knows about fighting treacherous pirates while Suzanne knows about fighting teenagers. (Haven't faced any treacherous teenagers, have you?) Not to mention Katniss never really grew from her experience. She ended the series not any more selfless than she was at the beginning. Jim Hawkins, on the other hand, risked his life for the crew. He had true grit. (Okay, this answer alone should get the comments piling up.)
ME:  Do you prefer outlining a story first or writing by the seat of your pants? And what are the advantages and disadvantages of both?
DAVID:  I definitely write by the seat of my pants or, as Indiana Jones said, "I'm making this up as I go." I did spend a lot of time (years) working out the overarching plot in my head, as well as all the connections and history behind the whole story. (It must have taken quite a few motorcycle rides!) But with that as the structure, I just sit down and write. I'm always amazed when my characters do something unexpected, or when something works out perfectly with the overall plan. It's awesome. (I know exactly what you mean.)
ME:  What are you working on now and can you give us a peek into the story?
DAVID:  I'm almost finished with the next novel in THE DARK EAGLE series. In THE DARK EAGLES – WELLS IN DESOLATION," Kief's adventures take him across the seas to hostile and desolate lands filled with death and despair. Driven on by revenge and the raw will to survive, he encounters new friends that help him along his journey and reveal secrets about the past and his destiny. But a shocking truth threatens to doom the fate of the The Dark Eagles forever. (Pretty good peek.)
ME:  Finally, do you ever see yourself going beyond fantasy into other genres? If so, which ones?
DAVID:  Not at this point. I love fantasy and the escape from, as well as the inspiration to, real life that it can provide. Like Frodo walking up Mount Doom, fantasy can encourage us to push forward in our personal lives regardless of what challenges we face. It strengthens us and gives us hope through the characters and events they experience. Nothing seems to inspire us more than a great story!
Now don't forget to leave a comment here if you want a chance to win a copy of David's book!
You can learn more about David and his writing on his website, which features a rather cool interactive map to his imaginary world. If you want to buy his book, it's available on Amazon and Barnes & Noble.
And come back next Wednesday when I interview the inimitable J. Scott Savage, the author of a new zombie middle grade series from HarperCollins!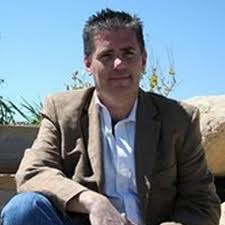 Originally posted 2012-12-12 06:00:00.