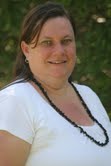 A mother of seven, C. Michelle Jefferies' first novel, EMERGENCE, about a hitman with a conscience, debuted last year on Halloween. (More about that later.) You'd think she'd take some time off for the holidays, but no, she also had a short story featured in the Christmas anthology, SING WE NOW AT CHRISTMAS, compiled by Michael Young.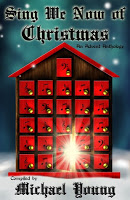 And she has a new book coming out in the spring! When does this lady ever rest? Let's find out what keeps her ticking.
ME:  Okay, first of all, what does the C. stand for and why use it as an initial? Is there another famous author named Michelle Jefferies, or do you aspire to be a General Authority of The Church of Jesus Christ of Latter-day Saints?
MICHELLE:  No, definitely not a General Authority. (Laughs) The C stands for Christy; Michelle is my middle name. Not that I don't like the name, but I have gone by Michelle most of my life. If you google just Michelle Jefferies, there are lots of semi-famous Michelle's. So, in the interest of making myself a little different and more easily found, I added the C. Definitely not mysterious or secretive.
(Hmmm . . . I found 42 in the U.K. with your name, no one famous or semi-famous. But if you switch the spelling of your last name to Jeffries, we get a lot of professional doctor, scientist types. I still think you're angling for GA status. We'd better keep an eye on you.)
ME:  Where were you born and raised, and how does it differ from where you live now?
MICHELLE:  I was born in Salt Lake City, Utah. I grew up in the Salt Lake Valley and lived there until I went to Utah State University in Logan. It is a complete 180 degree turn from my life now. Salt Lake is a big, bustling city. Places to shop and things to do, being able to go to the thrift stores and grocery shopping within minutes.
Emery County, where I live now, is a tiny little rural village in comparison. There are less than 2,000 people in the city and it is only two miles across at any given point. There are no stoplights in the county and you can smell and hear cows in the evening. You see tractors drive down the road and cowboys in chaps and spurs in the one and only grocery store. It's quite the difference for me. My kids love it. I'm okay with it.
(Sounds like a perfect place for a GA to be from. Think of all the anecdotes you can share from the podium.)
ME:  On a more serious note, I understand you suffered from severe asthma and allergies when you were young. How did that help or hinder your creative nature? And have you thought about giving any of your protagonists such disabilities? If not, why not? (Also, I'd love a picture of you as a child.)
MICHELLE:  I did. Thanks to modern medicine and strict avoidance of my worst allergies, I am healthier now than when I was young. I still played sports like baseball, but things where I had to run a lot like track and basketball were not for me. I think in a lot of ways it helped my creative side because I would sit on the sidelines of sports I couldn't participate in and my imagination kicked in and created scenes for me to play in my head.
I don't think I'd give any of my main characters asthma or allergies. In some ways they've made me so miserable or sick I'd hate to see anyone, even someone imaginary, with such a horrible disease. I do give disabilities to some characters. Just not those ones.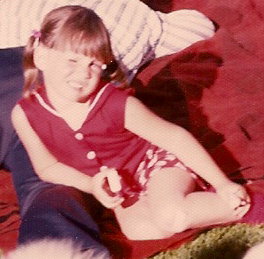 (Michelle outside on the grass as a young girl. Is that an inhaler in her hand?)
ME:  How old were you when you wrote your first story, and do you still have it? Also, can you give us the gist of it?
MICHELLE:  The first story I wrote (that I remember in enough detail to tell you about it) was about a young lady who was captured by aliens and rescued by a "super hero type team." I was twelve or thirteen and it was for a creative writing assignment in middle school. I got an A and the teacher complimented me on my descriptive detail. I think I still have it. I have most of my old high school writing stuff, too. I'd created stories in my head before then but it was one of the first ones I wrote about. I had found a Japanese anime called "Battle of the Planets" and fell in love with the "super team" idea. A lot of my earlier stories were in that style. Still like it, actually.
ME:  Tell us about each and every one of your seven children, particularly "destructo boy", and have you already used any of their personality traits, or those of your husband, to help flesh out characters in your books? (I must have a picture of the whole family, if that's all right with you.)
MICHELLE:  Okay, ready for the long list? (Yep. But first, I'll post the picture of you with six of your kids. Guess who's missing?)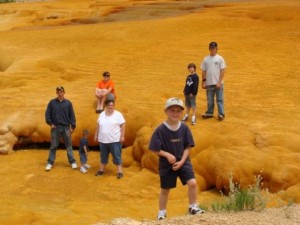 I have a 20-year-old son who is married and living in Utah County. He was my rebellious child and couldn't wait to move away. They are happy and that is what I want for my kids.
My only daughter is almost 19, and is working on turning her mission papers in. (Yay! Good for her!) She is a sophomore at Southern Utah University and is loving college life. She is a lot like me. She loves to write and is an award-winning short story writer, and loves to bake chocolate chip cookies. (Nothing goes better with writing than chocolate . . . except when you're trying to lose weight, of course, which I am . . . so, please, no more mentions of sweets, okay?) She is studying criminal justice and wants to be a profiler for the FBI.
(I think we can figure out what she'll end up writing.)
My 15-year-old is a lot like his father. They love to go hunting and fishing and all sorts of outdoors things. He is studying mechanics and machining and wants to be a helicopter pilot. He is taking flying lessons from his father and wants a good summer job so he can get his airplane pilot license. (Take note, readers. Job wanted!)
My 11-year-old is a smart cookie. (No more sweets, please!) He gets all A's and loves to play the clarinet. He is the true middle kid and likes to tease and incite all sorts of trouble with the older and younger kids.
My 9-year-old is dyslexic and, we think, high functioning autistic, although that one hasn't been diagnosed. He struggles in school but loves life in spite of his disabilities. He's just learning how to read with comprehension and decided that he wanted to read Goosebumps. Mom obliged, but doesn't like the gross covers. (I'm with you there.) He loves to talk and we have to remind him to use his in-the-house voice. (Is that a nice way of saying he can get a little loud at times?)
My 6-year-old is quite the character. He is really smart. He was my earliest reader and never had a speech delay like the other boys did. He is only half-way through first grade and is reading chapter books. (Sounds like my Jason.) He is extremely sensitive, both in emotion and pain reception. He is often the one who is screaming if there's a tussle or teasing going on. He used to conjugate verbs for fun when he was three. (Wow! I'm impressed.)
Then there's my 2-year-old, or "destructo boy," as we call him. He is constantly moving and getting into things unless he's passed out. He has broken too many things to list, including his arm. He is a daredevil and doesn't feel cold or heat. He likes the sensation of falling and has no fear. He is fiercely emotional and he loves everyone of his siblings intensely. He cries when the older ones go to school. While we call him destructo boy, he is the glue that holds my family together. Everyone loves him. Everyone seeks him out for hugs and affection. He calms the siblings down with his presence.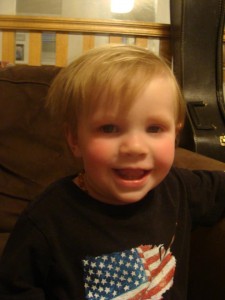 (The adorable, ever-moving, yet calming "Destructo Boy")
I use a lot of events and personality traits from my family in my books. I have millions of things going on in my house every day and I'd be a fool not to use my life as an idea generator. For example, when DB (Note: That's Destructo Boy, not Deseret Book) broke his arm, I used the scene and experiences for my book, CATALYST. I have also named characters in my stories for every one of my kid's names. That was a lot of fun to do. It makes my kids feel important, especially when doing things like edits sometimes take a lot of my time.
Because I am writing about an adult character, I use a lot of things that have happened to my husband as scenes in my books. We were at an airport one morning when we were moving my hubby's plane. A falcon chased a pigeon past our plane and right into the propeller. It decapitated the falcon. (Gross!) Sounded like a gunshot. I watched every horrifying moment of it. It is definitely going to be a scene in some book. There's a scene in the next book, LATENT, that is step for step an exact replay of an experience my hubby had at work. The funny thing is no one believes me that it was real. It is just too good to be real.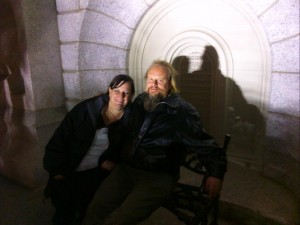 (Michelle with her aviator husband)
ME:  You've said that you don't interpret emotions or deal with them well. How has that affected your writing?
MICHELLE:  I don't understand emotions or interpret them well. Sarcasm is lost on me. I don't get "subtle hints" or some body language. If you do something and I am either still talking or staring at you, chances are I didn't get it. (You do realize I'm going to test this out if I run into you at this year's Storymakers Conference, don't you?) It can make writing a character with emotional responses (which is most characters) really hard. Unless you're my assassin. I have him pegged with this imaginary box that he stuffs everything in that he doesn't want to deal with.
I actually do an "emotion" edit round on the whole manuscript when I am polishing it. It is the longest and hardest edit round I do. I have an awesome critique group that understands my issue, and they always comment on the lack of emotion and where it needs to go. (Sounds like Ann in my group. :D) I love them, they help me out a lot.
(Yes, critique groups are the cherry in a writer's life . . . oops, I broke my own food rule. It must be about time for lunch.)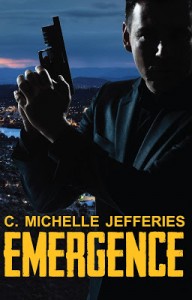 ME:  Tell us about your Prophecy Rising series and how the first book, EMERGENCE, fits into it. And what are you working on now?
MICHELLE:  The Prophecy Rising series starts with a man who believes in nothing and no one except himself. He experiences life-changing events and makes a transformation, or my preferred word–metamorphosis–from bad boy to good guy. In the beginning, he has no idea who he is. He was left on the steps of a church as a newborn and has no living family or ideal to follow. The main character, Antony, in EMERGENCE is literally a wandering assassin like the old Ronins of feudal Japan. Trying to find his way.
The next books are of him finding himself and discovering that he has a lot more to himself than what he was as the assassin. He faces trials and many people who threaten his new life and loves, and he has to learn how to mesh the old assassin skills with a compassionate heart to save himself and his family.
EMERGENCE is an "accidental" book in the Prophecy Rising series. I wrote a book and every rejection or critique asked me the same questions. "Why is the main character the way he is?" After a few months of getting this question, I decided to go back in time and write the book that makes him who he is. I went to my plotting partner and we started to work out what I needed in order to write EMERGENCE. I was sick to my stomach for weeks. I didn't want to give up the old story. I'd worked so hard on it. After weeks of worrying about the change, I accepted it and started to write EMERGENCE. It took me four months to write and another year to revise and edit it.
I just turned in the second book (working title, LATENT) to my publisher. The third book (working title, CATALYST) I wrote for Camp NANO in June. It has sat on the back burner for a few months and is next in line for revisions and editing. The fourth book (working title, PROPHECY RISING) is being plotted out in my head as we speak. It will be the next one written.
I am working on a Christmas short story right now about Antony for this year's Christmas Advent Anthology by Michael Young. (A second edition, as it were of SING WE NOW OF CHRISTMAS.) I wrote a YA scifi/steampunk manuscript this November for NANO and it is now in the "back burner" position.
(All of this and seven kids, too? I am ashamed.)
ME:  Let's pretend your main character, the assassin known as Antony, has to sneak into your house to find your office or writing space. Please describe in his voice how he would get in and what he would find. (I'd also really appreciate a picture of the setting.)
MICHELLE:
Antony could see the blue glow of the computer screen though the window to the left of the front door.  What on Earth was his author doing at three in the morning still awake and how was he going to get into her files if she was? Once he had the computer in hand he was fine, he knew her well enough to know her passwords.
The rest of the house was dark, and the front door locked. He could hear the dog's low growl in the back yard. There was no way he was going to get into the house in the back.  There was one option, the living room window was open a crack. He worried what her husband would do if he found him in the house.  It didn't matter much, he HAD to know how the next book ended.
The screen came out easily. He was sure that the kids leaning into the mesh had bent the frame enough that just pulling on the edges released it. He used the shovel he found leaning against the side of the house to leverage the window open, and slipped in. He made his way across the living room, stumbling or tripping a few times on toys on the floor. Trying to be silent, he kept his eyes on the hallway where his author's husband should be sleeping as he pushed the office door open with his elbow. His mind ever aware of leaving fingerprints.
The room was empty, no Michelle, the computer screen glowing on the small green wood desk right under the window. To the left of the desk the printer sat on a metal cabinet covered in post it notes. A koala bear and kangaroo key chains hung from a metal paper holder. Farther to the left sat a filing cabinet and a book shelf. He could see the book EMERGENCE on the shelf and resisted the urge to pick it up and flip through the pages. He'd lived that story and he wanted to see what laid in store for him now.
To the desk's right he observed a white cabinet that had a sculpture of him, which was pretty good if he said so, a triangle hat like the old man in Kyoto wore and other Asian objects including a Japanese tea set. Inside the cabinet as he opened the door that squeaked a little was three shelves of teapots cups and saucers.
"Drink a lot of herbal tea or is it just an obsession?" he asked as he made it past her craft table with her sewing machines on the top and supplies underneath and sat at the desk. He typed in her password and clicked on the file labeled LATENT.
(Brava! And here's the picture):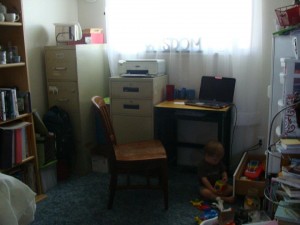 (Click for a larger view . . . notice the toys?)
ME:  Finally, I know you practically grew up in a library, thanks to your mom. How is the library in your town and do you think we'll still have libraries twenty years from now? If so, what will they be like?
MICHELLE:  We're really lucky and have an amazing library system here in Emery county. I know the librarians really well. They have a great selection of books and lots of events for the kids in the area.
I think there will still be libraries. I think while the electronic book won't get rid of paper books, it will be dominant in the future. I imagine we'll be able to go to the library and borrow a book and then, when it is due, it's erased off your electronic device. I do not see e-devices replacing books for little kids. I'd never let destructo boy have an iPad. He'd kill it in three seconds. Little kids need to manipulate the pages and touch the pictures. I believe it is part of necessary development and a base in learning to love reading.
There's something about turning pages and holding a book and smelling that new book smell. I just don't see that being replaced.
(What about you, readers? Where do you see libraries and books in 20 years?)
If you'd like to learn more about Michelle and her writing, be sure and check out her website.
Stay tuned next week for an interview with Craig Everett, author of TOBY GOLD AND THE SECRET FORTUNE.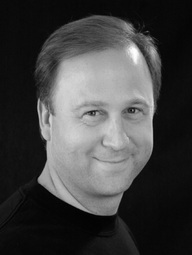 Originally posted 2013-01-09 06:00:39.