Thriller writer Bernard Besson has won multiple awards as he's crafted stories based on his own experiences working in French intelligence and such modern phenomena as climate change, which he researched for his new American release, THE GREENLAND BREACH. I was happy to have an opportunity to interview him recently.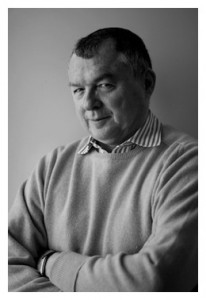 ME:  I see that you were born a few years after the end of World War II. What was your childhood like in Lyon, France, and could you still sense the effects of the war? Also, did those effects have anything to do with your later joining the French intelligence service, and, if so, how?
BERNARD:  I was born in 1949 in Lyon, France. I remember when I was seven or eight walking across a "temporary" metal bridge over the Rhône River. The retreating German Army had bombed all of the city's bridges. I understood later that the bridge in question had been built by the American army; it was still in use many years later.
In World War I, my grandfather had fought victoriously against the Germans at the battle of Verdun, and at home he reproached my father for having lost. I was raised with both memories of a victory (1918) and unthinkable defeat (1940). That confrontation between generations was a little confusing for a little boy. (I can well imagine.)
These feelings were then strengthened with the wars in Indochina and Algeria, and those defeats. It was these military disasters that, in part, explain why I signed up to work for the state, along with the admiration that I still have for General Charles de Gaulle. So it wasn't entirely by chance that I chose to work for the police and then later for the intelligence services.
When I was little, I didn't want to see my country continue to lose on the battlefield. I remember when I was a kid going to see a movie with my parents that had something to do with Waterloo. I cried at the end and wanted "Mister Director" to rewrite the scene.
We spent the summer with my younger brother and my mother in Dun-les-Places, in the Morvan, a rural, wooded region in central France. The little town was one of the only ones in the area to have new houses and streets with right angles. One day, as I came out of church with my two great aunts (my grandfather's sisters), they told me why that was. On June 26, 1944, German soldiers had shot 27 men in the village church. They made the priest climb up the steeple and shot him in the head because he had blessed fighters in the Resistance. Then they threw fire grenades into the church. All the houses in the village were burned down in retaliation for what the Resistance was doing in that wooded, mountainous region.
My father was arrested by the French gendarmerie in 1942 when he tried to join the resistance. He was delivered to the Germans and deported. He resisted in Germany, and went on strike with others. Then he was sent to the Russian front to build anti-tank trenches, and punished a second time, to be sent to Rhineland to rebuild the roofs of the Messerschmitt factories that the Americans kept bombing. He was finally freed by the American GIs.
(I can see that World War II had a very real impact on your family. Thanks for sharing such details.)
ME:  How old were you when you determined to become a writer and what fueled your desire?
BERNARD:  I was fifty when I published my first novel, the Vierges de Kotelnikovo. When there was a shift in the French government, I found myself in another department, working for the Inspection générale de la police. I had way too much free time and was bored. I had written a few books already about business intelligence, and I thought I knew how to write and it would be easy to write a novel. It turned out to be much more difficult than I imagined.
ME:  What kind of preparation, academic or otherwise, did you have before you entered the intelligence world, and what personal characteristics made you so successful in your field?
BERNARD:  I studied law in Lyon and then in Paris. I wanted to have a Masters degree in law to pass the competitive examination to be a police chief. I did so in 1974. I was the youngest in my class. But I didn't want a career in the police, because I don't like firearms and have no taste for dead bodies. So I chose to work in intelligence right after graduating from Saint Cyr National Police Officers School. I never regretted the choice. I met many people who offered me interesting, high-ranking positions. I was able to work with a team of loyal colleagues, some of whom followed me to Paris and are friends. They taught me things I didn't know. A good leader is one who chooses people who are more competent and more brave than he or she is. (Very wise.) And I had my fair share of them.
ME:  At what point in your career did you decide to write thrillers and what was the impetus behind your decision? Also, please tell us the title of your first novel, published in 1998, and how you conceived its storyline. (I would love to post a cover image, even if there's no translated English edition.)
BERNARD:  I got inspired to write my first thriller when I was at the DST, which is French counter-espionage, or the equivalent of the FBI. I was very lucky to be working during the fall of communism and the Soviet Union. We were able to understand how networks of Russian, Bulgarian, Polish, Czech and Romanian spies worked with their allies in France.
The Russians from the KGB and the GRU were not in any hurry to return to Moscow. Living in Paris was much more agreeable than a future in Siberia. (I'll say!) So we gave them an opportunity to explain how their system worked. I was impressed by the people skills these spies had, their extraordinary imagination and their patriotism that had been put to the service of a blind and incompetent dictatorship. The time frame was 1989 and 1993.
That is were I got the idea to write a novel and I began the Vierges de Kotelnikovo in 1985. This book recounts how the GRU, the Red Army's intelligence branch, had imagined assassinating the president of France an hour before launching a nuclear war.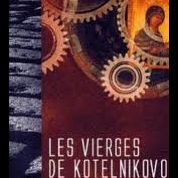 We discovered how widespread the network of spies was among what we called the "French elite." I had been prepared for this debriefing work when I was in Lyon in 1985. There I was given the job of finding former French collaborators of Klaus Altman (Barbie), who had headed up the Gestapo, in order to get new elements in view of his trial in 1987.
I got an inside view of how the Gestapo had operated in eight different French départements, including three in the Alps, which was a major area for the Resistance. It was a very interesting experience. (I can only imagine.) My team and I were able to understand what tricks and organization Klaus Altman and his political police had used to manage to destroy the armed resistance in the region around Lyon and in the Alps.
ME:  As the daughter of a former CIA agent, I know that guns and spies do not necessarily go together—that it's more about making contacts and gathering intelligence—but how large a role do weapons play in your novels? Do you try to follow the style of John Le Carré or tend more toward Robert Ludlum and Clive Cussler?
BERNARD:  Fortunately, I have never in my career used a weapon or killed anyone. I am happy about that. My characters don't do it much either, or at least not with the usual kind of weapons. In THE GREENLAND BREACH, John Spencer Larivière uses a screwdriver and Victoire Augagneur a broken window in order to get rid of their bothersome adversaries.
I truly appreciate the professionalism of American authors. You don't need to be a former spy or counter spy to write a good spy novel. It can help, but it can also hinder. I have learned not to explain things to my readers, but to leave my characters to act. Showing and not telling.
I do not try to follow the style of any particular author because I read very few mysteries and thrillers. But I loved Conan Doyle's talent and the fast-paced action in James Bond.
ME:  Your latest work of fiction, THE GREENLAND BREACH, has been described as an eco-thriller. Have you written this kind of thriller before and what made you decide to do it now? Also, please tell us the main messages, if any, that you were trying to convey through the story.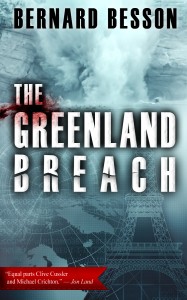 BERNARD:  THE GREENLAND BREACH is my first eco-thriller. It was the debate among scientists in France that led me to write this novel. They do not all agree on the causes of global warming. And Greenland itself is a character in the novel.
After a career in intelligence, I continue to work in the field by teaching in the French "competitive intelligence" program. The most prosperous nations are those that are able to understand and anticipate economic changes as well as natural changes. In THE GREENLAND BREACH we have both. It was very tempting to tell a story that recounted this reality. Fiction makes it possible to tell more truth than an academic work filled with numbers and statistics.
(And it's much more enjoyable to read!)
ME:  You have won several awards, including the Prix de la Chouette de Cristal, the Prix Edmond Locard for Best Science Thriller, and the IEC Prize for Economic Intelligence. Which book was honored for each of these, and which award means the most to you personally?
BERNARD:  I received the Prix Edmond Locard for Best Science Thriller for Chromosomes in 2000. It's the story of a duel between two pharmaceutical companies—one French and one American. One of the two companies is trying to cure someone on death row and discovers something extraordinary and totally unexpected, as often happens in scientific research. You look for one thing and find something else.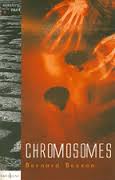 In 2008, I received the Prix de la Chouette de cristal-IEC for Chien Rouge. "Chien rouge" or "red dog" was the nickname for the head of Japan's intelligence services, a former director of Toyota. Japan's prime minister asked him to anticipate a situation where the Americans and the Chinese would agree to split up strategic raw materials "forgetting" Japan all together. Operations are running smoothly until Chien Rouge has to defend Japan in a crisis situation. Part of the action takes place in my hometown of Lyon, where the Chien Dog has a talented female spy working in nanotechnology.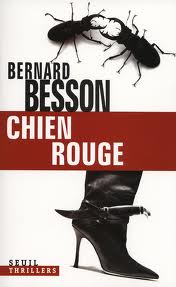 ME:  I understand that you currently live near the offices of French intelligence in Paris. Do you regularly get together with old colleagues and how helpful are they in terms of research?
BERNARD:  In fact, I live in the same neighborhood as my heroes John Spencer Larivière, Victoire Augagneur and Luc Masseron. They live and work out of 9 Rue Fermat in the fourteenth arrondissement of Paris. (Note: An arrondissement is a municipality or district.) They are former intelligence officers who left the DGSE for personal reasons. John had been wounded in Afghanistan, Victoire was bored and Luc had no skill in an administration. They founded Fermatown, a private intelligence company named after the Rue Fermat, but doesn't yet earn a lot of money.
They now live (as of the sequel to THE GREENLAND BREACH, which is being released in French on Oct. 31) with a baby and a Persian cat in a house that John inherited from his American aunt, a sculptor. The building is really hard to heat, not very practical, and hugely expensive to maintain. But it is located in a great neighborhood called the Village Daguerre, which is a little bit like the Notting Hill of Paris.
(Hmm…could that Persian cat be anything like your own?)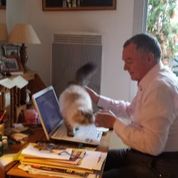 (Bernard's cat editing his work)
I often see my former colleagues and it is always a great pleasure. But I also meet with heads of French companies interested in setting up ethical and legal in-house economic intelligence systems based on open source solutions, which are the most efficient. I help these organizations develop these solutions, which requires a long-term investment in people–a company's most important resource.
ME:  Please provide a description of your writing process. Also, what are you working on next?
BERNARD:  I go to bed early, I think at night and I write early in the morning. I always come up with an extremely detailed outline for my novels. Certainly to reassure myself. And then, very quickly, my characters destroy my outline, because they have ideas and reactions I had not thought about. (Naturally.) I have learned that they are right, because life comes out on top over theory.
Right now, I am finishing a story inspired by the Cuban crisis between the United States and the USSR in 1962.
And, the sequel to THE GREENLAND BREACH will come out on October 31, 2013 in French. It has the same heroes. In this new thriller, Partage des Terres, thanks to the United States and their allies, including France, China has to share the exploitation and trade in rare earths with other nations. These precious metals are used in medical, military and information technology. The rare earths markets are set up in Paris and Malaysia and run smoothly until a grain of sand throws off the well-oiled international finance machine and obliges the CIA to put its best Asian agent on the trace of a mass crime in France.
(Sounds intriguingly complicated.)
All these stories are reread and corrected, sometimes severely, by Claudine Monteil, my companion for the past twenty-three years. She is a historian and writer herself who has published several books that have been translated into several languages. She provides great inspiration.
ME:  Finally, could you describe five items in your writing space or office that make it uniquely yours? (And I'd love to post a picture of your writing space.)
BERNARD:  My office is in the apartment that Claudine and I share in Paris. I have a normal wooden desk covered in sticky notes, which I use to write down ideas whenever they come to me.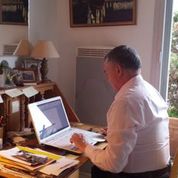 (See the sticky notes?)
We have a slightly bizarre painting by Boldy that represents a cat, and a real cat named Caresse, who plays a role in THE GREENLAND BREACH. (Now I really must read it! Cats rule!) We also have a portrait of Simone de Beauvoir, painted by her sister, an artist Claudine and I knew.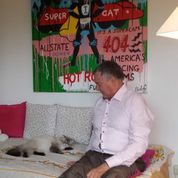 (Bernard with Caresse beneath the painting by Boldy…I think)
You can learn more about Bernard in this interview and from his English publisher, Le French Book. As I noted on Monday, THE GREENLAND BREACH is available on Amazon, iTunes, and Nook.
I'll be taking a break next Wednesday when I go to a writing retreat, but look for my interview with fantasy author T.M. Franklin on the following Wednesday, November 13th.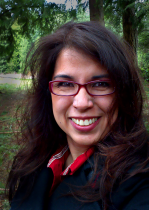 Originally posted 2013-10-30 06:00:09.