While I normally interview fiction writers, today's guest, Fay Klingler, writes primarily non-fiction. In fact, I like to think of her work as women's non-fiction because almost all of it applies to the challenges of women, mothers, and grandmothers.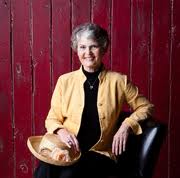 ME:  I know you were reared in Mesa, Arizona, but where in the mountains did your father build that summer home for your family? And what kind of an effect did that kind of childhood have on you in terms of your writing later on? (I'd love a picture of you as a child up in the mountains.)
FAY:  Our home in the mountains was the highlight of my entire childhood. It was built in Strawberry, Arizona. My brother and I roamed those mountains and explored all summer, every summer. Back then, there were few fences and a small population. We rode roundup for a neighboring cattle rancher. We discovered an amazing chalk mine. In the night, we heard the loud screams of a nearby mountain lion. We slept out under the stars with apples situated on top of us to feed the skunks who frequented at night. (Okay, I'm visualizing young Fay with an apple on her forehead…or would she have put it on her tummy?) On the pond, we rode the wooden raft my brother made, and we collected snakes, frogs, and Indian corn grinders.
At one point, I started to draft a manuscript that included some of the colorful events I happily experienced there. But then my use of time migrated to caring for family and the necessary chores of life. (Well, I hope you can get back to that unfinished manuscript, and I'm sure your children do, too.)
You asked for a picture. I came across this one. My greatest love was riding horses in the mountains. This was taken in Pine, Arizona, on the 24th of July 1960—me and my Great Uncle Jody. He was a true cowboy. I was a would-be true cowgirl :)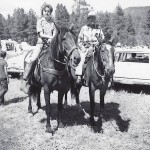 (She looks pretty authentic to me)
ME:  I loved the lesson you described that your creative writing teacher in junior high provided when she came to class, all plain, and then proceeded to put on all her makeup in front of the whole lot of you, asking you to describe the process afterward. If you had to give a similar lesson, what would you demonstrate and why?
FAY:  I would show how to make bread or cinnamon rolls. Then I would share the results with my students! (Sign me up for your class!) My mother was a marvelous baker. When I was in college at Brigham Young University, I tried to make bread like hers. I thought it should just come naturally. You read a recipe. You follow what it tells you to do, and walla you have a delicious-smelling, perfect textured loaf of bread, right? Not mine! It was as hard as a brick. No kidding! (On second thought…)
My mother came to my rescue by giving me lessons on bread-making. I have loved making bread ever sense and do so often for my family. (Okay, I'm all signed up again. :D)
ME:  Where did you pursue your degree in Advertising and Commercial Art, and did you end up working in either of those fields?
FAY:  As a young mother, I took classes through a correspondence school. It was a well-known school with a good reputation—Art Instruction Schools. It took me several years to complete the course.
I worked as a professional illustrator for a number of years. My work was featured by greeting card companies, "Highlights for Children" magazine, "Cricket" magazine (That's two weeks in a row that Cricket has been mentioned), and others. For a period of time when I had to provide for my family alone, I used my skills to teach commercial art in the public school system. With the curriculum I wrote, my students won state art awards for the first time in that school's history. (Brava!)
ME:  If you had to choose between your two loves–art and writing–which would it be and why?
FAY:  I did have to choose. As a single mom, I could not earn as much money with my art as I could with my writing. But that writing was not creative work. It was technical writing. I wrote safety manuals for oil refineries, railroad procedures, bank operation manuals, and communication style guides. (I'll bet none of your current readers would have guessed that.)
ME:  Which illustrated book are you most proud of and why? (And please provide a cover photo.)
FAY:  I think I'm most proud of my illustrating for Highlights for Children magazine (I won their Science Corner of the Year award twice) and my greeting card work (I illustrated for the third largest greeting card company in the world, Recycled Paper Products). This is an illustration I did for one of their greeting cards.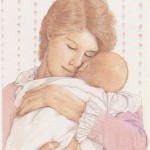 (Beautiful, isn't it? You can tell she's gearing up for her future books.)
ME:  You seem to specialize now in women's non-fiction. Could you please tell us about your latest publication and what prompted you to write it? And are there any subjects concerning women and families that you are thinking about addressing in the future?
FAY:  I have two books coming out in 2014. They are actually tied together. I wrote a children's fiction piece I AM STRONG! I AM SMART! (for ages 8 to 12). I'm not prone to writing fiction, but I love this story. Its heartfelt message unites and bonds generations. Grandma May and young Lu offer each other and women of all ages the tremendous gift of "girl power"! (Good for you! You're branching out.)
Initially, it was suggested by my publisher that I use that title to also write a non-fiction book. It evolved into WE ARE STRONG! MOTHERS AND DAUGHTERS STAND TOGETHER.
This book provides the why and how of teaching strong Christian values, with true stories communicating the purpose of those values. This inspiring work helps women strengthen their relationship with their daughters as they learn how powerful a faithful mother's example can be. (Sounds terrific for me and my daughter.)
ME:  How have your own experiences impacted your ability to write about women, marriage, and raising children and grandchildren? Does your family ever feel like they're being exposed, or do you avoid using personal examples in your writing? (And I'd really appreciate a picture of your large, blended family, if you don't mind.)
FAY:  My experiences have greatly impacted my writing. Like far too many women, I lived in an abusive marriage for many years. After my divorce, as a single mother I struggled to protect and provide for my family alone. When I remarried (a saint of a man), I found blending a large family to be one of the most challenging experiences of my life. (I'll bet! But that's also what gave you such expertise.)
Over the past 30 years, I've shared the wisdom I gained from my life's experiences, and I am grateful my Heavenly Father has helped me in that writing so the words impact others in positive, life-changing ways.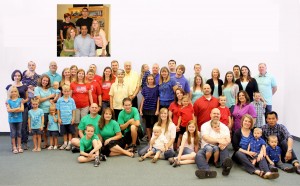 This is a picture of a portion of our family. (Hint: Click on it for a larger view.) We have members living around the world. Several of our children and grandchildren could not attend this gathering. We have twelve children in our blended family, and thirty-five grandchildren. (That's a lot of bread baking!)
ME:  As a non-fiction writer, could you describe your writing process and how you approach publishing?
FAY:  I try to follow the promptings I receive from the Spirit. I feel driven to write or I really wouldn't do it. Creative writing is a very difficult career. (Yes, but it's too fun to give up…)
With an outline of my work in place, I make digital file folders and paper file folders. As the weeks of research and gathering pass, I collect materials that fit the various chapter subjects. It's amazing to me how I meet just the right person or am exposed to the perfect story that fits the chapter I am working on. (Yep, something tells me that, fiction or non-fiction, the real Author's putting his hand in.) I am consistently thrilled by our Heavenly Father's choreography. (Great way to put it!)
ME:  Finally, where do you do your best writing? (And please provide a picture.)
FAY:  My husband and I share an office. My corner looks out on our front yard flower garden, making my spot a peaceful, quiet location to write.
My husband even made a label for under my computer screen. The label reads, "Fay's Work Spot"! (Now that's supportive!)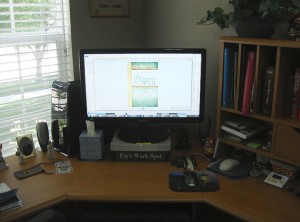 (See the label? Either she's very organized, or she cleaned up for the photo. I have a feeling it's the former since this is a lady who successfully raised 12 children.)
You can always find out more about Fay and her creative work on her website. She blogs right on her home page like I do.
Be sure and come back next week when I talk to YA Romance author, Rebecca Belliston, about her well-known parents and much more!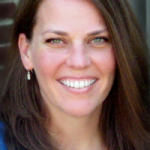 Originally posted 2013-07-03 06:00:05.