We've got a new thriller to announce from across the Atlantic, translated by the woman who brought us Les Miserables. Le French Book is releasing Bernard Besson's cli-fi spy novel, THE GREENLAND BREACH, on October 30th.  It's available on Amazon, iTunes, and Nook, and should be up shortly on Kobo.
Have a look!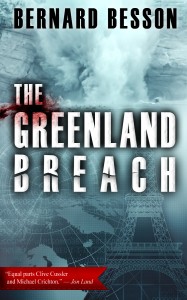 Synopsis
The Arctic ice caps are breaking up. Europe and the East Coast of the United States brace for a tidal wave. Meanwhile, former French intelligence officer John Spencer Larivière, his karate-trained, steamy Eurasian partner, Victoire, and their bisexual computer-genius sidekick, Luc, pick up an ordinary freelance assignment that quickly leads them into the glacial silence of the great north, where a merciless war is being waged for control of discoveries that will change the future of humanity.
Excerpt
(First published in French as The Greenland Breach, ©2011 Odile Jacob. English translation ©2013 Julie Rose. First published in English in 2013 by Le French Book, Inc., New York)
The Greenland Breach by Bernard Besson and Julie Rose (translator)
SUNDAY
Greenland, the north face of Haffner Bjerg, 6:30 a.m.
Lars Jensen felt the ground tremble beneath the snow. He straightened up and abandoned his position, petrified by what he was seeing to the west, toward Canada. The last phase of global warming had begun just as a big red helicopter flew past from the east. It doubtless belonged to Terre Noire, the Franco-Danish oil-and-gas company that was carrying out geological surveys.
From the rocky slopes of Haffner Bjerg, events were taking an unimaginable turn worthy of Dante. With a sound as ominous as the crack of doom, the Lauge Koch Kyst had begun to tear away from Greenland and plummet into Baffin Bay in the North Atlantic Ocean. A colossal breach a mile and a half deep was opening up in the middle of the island continent. The trench ran for miles, as if an invisible ax had just split the ice cap in two.
Terrified, Lars backed away, forgetting what he had come to the top of the world to do. He'd guessed that his presence on the slopes of Haffner Bjerg had something to do with the death of the Arctic. The advance wired from an anonymous account on the island of Jersey was every bit as incredible as the cataclysm under way.
A mist shot through with rainbows rose from the depths of the last ice age. Behind the iridescent wall, thousands of years of packed ice raked the granite surface and crashed into the sea, stirring up a gigantic tsunami. He pressed his hands to his ears to muffle the howling of Greenland as it began to die.
It took Lars awhile to get a grip. His hands were still shaking as the thunderous impact reached him. It was even more frightening than the ear-splitting sound. Greenland was plunging into Baffin Bay. In a few hours, the coasts of Canada and the United States would be flooded. He fell to his knees like a child, overcome by thoughts that had never before crossed his mind. An abyss was opening inside him, and it was just as frightening as the one in front of him. It wasn't until his fitful breathing slowed and his lungs stopped burning that he was able to get back to the tawdry reality of his own situation.
He lay down again on the hardpacked snow. With his eye glued to the sight of his rifle, he found the trail that the dogsled had taken from the Great Wound of the Wild Dog. That's where the team would emerge, heading for Josephine and the automated science base that sounded the great island's sick heart. The Terre Noire geologists were known for their punctuality, but at two thousand euros an hour, he would wait if he had to. Say what you like, the end of the world was good business.
Paris, fourteenth arrondissement, 18 Rue Deparcieux, 11:30 a.m 
John Spencer Larivière put the phone down and shot Victoire a triumphant look. It was an expression she didn't like.
"What's got into you?" Victoire asked.
"North Land's offering me a hundred thousand euros for a mission. I've got a meeting tomorrow with Abraham Harper's wife, Geraldine."
"Where?"
"She'll let me know at the last minute."
"What kind of a job?"
"She didn't say."
"She's obviously going to ask you to investigate their European rivals, Terre Noire, Nicolas Lanier's outfit. I don't like it, John. Don't go looking for trouble. Don't forget you're French. Remember where you come from."
"Still, a hundred thousand euros…"
Victoire moved closer. Ever since John had set up his own business, he had agonized over not being able to measure up. They were in the red. She rarely saw him smile these days. She slipped her hand into his pants and confirmed what she'd already guessed. "That Canadian woman has an effect on you."
"She does not."
"Come here, you idiot."
They had met working in the government intelligence agency Hubert de Méricourt directed. Victoire and John wanted to have a baby, which was why they had quit together to start Fermatown, their own strategic- and criminal-analysis company. As the daughter of a Cambodian Khmer Rouge survivor and a French diplomat, Victoire bore a heavy legacy. After a spectacular nervous breakdown and a period of uncompromising psychoanalysis, getting pregnant had become her obsession. She wanted a son who would look like his father, a good-looking hunk, five feet eleven, with irresistible blue eyes and the blond mane of a movie star. John was a real man with simple ideas, a gentle giant who could massage her feet while getting his Cambodian and Cantonese hopelessly mixed up.
They left the media room and stepped into the space they called the confessional, where they settled into the welcoming arms of the black sofa. Their clothes soon lay where Fermatown's rare clients sat. John kneaded that supple body yet again and made Victoire's cheeks glow. She opened her eyes wide and encouraged him with her dancer's hips. They grabbed pleasure by the handful as though it were the last time. Or the first.
Putting aside their old wounds and disappointments, they made sweaty love, falling off the sofa and onto the teak floor. Now they were nothing more than two balls of rage. Watching as though he were outside himself, John pinned her delicate wrists to the floor and prepared his assault. Wildly, he thrust faster and faster, and, when the moment came, he grunted like an animal, shooting into this flesh that was torn, as he was, between two continents and two histories.
Out of breath, they slid next to each other. And then, holding hands and looking up at the ceiling, they started bickering again.
"With a hundred thousand euros, we could redo the kitchen and get new cars."
"A hundred thousand euros and a bullet in the head. Don't go there, John."
"I'll send Luc to Le Havre. That's where Terre Noire has its lab. I saw something on television. They sent one of their ships to inspect the lava that spewed into the ocean the last time Eyjafjallajökull erupted in Iceland. It wouldn't hurt to find out more."
"This is way beyond us. Everything about the North Pole reeks of ashes and disaster."
"I want to go there."
"You just want to prove to yourself that you can still stick your neck out and act like an idiot. You're worried about what your former colleagues think—all those people we wanted to get away from."
"I'm sick of sitting around reading CVs all day. I didn't start Fermatown to fact-check biographies and trawl through social networks looking for witnesses."
"Typical man. Too proud to ask the agency to pay us an hourly rate."
"You're starting to annoy me!"
John bounded to his feet and ran upstairs to the bathroom. Victoire was right, and that put him in a foul mood. Ever since Afghanistan, he had failed at everything. He couldn't even get her pregnant. He punched the railing of the staircase to the third floor. He had inherited this rambling four-story duplex and garden from an aunt. The property was situated between the Rue Déparcieux and the Rue Fermat, just outside the village on the Rue Daguerre.
Author
Bernard Besson, who was born in Lyon, France, in 1949, is a former top-level chief of staff of the French intelligence services, an eminent specialist in economic intelligence and Honorary General Controller of the French National Police. He was involved in dismantling Soviet spy rings in France and Western Europe when the USSR fell and has real inside knowledge from his work auditing intelligence services and the police. He has also written a number of prize-winning thrillers, his first in 1998, and several works of nonfiction. He currently lives in the fourteenth arrondissement of Paris, right down the street from his heroes.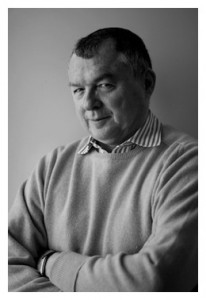 Come back Wednesday for my interview with Bernard Besson!
Originally posted 2013-10-28 09:47:52.