Present word count of WIP:  59,347
(At some point this next month, my word count will begin regularly changing. I promise. I've been busy proofing my book that's coming out in a few weeks!)
Any writer worth his or her salt needs a variety of resources to do the research and gain the knowledge necessary to hone craft and write with authority. Having a background in journalism, I make it a point to read the newspaper every day. I can't help it. It's a habit, and a good one, I think. As you can see from the picture below, my son is beginning to follow in my footsteps.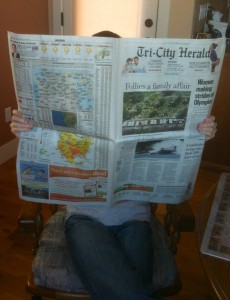 First of all, it gives me plenty of story ideas. Within the pages of any daily newspaper you can find enough kernels of drama to fuel a hundred different stories.
Second, it educates me. I don't care how many college degrees you have, you can never stop learning because the database in this world keeps growing. And I always make it a point to make my novels not only entertaining but informative and world expanding. I want my readers to feel that reading my books is time well spent, not wasted.
So research is key.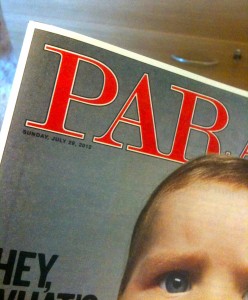 I came across an article yesterday in Parade Magazine (which comes with my Sunday paper) by Jennifer Kahn that should be required reading, in my opinion, for all writers.
Entitled "What Your Nose Knows and Other Amazing Facts About Your Senses," the piece contains all kinds of nuggets that should inform our storytelling. After all, the best fiction doesn't ignore any of the senses.
What about you? Do you make a regular habit of reading the paper? If so, when was the last time you were helped on a story or in your writing by something in the newspaper?
Originally posted 2012-07-30 11:58:58.