I don't live in the biggest city, so when it came to selecting a venue for my book launch for A NIGHT ON MOON HILL, I only had a few options. I knew my book wouldn't be in Barnes & Noble (yet) and, besides, that just seemed to go against one of my protagonist's rules–encouraging the independent bookstore. Well, there were only three from which to choose and none of them quite fit what I had in mind.
Then I recalled that my main character, Daphne, and Eric, the boy with Asperger's, spent a lot of time together in their local library. Fortunately, our local library had moved into a brand new building last year and they had a large room called the Gallery that was perfect for special events. So I called, told them I was counting on about 50 guests, and they offered to co-host the launch with me.
They had a sound system all set up, complete with a hands-free lavalier microphone, (and, if I'd needed it, a projection system), and plenty of tables and chairs–all in a lovely, glassed in setting. My friend, Billie Grimmett, a professional photographer, was kind enough to be on hand to take lots of wonderful pictures.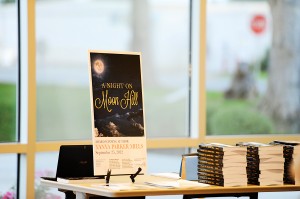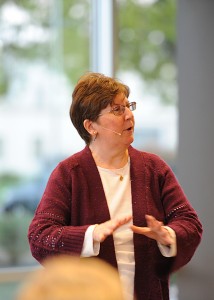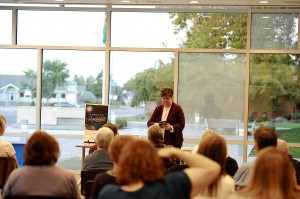 We began at 6:30 with about 15 or so having already arrived (including my sister, who had driven two and a half hours to surprise me . . . and Terry Deighton from my writer's group, who, along with her husband, had driven six hours to help me out).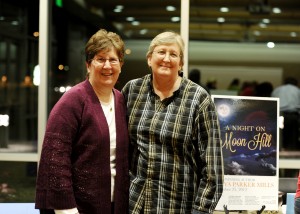 Me and my sister, Leslie
With classical music playing in the background (mostly Adagios by Albinoni and others–Daphne would have approved), I did my best to explain how I had come to write this particular story and then read an excerpt from the beginning, trying hard not to give anything away plot-wise.
By that point, more had arrived and we were ready for the first prize drawing. I had carefully selected prizes that somehow fit with my novel and divided them into three different drawings, with three in each group. In the first group, there was a simple pocket watch, a Kindle gift card (after all Daphne is a writer), and a home digital weather station. (Daphne also has a thing about weather . . . or, at least, she used to.)
But I didn't want to simply draw a name and hand over a prize. Instead, I had my son, Jason, draw three names and then we had the three fish against each other for the prize they wanted. Using these little toy fishing poles (you see, in my novel, one of Eric's obsessions is fishing), they tried to magnetically pick up as many fish as they could. The person who got the biggest catch got first pick among the three prizes. It made for some fun, competitive fishing!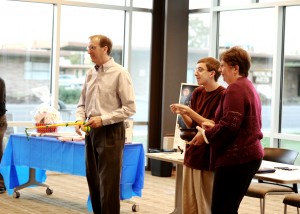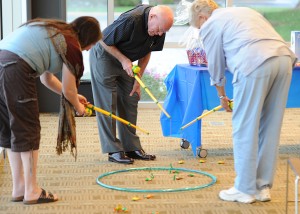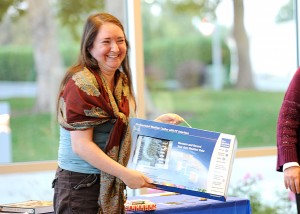 Sharon won the weather station
Then while I began to sign books, those in attendance (and more were coming and going throughout the evening) either waited in line or helped themselves to some wonderful treats in back, including an "angelic" chocolate cake made by my good friend, Rebecca Elsberry, and lemon bars and cookies made by another good friend, Christy Berrett.
Rebecca slicing up her "angel" cake
After another prize drawing (for a wooden carved angel, a surprise wrapped book, and an Extra-Small Classic Ruled Moleskine notebook), I did another reading and then signed more books for those who had come later.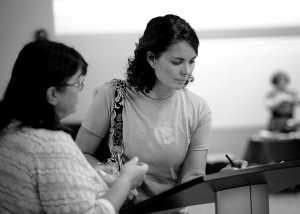 Terry signing in my friend, Mara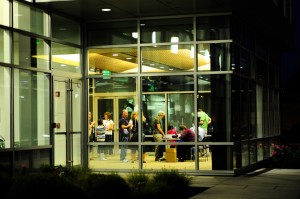 Finally, as night fell and 8:30 drew nigh, we had the final drawing, which included the biggest prize–a Nook Color gift basket–or a Moleskine Writer's Gift Set, or a silver double dust-cover pocket watch. Afterward, I answered final questions before thanking everyone for coming.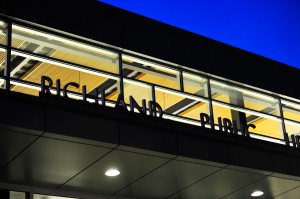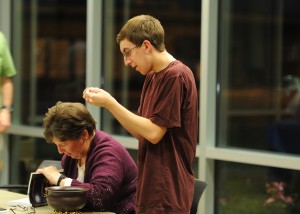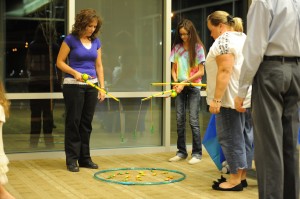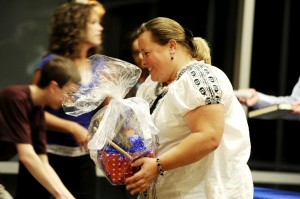 Julie won the Nook!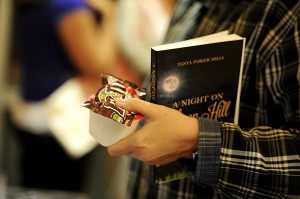 And even if you didn't win a prize, you could walk away with a bag of M&Ms (Daphne's favorite) and a snack cup of Pringles (Eric's favorite) . . . not to mention my book :D
I had invited 100 and slightly more than 50 came. I sold 36 books, gave 2 free copies to the library, and one each to my sister and Jason. I'm not sure what usually happens at book launches, but I felt like this was a real success. I can't wait to do it again!
Oh, and for those of you who couldn't make it, I'm doing a signing for "Ladies Night Out" at Far West Books in Kennewick this Saturday from 5 to 7 pm. Hope to see you there!
Originally posted 2012-10-01 06:00:02.