(NOTE: If you haven't yet heard about the contest I'm running through September 24th, go here to see the 50 different prizes and entry details and please think about entering. After all, there's no limit on number of entries and there are many ways to enter. If you've already entered, remember that leaving a comment about this interview earns you yet another entry!)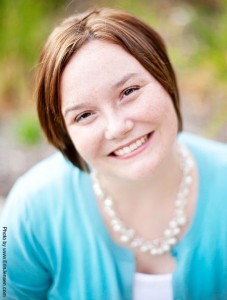 Not only is Danyelle a talented writer, but she's a brave organizer. Along with her husband, she founded a non-profit organization (more about that later) and is helping the LDStorymakers group better serve more of its members by taking the lead in instituting a second conference in a week and a half, located in the Midwest in a place called Olathe, Kansas (a place I've just finished reading about in one of my thrillers–Truman Capote's In Cold Blood…as it turns out one of the two real-life killers in the book holed up in Olathe before they committed their crimes). But I'll give my review of that story in a few weeks once my contest is over. Now, on with my interview!
Me:  Tell us about the first article you had published when you were in 6th grade. Do you still have a copy of it?
Danyelle:  I do have a copy of it! My mom saved it in a manila envelope along with other articles about me from the time I was young until I graduated high school.
I was lucky enough to have an incredible 6th grade teacher–Mrs. Seasholtz–who encouraged my love of reading. One book was about a boy named Charlie, the poor crime-filled neighborhood he grew up in, and his relationship with the city sheriff. Rather than write a book report, my teacher suggested I invite our city sheriff to visit our class. I met with the sheriff, then he came to talk to my class about our city, crime, and how we could help with crime prevention. Afterwards, Mrs. Seasholtz sat me down at her computer and had me write my very first newspaper article. She included a picture of me and the sheriff. It was the neatest thing ever to see my article appear in our city newspaper. It made an even bigger impression on me when lots of people started calling, stopped me at the store or in the school hallways to congratulate me and ask more questions about the book or presentation. It definitely hooked me into not only writing, but being brave enough to share what I wrote with others.
(Now that's the kind of teacher we all want our kids to have, isn't it?)
Me:  I see that you've written everything from poems to short stories, not to mention your nonfiction. Which form of creative writing do you enjoy the most and why? On the other hand, which is the most challenging?
Danyelle:  Short stories are definitely the most challenging. It's hard to fit in a beginning, middle, and end, as well as character development, in a small limited amount of words! I admire writers who specialize in short stories.
My poetry is very special to me. I only write poems when I'm dealing with really emotional situations. I started writing them when my mom was first diagnosed with cancer then continued through two more diagnoses. When she passed away just after my high school graduation, I wrote one final poem for her and tucked it into her casket. I'm honestly not the best poet – not even a really good one – but it's the creative expression that fills my mind when life is swirling around me.
Me:  As my book includes a young boy with Asperger's syndrome, I'm particularly interested in hearing about your oldest son who is autistic. Could you share briefly the journey you and your husband had in discovering and coming to terms with his autism?
Danyelle:  Oh wow. I don't know how to briefly describe that. =) Actually, we thought our son just had speech delay. Looking back now, we had a rather typical experience. From birth, our son always tested early in all of his childhood developments. He started walking and talking at seven months old. He laughed, played with our friends' kids. All the normal things you expect from a baby. Then somewhere between 12-18 months, he gradually stopped talking. We talked to our doctor about it, but he said that just happened sometimes and to wait until he was two years old. We took him back when he turned two – at which time he didn't speak at all. The doctor said to wait another six months and we said no way. So he referred us to the local early intervention center. The center sent out someone to evaluate our son for speech delay. A few days later, they called to ask if they could come back for another visit with one of their specialists. This time after the observation, the specialist asked us if we had ever heard of autism. Neither my husband nor I knew anything about it. Little did we know that question would lead to a life-changing journey for our whole family. We made an appointment for our son to be evaluated at our local Children's Hospital. He was diagnosed with PDD-NOS. (Me: That stands for Pervasive Developmental Disorder-Not Otherwise Specified…which really doesn't tell you much.) All of his results came back in the severe range, except for his motor skills, which were incredibly advanced.
During the first four to six months after our son was diagnosed, I couldn't handle reading anything about autism. I was so overwhelmed, wondering what kind of future my son would have. Instead, I dived into training sessions with our Early Intervention therapist. I attended a parent/child group therapy class twice a week. The parents in the class were incredible, helped me through those rough beginning months, and are still some of my closest friends today. Meeting families who had older kids with special needs, seeing the progress they made, helped me to have hope for my son, as well. In my opinion, coming to terms with autism–or any other special needs–is a lifelong process. We never know what challenges we will need to face as our kids become older, teens, and eventually adults. It takes patience, a commitment to learning new techniques, a sense of humor, and lots of prayer.
(Amen to all of that!)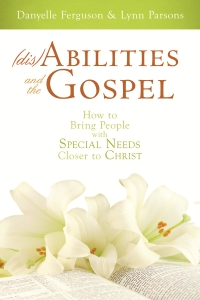 Me:  How did that journey help to bring about your recent book, (dis)Abilities and the Gospel, co-written with Lynn Parsons?
Danyelle:  During my son's preschool years, my husband and I were the head of the school's parent support group. Families often asked me to help them figure out how to help their child attend church or help their church leaders understand and love their child. As I researched on the Internet, I realized there were very few resources available about disabilities and church. Over the following four years, I spent quite a lot of time working with a variety of individuals, families, specialists, and church leaders to create the resources and information found in (dis)Abilities and the Gospel. Four years is a long time to work on just one project. But my son, my friends' children, and people I met at conferences were a constant reminder of why the book was needed. It was truly an inspiring project to work on.
Me:  Tell us about the non-profit organization you and your husband founded in relation to autism and how my readers might contribute, if they so choose?
Danyelle:  Our son attended a private autism preschool called GIANT Steps. During our time there, my husband, myself and Karen Fairchild (one of the original founders of the school) created a Friends of GIANT Steps (501c3) to raise funds to supplement the school and its curriculum. We have put on sensory-friendly Christmas concerts, benefit concerts, held auctions, and a variety of other fundraisers. Thus far, we've been able to add a Kindermusik program (teacher training, equipment and materials) to help the kids with sensory issues and motor skills, bought playground equipment, sent teachers and paras to specialized trainings, and brought in speakers to help parents learn tips for raising their children and developing strong family relationships. Our goal is for the kids to have the best learning experience available and for families to have the resources they need. You can learn more about FOGS or donate through their website.
Me:  My son has Asperger's and I know it was difficult, at first, for his older sister to deal with the social ramifications. How have your other children responded to your son's autism?
Danyelle:  My son is our oldest child. So for a long time, our younger kids didn't think anything about him being different. Even now, for the most part, they just think of him as Isaac and that's the way he is. But as they have gotten older (3rd grade and above), they have asked more and more questions. We are very open about Isaac's abilities and quirks. I've talked to the munchkins about how sensory issues or comprehension difficulties can frustrate Isaac and signs to look for so they know when to back off and let him decompress. One thing I want my kids to understand is that it's okay to sometimes feel embarrassed or frustrated by things their brother says or does. It's a natural human feeling, but I ask them that when they feel that way to remember he's their brother and they are his best friends. So it's okay to need a break, but they should always remember that they love him too.
My oldest daughter is especially empathetic to kids who are different from their peers (no matter if it's a disability, language difference, etc.). She's also in our school's gifted program and pretty analytical–a trait she completely gets from her dad. last year for her big project, she chose to write a book about various disabilities, their causes, and spotlight examples of how people who have those disabilities made an impact on their community (whether through work, service, or challenges they overcame). I was impressed with how she took a personal challenge and turned it into a way to learn, grow, and find positive uplifting outcomes too.
(Sounds like her mother too, right?)
Me:  As I've noted before, I'm curious about authors' writing spaces. How would you describe yours at present as if you were putting it into a novel?
Danyelle:
Danyelle scooted her wooden chair up to her desk, enjoying the warmth of the sunshine streaming through the bay windows. She sighed as she looked over at the pile of dishes that needed to be washed. Should she do them first? She calculated how many plates she needed for dinner that night before finally deciding she could safely ignore the ones in the sink. This was definitely one of the drawbacks of having her writing space in a nook off the kitchen. She quickly stacked her kids' school papers into a pile and set them off to the side of her desk.
As she waited for the computer to boot up, she looked around at her little office space. She loved the trendy dark green walls with lime and white accents. Her favorite part was the white wall shelves filled with girly stuff – glass purses, Raine designer decorative shoes, and funky picture frames. She pulled out a sticky note and wrote a reminder to re-hang one of the shelves that came loose when the roof was repaired last fall. Maybe she'd actually get it done some time in the next year. She replaced her sticky note and pen back in the sparkly crystal crown that held her business cards, stamps and other office supply odds and ends that only writers loved and obsessed about. A variety of colored paper clips, cute binder clips, and multi-colored pens.
The computer chimed, signaling that it was ready for her to login and begin work. Danyelle nabbed a piece of chocolate out of her clear glass candy dish, popped the delicious treat into her mouth, then got ready to dive back into her current work-in-progress.
(And here's the picture to show how well she described it!)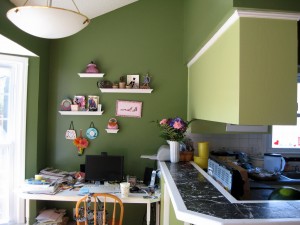 Me:  What are you working on at present?
Danyelle:  Right now, I'm working on one of the awesomest projects ever. The very first Storymakers Midwest Writers Conference! It's Saturday, September 15th and in my backyard (well, almost)–Olathe, KS. Of course, that's because I'm the one organizing it. We have an incredible line-up of authors coming to present. I'm honored to have Lisa Mangum (Deseret Book Editor & best-selling YA author), as well as Josi Kilpack (award-winning culinary mystery author) as our Keynote Speakers.
Along with the conference, we're having a huge Authorpalooza. So if you're in the Kansas City area, please stop by!
Friday, September 14th; 7-9 pm 
Authorpalooza Book Signing (Oak Park Mall Barnes & Noble, 11323 W. 95th Street, Overland Park, KS)
Authors include:  Lisa Mangum, Josi Kilpack, Heather Justesen, Don Carey, Karen Hoover, Traci Hunter Abramson, L.C. Lewis, STeve Westover, Danyelle Ferguson, Lynn Parsons, Tamara Hart Heiner, and more!
Me:  Finally, what are some of your favorite songs to sing while in the kitchen and how do your children react when you start belting them out?
Danyelle:  I have very eclectic musical tastes. I love everything from Natalie Cole to Bon Jovi to Katy Perry, with a healthy mix of my kids' favorites–Justin Beiber, Hannah Montana, and Taylor Swift. I have a Kitchen Music playlist and sing along with whatever comes on. My favorite moment is when my big band music comes on and my hubby and I teach the kids our favorite swing dancing moves.
What do my kids think? They're just as nutty as me. They dance around in the nook where my office desk is (also where the music is streaming from) and sing right along with me.
If you want to know more about Danyelle and her writing, take a moment to check out her website or her blog. Right now, she's donating $5 from every sale of her disabilities book from her website to one of two worthy disability-related causes.
Originally posted 2012-09-05 06:00:35.