Anna del C. Dye writes fantasy fiction, focusing almost entirely on elves.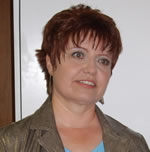 This interview is part of a blog tour by Anna, in which she is doing a Book Giveaway from February 24th to March 8th. You have a chance to win one e-book of her latest fantasy novel, THE ROILDEN STONE OF ELF MOUNTAIN. It will be given for each stop in this tour and international entries are welcome. To enter, simply "like" the book trailer below and leave a comment after the interview, including your e-mail address.
ME:  What was your childhood like growing up in Valparaiso, Chile? And did you and your twin sister, Elena, stay there throughout your youth and adolescence, or did you move to other places. If so, please describe them.
ANNA:  It was a bit lonesome. My mother died when we were six years old and our father took care of the two of us and my other three siblings. He was quite hard to please and we weren't allowed to have friends. We moved to the country and spent ten years there, but we were still in Valparaiso (the "county" versus the "city"), just not on the coast anymore.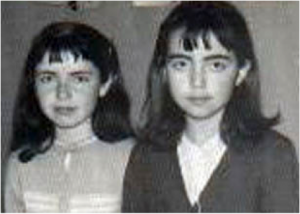 (Anna is the shorter one on the left)
ME:  I was aware of your mother's death and that you're uncomfortable looking back on your childhood, but I'm convinced that what we write cannot help but reflect our roots in some way. How is your writing a reflection or commentary on your past?
ANNA:  I was never told I was loved while growing up. Yet now, I have had many readers comment on how deeply my characters love. One even said that I knew what love was all about. I suppose that my growing up like that had a lot to do with how I perceive love.
(That's the beauty of fiction. We can insert everything we've ever wanted.)
ME:  When did you first begin making up stories of your own, and can you share the gist of the first story you ever wrote?
ANNA:  My husband suggested that I write children's books because he thought I would be good at it. I tried a few times, but it never took off. Many years later, I traveled to Florida with him and, while he participated in his work conference, I sat under a Magnolia tree and wrote "Princess Magnolia." Magnolia's two ladies-in-waiting also have names of flowers. It is complete, but needs a lot of work.
(Most first efforts do. :D)
I will work on that story one of these days and publish it. We were staying at the Dolphin–a Walt Disney hotel–when that happened.
ME:  What circumstances led to your move to the United States at age 21? And how did you meet your husband?
ANNA:  I met my husband while he served a mission in my country. Two years later he brought me here, and two weeks later we were married in the Salt Lake Temple. That was thirty some odd years ago. Ours is a conversion story and is published in the anthology Angels Around Us by Judy C. Olson, published by Covenant, and entitled Why Him?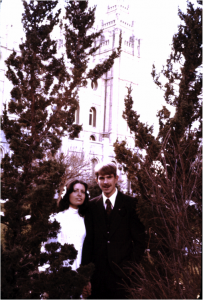 (Anna and her husband in front of the Salt Lake Temple)
ME:  Okay, why elves, and when did you first begin to focus on them?
ANNA:  My son introduced me to Tolkien's Lord of the Rings many years ago, and I fell in love with it. I was so curious to know more about all the characters, especially the elfs (elves), that my husband got tired of my questions and he cried, "Make your own answers." So I did. Two days later, I had THE ELF AND THE PRINCESS drafted—all in my head.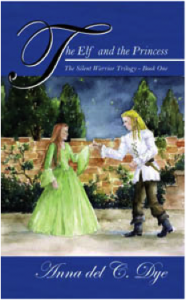 ME:  Tell us about your elf series and any other books you've published. Is there a common theme in each book?
ANNA:  The Silent Warrior Trilogy is about a princess whose kingdom is destroyed while she is learning to sword fight. We follow her life as the warrior and as the woman for about seven years within the three books. However they are stand-alone.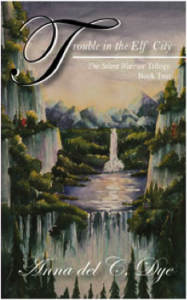 (Book 2: TROUBLE IN THE ELF CITY)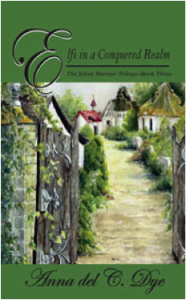 (Book 3: ELFS IN A CONQUERED REALM)
The rest of the books in the series are totally stand-alone stories with different characters, situations, and different times than the Trilogy. They all take place in one of the two elf kingdoms in the world I created.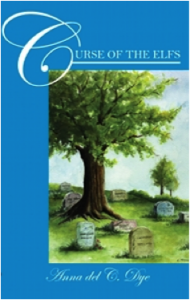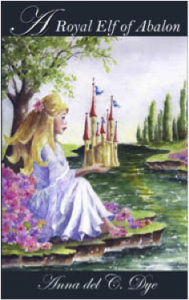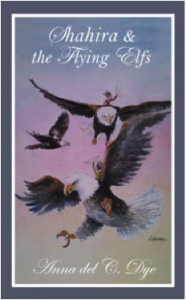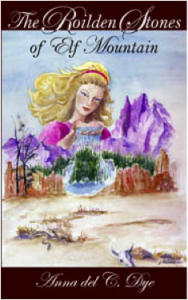 (This is the one being offered in the giveaway)
I also wrote an elementary age book named EMERINE'S NIGHTMARE. It is about a twelve-year-old boy on a dangerous journey to a mysterious place full of magic and magic creatures that want him, and he doesn't know why. This particular story is an electronic book only.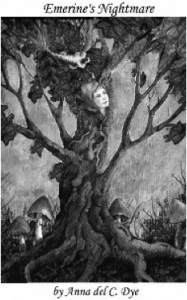 ME:  In your latest, THE ROILDEN STONES OF ELF MOUNTAIN, which concludes your series, what challenges does your main character face?
ANNA:  Actually, THE ROILDEN STONES OF ELF MOUNTAIN is the prequel to my elf series. I just never felt that it should be the book that I should publish first. So, in this book you will see the elfs after they first move to this new land and how they try to change their culture to fit in, and how ultimately they find themselves and grow into the race they become in all my other books. So their beliefs and reasons to be who they are now come from lessons learned in the story of this book.
Arland is the main character, and he and his people live in exile from the main elf city where they opposed monarchy. His hope is to unite their people once more and have the council of houses be restored. When he visited the Gold elfs in the main city, however, he found a bigger problem. The queen and her only daughter had disappeared, and with them The Roilden Stones of Elf Mountain.
These stones are the sole component that keeps Andoriah's weather pattern balance. When they were removed, the land stopped having rain and the heat rose to dangerous levels. Arland wants to find and return the stones, and he hopes that this act will ensure the return of his elfs to the main city and from there to a change in their government. His two elf friends and three gnomes unite to save all of Andoriah's races from a fiery furnace.
(Sounds good!)
ME:  Which fantasy author do you admire the most, and why?
ANNA:  Tolkien, for he opened my mind to a world I never knew existed—a world that gives me the very air I breathe.
ME:  Do you follow a daily writing routine, and how would you describe it? Please include your process and whether or not you outline.
ANNA:  I write by inspiration. Usually all is in my head before I start a new story.
I have a lot of promotion to do, my blog, and helping other authors; so I write my books when I have time. Usually when my two girls (granddaughters) are having a nap. There were times when I wrote for six hours straight and I could produce a book draft every three months, but today is not that time. Today is my time to love and care for my family. I enjoy my grandma role very much.
(And I'm sure you will reap greater returns from that role than any publishing you may do.)
ME:  Finally, I'd love it if you could describe your favorite writing space in the voice of one of your favorite elves.
ANNA:  I am Tadren, son of Somir of Lothia.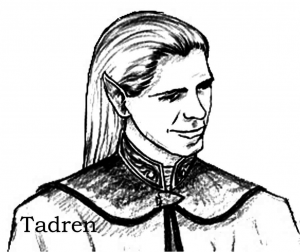 My study nestles between the colorful walls of my memory. There you will find the most fertile ground for my imagination in contrast to my past. Seated in the comfort of a daybed, I enjoy the pleasant days in company of my dreams. My heart flies on the wings of adventure to a higher realm where the heroes await my return every day. My ancestors' likenesses rest upon the walls of this room. Their wisdom is passed on in the many parchments that rest their dusty pages on my shelves. The tree branches, swung by the breeze outside my window, bring a lullaby to set my mind at peace and that is when I go on.
(Very peaceful. :D)
Check out more about Anna and her books on her website. You can purchase her latest, THE ROILDEN STONES OF ELF MOUNTAIN either there or on Amazon.
Next Wednesday, I'll be interviewing romantic suspense author, Ronda Gibb Hinrichsen.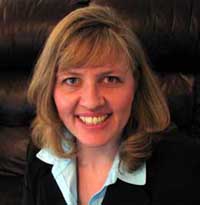 Originally posted 2014-02-26 11:35:49.