Present word count of WIP:  59,347
I have several iPad apps that help in my writing, but the one I love best is Penultimate.
First, any time you want to start a new project, you simply add a new notebook and dive in. For example, here's my notebook for my current WIP, "School of Guardians":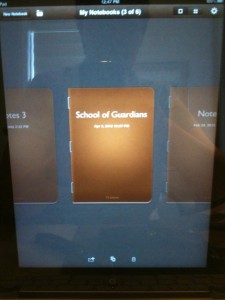 If I tap on it, it will open to the page I was working on last, but you can also get a menu type view of all the pages: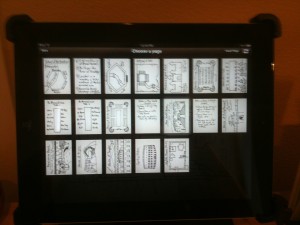 If I'm working on a particular scene, such as the Luncheon scene with the parents before the Memorial Service, and need to keep in mind where each character is at the table, I can quickly sketch it out: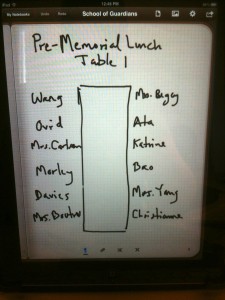 Or if you're dealing with a fantastic kind of setting and it helps you to sketch it out on paper (or tablet in this case) until you get it to match the image in your mind, it's easy to do with this app (and you can erase to your heart's content without wasting paper):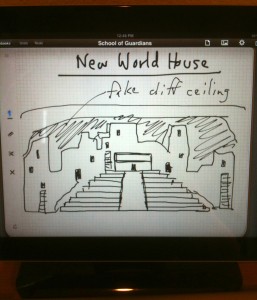 You can even fool around with possible cover ideas for your novels, and while none of these images show it, you can write or draw in different colors (as you'll see from their website). My publisher is preparing a cover for A Night on Moon Hill as I'm posting this, but I sent along a couple of suggestions, based partly on this sketch: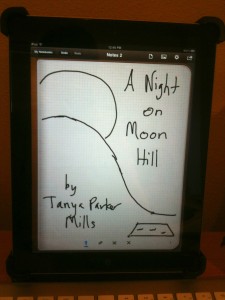 As you can see, I'm no artist but I can still visualize some concepts in basic form. What about you? Do you ever try to draw mockups of possible covers? Have you had any experience with this particular app, good or bad? I'd love to hear about it.
Originally posted 2012-08-06 15:21:14.