Patty was one of my fellow Pacific Northwest Authors taking part in the recent group signing at Barnes & Noble, and it's a pleasure to introduce her to you today. She has an infectious smile and I have a feeling that translates to both her children's fiction and inspirational nonfiction alike.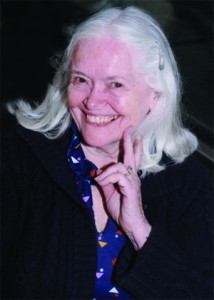 ME:  I have to admit that when I first read your name, the phrase "The Old West" came to mind and, figuring it was a pen name, I assumed you wrote Western fiction. Of course, once I dug a bit further, I realized that wasn't so. Please tell us how you came by your name. (And I'd love to post pictures of you with both of your husbands.)
PATTY:  I married Ken Old in 1998 in Kent, England. I had visited him and his wife there in 1993 and 1996 with friends. She died in 1977 and in 1998 I visited on my way to Kenya. I sent him a letter from there saying all my waking thoughts were of him. (Sometimes it pays to be forward, ladies!) Twelve days after he received the letter we were married, and I became Patty Old. In 2007 he died and I moved back to the States.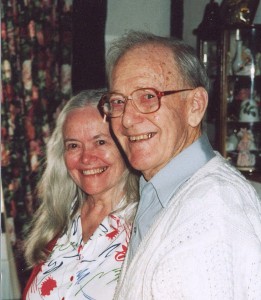 (Patty and Ken)
In 2008 I sent a Christmas letter to a man I graduated with in 1949. There was no wife listed with him in our church directory and our sixtieth high school class reunion was coming up.  He replied with his own Christmas card and I let it set until the day before Valentine's Day when I sent a reply saying if I had mailed it a day earlier I could have asked him to be my valentine. He actually got it on Valentine's day, and called to invite me to lunch. Five weeks later we were married and I became Patty West. The Little People stories were written by Ken so I used Patty Old West as my author name.
(Aha! Now it's all clear.)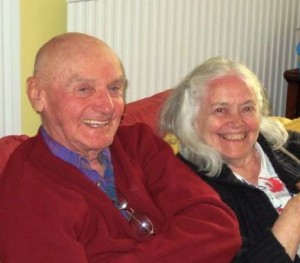 (Patty and Roy)
ME:  Where were you born and raised, and how has that affected your view of the world? (I'd love a picture of you as a child.)
PATTY:  Actually, I am from the Old West. (How fitting!) I was born on Halloween, 1931 in Denver, Colorado at my grandmother's home. My parents moved to Central City 40 miles west of Denver—a small town at 8,000' elevation with only 200 residents. Everyone knew everyone else in town. It was known as the Richest Square Mile on Earth for its gold mines.  We lived on the side of a hill and climbing up and down the hills gave me a sense of adventure that I never lost.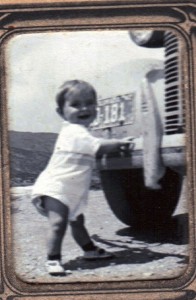 (Patty at 18 months…she already has that winning smile)
I attended grade school there, graduating from eighth grade at the top of a class of eight.  In 1945 my folks moved to Richland. (That's in Washington State for those of you not yet familiar with me and my whereabouts.) The first question students asked at school was, "Where are you from?" For years my answer was always, "Colorado," even after I had lived here longer than I did in Colorado. I am a Rocky Mountain girl at heart.
ME:  When did you develop an affinity for writing and/or storytelling, and what made you realize you were good at it?
PATTY:  Actually, it was Ken who wrote the Little People stories and I have edited them for publication. (Stop right there. I'll let you chalk it all up to Ken, if you like, but I know enough to recognize that it takes a good writer to do editing.) He wrote in King James English and some of his sentences were a full paragraph long. He didn't have the benefit of moving sentences around, so many of the stories were out of sequence.
I have learned a lot about writing in working with the publisher. I have been encouraged by so many positive comments about how fun and exciting the stories are to read that I am going back to re-edit book one.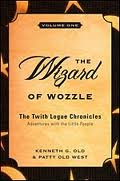 (Volume 1)
Ken led such an interesting life that I felt his story needed to be told so I did write his biography. I spent three years researching his life before submitting the book to the publisher. They felt it was too long so it was divided into two books.
ME:  How has your Christian faith affected your writing?
PATTY:  The Little People only tell the truth so all of those stories have the underlying characteristics of Christian faith without being "in your face" about it. My deep faith means I would never write a book filled with profanity or actions contrary to Christian principles.
ME:  Okay, please tell us who the "Little People" are and how the 12-part series got started. Also, which age group are they aimed at?
PATTY:  These are stories Ken told to missionary children in Pakistan. They were isolated from parents at boarding school for months at a time. He 'invented' the Little People—half-a-thumb high—and a wicked wizard who tries to capture them, to encourage the children to let their imaginations soar to new heights.
When he retired, he began putting the stories in writing. He had only written a few chapters when I married him. As he finished a chapter, I would do simple editing, print it out, and we would read them together. With his prolific imagination, the continuing story became twelve books.
(Note: They haven't all been published yet. See her website for details.)
The stories are geared primarily for 8- to 15-year-olds, but younger children enjoy having them read to them. And the adults who have read them cannot wait until the next book comes out. (That pretty much seems to cover all age groups. Smart marketing. :D)
ME:  In the series, since you're mixing reality and fantasy, do you ever have to do research in terms of travel? And whether you do or not, what was one of your most memorable places you visited, either alone or with Ken? (Also, I'd love a picture of the site and/or a picture of your home in England.)
PATTY:  The Little People stories are based in England so there was no research regarding travel, but Ken inserted a lot of history into his stories and I have done much research verifying the details of different events in history. Ken and I never travelled together outside of England or the US, but we often visited Cornwall where he spent the early days of his life. It was his favorite place to visit.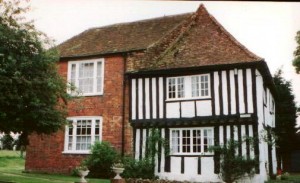 (Their farmhouse in England)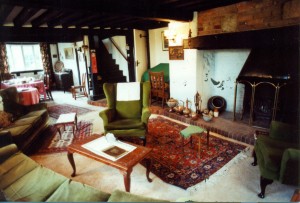 (Their farmhouse living room…Isn't it cozy?)
(*Hint: If you click the picture for a larger view, you'll be able to see lots of clues to Ken's far-ranging travels.)
ME:  You've been to some pretty exotic locales, yourself. What were some of the most fascinating and which are you most likely to write about in the future? (A picture of you in the setting would be lovely.)
PATTY:  I don't know that I will be writing about any of the places I have visited except to mention them in my biography. I have been on every continent save one and I am going to Antarctica in February with my son. (Now that's a biography I'd definitely be interested in reading!)
One of the countries I would enjoy visiting again is New Zealand. It is like a miniature America in its landscape. I went to Peru to view Halley's comet and enjoyed seeing Machu Picchu. And it was interesting standing on the equator and going on safari in Kenya where I patted the nose of a rhinoceros. I taught English in China for two summers and climbed the Great Wall of China. The time there was eye-opening in more ways than one. The home I stayed in when I went to Estonia took me back to my childhood. It was like stepping back into the thirties. Compared to America, it was almost primitive.
(Patty explained that all her pictures from her trips abroad were of scenery or of the people she went with…so we shall just have to imagine Patty standing here:)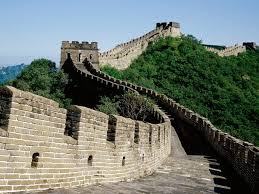 ME:  Please describe your process of taking Ken's story notes, written in King James English, and turning them into finished books.
PATTY:  First I go through and change all the British spellings to American. (Hmm…my latest work involves British spellings…I might have to consult you for your expertise.) Then I do the formatting—setting margins, removing tabs, formatting titles. Then I do an initial reading and edit the sentences—breaking them up into shorter sentences. As I notice paragraphs out of sequence, I move them where they belong. I also change present progressive tense to present tense at the suggestion of the first editor I had.
(Quick grammar lesson: He walks – present tense; He is walking – present progressive)
Then I read through again, correcting errors as I find them, and change text into dialogue or thought. I also make the dialogue for Jock, the little Scottish leader of the Little People, into a Scottish brogue. The read-through before I have my daughter 'proof'' it for me is to check for accuracy of details, insert text to clarify the action, and improve readability.
(Sounds like quite a process!)
ME:  I know you've written and published two biographies of Ken. Once you've finished the Little People series, what do you think you'll write next—fiction or nonfiction, and why?
PATTY:  My next project is to write my own biography so my family will have a history of my life.
(Yes!)
ME:  Finally, please describe your office, or the area you use to write, in the voice of the Wicked Wizard. Feel free to use King James English or not. (And I must have a picture of your writing space.)
PATTY:
Miss Patty isn't as smart as she thinks she is. With my brilliant mind, I would not need two printers to get my work done. And why does she need two oversize screens? Does she think she has limited vision or something? I could do just fine with the laptop screen. And the keyboard? Ridiculous! Can't she see the buttons on her computer? Of course she has it stuck back against the wall and couldn't reach the keys anyway. I do rather like the big TV screen that enlarges pictures and printed material. Just look at her with her nose up against the screen peering through a magnifying glass. Doesn't she ever take a break? Her poor husband sits out in the living room hour after hour waiting for her to join him. What a patient creature he is. I wouldn't stand for it.
(Wonderful! And here's the visual proof:)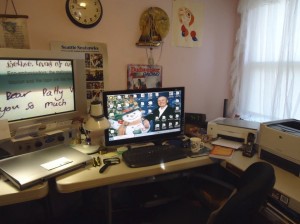 You can read a lot more about Patty and Ken and their books on her website. And check out the first volume of the Little People series, THE WIZARD OF WOZZLE, on Amazon, Barnes & Noble, or Kindle.
As far as next week goes, please check in again on Wednesday for my interview with MOTHER OF RAIN author, Karen Spears Zacharias, whose work has been featured in The New York Times and The Huffington Post, as well as on CNN and NPR.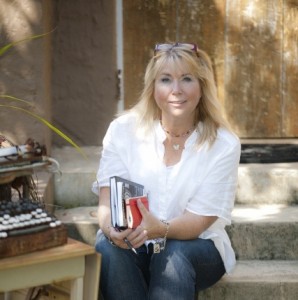 Originally posted 2013-09-11 12:28:18.