Since this is an anthology, I'm forgoing the usual bios (because there would be too many), but this exciting collection of short thrillers was published by Xchyler Publishing and is available on Amazon both in paperback and e-book. Reviews can be read (and added) on Goodreads.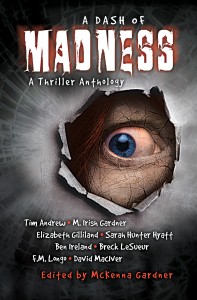 (That bloodshot eye is pretty gruesome, isn't it?)
Here's a quick look at the stories:
Synopsis
One man's crazy is another man's norm.
Eight bizarre stories explore twisted perceptions and challenge conceptions about right and wrong. With a fascinating dive into several unstable minds, the authors examine different avenues for exposing warped cognition and mutilated logic. Each delivers a disquieting glimpse of reality.
Reformation by M. Irish Gardner: With a fresh start in life, the last thing freed inmate Todd Jefferson wants to do is live someone else's, until the pros outweigh the cons.
Mouse and Cat by Elizabeth Gilliland: Mouse knows his place: among the filth and remnants of mankind. When given a chance to change his fate, his choice reflects more than just the intentions of his heart.
Stunner by Sarah Hunter Hyatt: As a stranger in a new town, Marin Overstreet is forced to confront a past she didn't know existed, and defeat the man sent to silence her forever.
Five Humvees by Breck LeSueur: Three lives, three errs in judgment. Countless consequences reside within this twisted military thriller.
Morningside by F.M. Longo: Back on duty, Detective Morningside must defy the odds and solve the impossible by delving into the criminal mind.
Kissed a Snake by Ben Ireland: Abandoned as a child, Jason only wants to understand his father's reasons. And to kill him for it. However, learning the truth leads to anything but satisfaction.
Fogo by David MacIver: A neighborhood arson, a broken home, and an overactive imagination are the least of Renata's worries, especially when her dreams creep into her real life.
Proxy by Tim Andrew: For Bret Maher, death is a perk on the job. But when he takes on a new contract with guaranteed success, he may get more than he bargained for.
Excerpt from "Reformation"
Rita picked up his plate a little later, and Todd continued to sit and think. His prison years had flown by. He hardly remembered a thing, but the biggest motivator he'd always kept as his focus, as his flotation device in a sea of hard reality, was his brother. Shawn. A man that seemed to have forgotten him.
Author and Editor
McKenna Gardner (aka M. Irish Gardner) earned her Bachelor of Science in 2003 from Brigham Young University – Idaho, where she first began writing and editing, and her love of classic literature blossomed. Previously a marketing director and 8th/9th grade educator, McKenna finds her position at Xchyler the winning combination of a career she enjoys and her greatest passion, her children.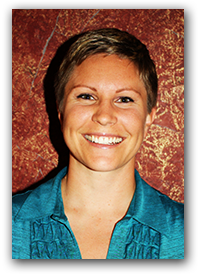 Originally posted 2013-07-29 11:39:29.