(NOTE: If you haven't yet heard about the contest I'm running through September 24th, go here to see the 50 different prizes and entry details and please think about entering. After all, there's no limit on number of entries and there are many ways to enter. If you've already entered, remember that leaving a comment about this interview earns you yet another entry!)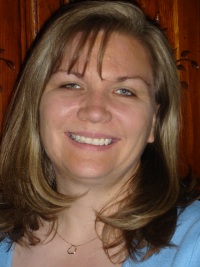 I came to know Julie while working under her on the board of directors of LDStorymakers. She was chair that first year I was a member of the group and very open and supportive of  my ideas for the new website. Both of us share an expatriate kind of background and appreciation, therefore, for international thrillers. All of her novels are now available as ebooks.
Me:  Let's see . . . Eight books, eight children. Which was harder? And do you get any rewrites on your parenting?
Julie:  Well, since my children are so unpredictable and my characters generally do what I tell them to, I'd say that raising children is harder. Parenting is so rewarding, though, and I get to laugh a lot, so I wouldn't trade that for anything. I wish you all could be at our dinner table each night. It's so fun to have a big family. As for rewrites on my parenting, thankfully my children are pretty forgiving and give me lots of chances when I mess up.
Me:  Personally, I have a thing for the number 9, but why do you prefer 8? Does it have any significance beyond your children and books?
Julie:  Eight has been my lucky number my entire life. Good things always happen to me when I'm having an "8" birthday like 8, 18, 28, etc. I can always count on my lucky number eight.
(Hmmm. As it just so happens, I only prepared eight questions to ask you, so I guess this is your lucky interview!)
Me:  What is the biggest difference between a Canadian and an American? Please tell us about where you grew up and whether you return to Canada often to visit.
Julie:  For me, there's subtle differences between being Canadian and American. My critique group tells me all the time that my Canadian comes through in my writing because I'm too polite. Canadians are pretty laid-back, but that's probably because they have the best food in the world to eat. Canadian chocolate and cereal are to die-for. Thankfully my mom sends me care packages in the mail so I don't have to go too long without them. Our family also gets to have two Thanksgivings because I celebrate Canadian Thanksgiving with them in October and we also celebrate American Thanksgiving with my husband and his family. I'd say we're pretty lucky!
I grew up in Alberta and I don't get home as often as I'd like. My entire family still lives there and I miss them terribly.
(Now I've heard of–and tasted–Swiss chocolate, and I've even heard of the wonders of New Zealand chocolate…but Canadian chocolate? Who knew?)
Me:  Are you still practicing the bagpipes and why?
Julie:  Sadly, I haven't practiced them recently. I only know one song (Amazing Grace) and so I obviously need to expand my repertoire and practice a little more. I plan to start up again as soon as the baby's a little older and I can explain to him why he needs to wear earplugs. Ha!
Me:  How did you get acquainted with Ms. Shreditor? Please tell my readers what they can do to avail themselves of her services.
Julie:  I have this wonderful feature on my blog called First Page Friday where I have my national editor friends, Ms. Shreditor and Angela Eschler (president of Eschler Editing), critique aspiring authors/published authors' first pages. Two years ago when I was listening to a panel of agents and editors talk about the fact that if the first page doesn't grab them, they usually reject it, I thought I would use editing contacts I had to help authors polish those important first pages. It has been such a learning experience both for me and my readers. I'm so grateful for Ms. Shreditor and to Angela who put in so much work to give back to the writing community.
(Here's an example of what she's talking about.)
Me:  What exotic locale are you planning on taking your readers to next, and what's the basic storyline (if you're that far into it)?
Julie:  Well, I have a book coming out in a few weeks, ALL FALL DOWN, that is set in Connecticut and Afghanistan. It's about a hostage negotiator, Claire Michaels, who ends up in the middle of an international incident with a Navy SEAL and his brother. I loved writing this story!
(Let's interrupt the interview for a moment to share the cover of Julie's new novel, as well as the back cover copy. After all, it comes out at the end of September!)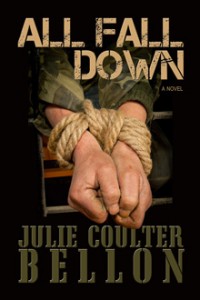 Ring around the rosy, a pocket full of posies,
ashes, ashes we all fall down . . .
That simple rhyme turns negotiator Claire Michaels' current hostage situation into an international incident. Claire just wants to help get everyone out safely, but as the crisis escalates she realizes she's dealing with an al-Qaeda operative who has the means to become another bin Laden–with the potential to attack America. Claire has her own personal reasons for wanting to stop al-Qaeda, but time is slipping away as negotiations break down. Can she overcome her scars of the past in order to get the hostage out alive and possibly stop an assault on U.S. national security?
Navy SEAL Rafe Kelly is on leave to recover from a knee injury he suffered during his tour in Afghanistan and he doesn't expect to be fighting terrorists on his home turf. But when he is taken hostage and his brother is kidnapped, Rafe teams up with a hostage negotiator in order to stay alive and get his brother back. The terrorist is always one step ahead of them, however, and the situation quickly turns from desperate to deadly. Will Rafe be able to save himself and his country without anyone he loves getting caught in the crossfire?
(Okay, back to the interview)
I'm working on a sequel to my novel, RIBBON OF DARKNESS, and it will be set in Greece. I loved visiting Athens and the island of Crete and I can't wait to make the setting come alive for my readers. Basically, it's Kennedy's story (from RIBBON OF DARKNESS), and she's still trying to solve her sister's murder, but as an international journalist, she's also covering some of the chaos going on in Greece. She gets caught up in a volatile situation with a Greek terrorist group and it will take everything she has to come out of it alive. That one should be released next spring.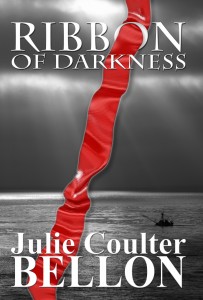 Me:  As a former chair of LDStorymakers, can you tell us how that position impacted your writing, if at all?
Julie:  Being the chairman of LDStorymakers gave me the opportunity to work closely with a committee of incredible authors I admire and I loved getting to know them better. I'm glad we have organizations that support writers and help inspire us to become better at out craft. It was a lot of hard work because in addition to my responsibilities to the board, I also had a baby during my tenure, and released a book. But it was an experience that I wouldn't trade because of the friendships I made.
Me:  Finally, would you please describe your office or workspace in the point of view of a spy who has broken into your home to find an important document.
Julie:  Well, my workspace is in between my family room and kitchen, so if they were looking for a document, they could expect to find it fairly easily (well, they'd have to go through my pile of permission slips, emergency contact forms, and disclosure documents from the schools that I got this week). Since I have so many kids it would probably have a food stain of some sort or be wrinkly from a drink spilled on it, though. (Okay, okay, it's not all the kids' fault. I do like to eat at my desk. So, the spy would probably be able to see some clues as to what I ate for lunch.)
Thank you so much for interviewing me. This was one of the most fun interviews I've ever done.
Me:  My pleasure. (Blush)
You can find out more about Julie and her books on her blog or her website, and you can follow her on Twitter (@juliebellon). Feel free to "like" her on Facebook, as well.
Originally posted 2012-09-03 02:05:36.