(NOTE: If you haven't yet heard about the contest I'm running through September 24th, go here to see the entry details, as well as the 50+ different prizes, and please think about entering. After all, there's no limit on number of entries and there are many ways to enter. If you've already entered, remember that leaving a comment about this interview earns you yet another entry!)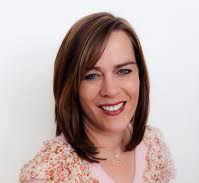 Heather B. Moore (aka H.B. Moore, for those of you more acquainted with her historical fiction) is not only a successful, award-winning author, but is the founder and manager of Precision Editing Group. Only this past weekend, she was awarded the Golden Quill Award from the League of Utah Writers for her latest historical novel, DAUGHTERS OF JARED (a copy of which is being offered as a prize in my contest). She also currently serves on the board of directors for LDStorymakers, as chair of the Whitney Awards.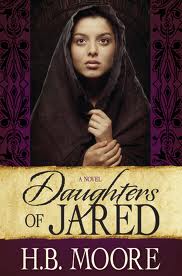 Me:  What are your favorite memories of the Middle East, and what were your most favorite and least favorite smells there? (If you've got a picture of yourself as a child in the Middle East, I'd love to post it.)
Heather:  I was seven years old when we first lived in Israel. I remember collecting wildflowers to press into bookmarks and also living on a kibbutz.  
This is in Egypt where I attended 2nd grade at the Cairo American College. I'm on the back row, in the pink sundress: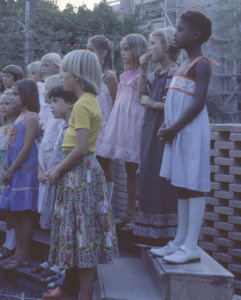 (Notice how diplomatic she's being in not mentioning the smells at all? Hmm. Maybe she should think about entering the Foreign Service. Well, since I'm not diplomatic, I can tell you from my own experience that few things smell as bad as water buffalo dung and a camel's breath . . . but, for mouth-watering cooking smells, nothing beats the aroma of a full Arabic meal! Hummus, tabbouleh, shish taouk . . . okay, I haven't had lunch and it's showing.)
Me:  How on earth did you go from fashion merchandising to writing novels? And have you been tempted to write a novel set in the world of fashion, or is fashion no longer an interest?
Heather:  In high school I thought about majoring in English when I got to college. But I failed the essay portion of the AP college exam, so I decided to major in Fashion Merchandising. I worked at a clothing store, and it was something I was interested in—becoming a manager or retail owner.
I haven't yet been tempted to write about the world of fashion. I used to follow it quite carefully and had done several research papers on different designers. I also ran the BYU Fashion show one year. But once the kids started coming and the money started disappearing, staying fashion-forward became a much lower priority. (Me: No trips to Mood's, eh?)
Me:  Tell me about the first story you ever wrote. How old were you, what prompted it, and have you kept a copy?
Heather:  I'm sure I wrote stories in elementary school, etc. for assignments, but I wasn't necessarily writing stories on my own for fun. I was a huge reader and I'd devour multiple books a week during the summer. My first story I wrote independent of any class or assignment was a novel. I was 30. I had been helping my grandmother write her biography and an idea popped into my head—set during my grandmother's era of WWII—and that's when I dove in.
(She still got a head start on me.)
Me:  So much of your fiction up to this point has been historical. What percentage of your time is spent researching as opposed to writing, and which process do you find more enjoyable?
Heather:  The writing part is the most enjoyable, but the research makes it a rich and exciting experience. I love to read historical and learn about anything in history, so that's what I've focused on for the most part. Even when I've written contemporary, it's usually been tied to something about history. In my earlier novels, I spent at least half of the time in research. Now, I probably spend about 10-20% of the time researching versus writing. I have a lot of the research books that I need now and the Internet also saves a lot of time.
Me:  Which parent has influenced you most as a writer and how?
Heather:  That's a tough one. My mom loves to read fiction and that's what I write for the most part. She's even dabbled in some fiction writing, and has had a couple of non-fiction pieces published.
 My dad is a noted writer—of non-fiction—and a professor, so he is very involved in academics. (Me: That's Professor S. Kent Brown . . . I was fortunate enough to hear one of his lectures in college.) He probably had the most influence on me as far as interest in writing and publishing. He's also a religious scholar, so that has been a big part of my research—email or call my dad! (Me: Lucky!)
Me:  Tell us how you got Precision Editing Group started, and how on earth you manage to keep writing while you run the company.
Heather:  Precision Editing started in response to two things. First, once I was published and met other aspiring writers, they'd ask if I could read their book. If I said yes, I quickly realized it took 3-4 days out of my schedule to edit their book. That was a tough thing to swallow when I was putting aside my own writing to do so. Second, my husband had been laid off, and we'd gone through enough financial ups and downs, that I thought it would be nice if I had something on the side that could soften the blow for those types of situations.
Another motivation was that I knew several great authors who were great editors as well. This gave me the confidence that I could create a business and contract with other editors depending on the genre that was submitted. 
Time wise, I don't do a lot of edit jobs. Maybe 3-4 a year, and the rest I assign out to my contract editors. (Me: Smart. A delegator.) That way, I do have time to spend on my writing as well as running the company. I probably devote an average of an hour a day to Precision Editing, handling emails, phone calls, billing, promotion, etc. (Me: And I highly recommend them!)
Me:  What were some of your favorite books as a teenager, and how have your reading tastes changed since then (if they have)?
Heather:  I read everything that was scary, from Stephen King to VC Andrews to John Saul to Mary Higgins Clark. I also read whatever was on the basement shelves, such as Tom Clancy or Louis L'Amour. My grandmother got me started on Victoria Holt books and I read quite a few of those.  Ironically, I didn't read any YA books as a teen, unless it was a Newbury assigned for school.
Now, I read quite a bit of YA comparatively. Otherwise, I read historicals (Eric Larsen), cultural books (Amy Tan), thrillers (Harlan Coben), contemporary (Jodi Picolt, Maeve Binchy), and plenty of LDS books because I know so many authors and I like to support their work.
Me:  Okay, I have to see a picture of your writing space. I'm guessing you've got to have some artifacts from the Middle East or Mesoamerica on your desk or shelves to keep you focused on the time period for your historicals. If not, why not?
Heather:  A couple of years ago, I was demoted, (Me: What? How does an award-winning author get demoted?) and had to move my office into my sewing room. So there are no windows and I frequently sit in other places in the house, or sometimes I go to the library. The best part of my office is a massive Book of Mormon timeline that I had mounted and framed. Otherwise, my office is really a place of stacks of books and paper.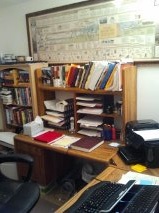 (Okay, if I ever have any questions about what happened in the Book of Mormon and when, I'm calling Heather!)
Me:  Finally, please share your writing process and tell us what you're working on now.
Heather:  This has been a very busy year, writing-wise. I wrote RUBY (Newport Ladies Book Club series) in the winter/spring. Then I worked on a co-authored manuscript with my dad, THE DIVINITY OF WOMEN. In the summer, I wrote a short historical romance novella for the anthology: A Timeless Romance Anthology. In July I found out that a novel I'd turned into my publisher was "not" going to be published, so I was given a September deadline to turn in another historical novel. I wrote QUEEN ESTHER in two months. So now . . . I have two upcoming projects that I'm starting soon, a contemporary romance novella for another anthology, and a historical novel on the history of my 10th great-grandmother, who was accused of witchcraft and hanged in Salem, Massachusetts. (Me: I'm excited to read this one. Heather and I share connections to that piece of history.)
(But Heather, you're making us all look lazy! All that AND manage the Precision Group? I'm going to suggest you give my presentation on balancing it all at ANWA's Northwest Writer's Retreat in November. . . Oh wait, you're the keynote speaker there and already have several presentations to give. Maybe I should just change my topic.)
Seriously, this is one busy lady, but if you want to know more about her and her writing, check out her website and her blog. And if you need professional editing, take a look at Precision Editing Group.
Remember, there's only one more week before my contest closes. Leave a comment here for another entry.
Originally posted 2012-09-18 14:04:24.