Autism continues to make news each year, but how many of you know all the autism stories out there?
When my son was diagnosed with Asperger's (an autistic spectrum disorder) back in 1999, I believe the rate for autism was 1 in 120. The rate had already risen to 1 in 100 by the time I began writing A Night on Moon Hill.
Now, it's 1 in 88 nationally. In states like Utah, with the highest risk in the country, it's 1 in 32!
This means that practically every family in America is touched by autism in some form, whether directly or through friends or relatives. So where are all the stories?
Many are online. When my son got his diagnosis, that was the first place I looked for understanding and comfort. I highly recommend sites like Autism Society, Treating Autism, and Letters to Our Children With Autism. There are many more besides these. For visual stories of autism, check out Stories of Autism.
Hundreds of terrific memoirs have been written by high-functioning autistics or parents of children with autism. Those on my own bookshelf include: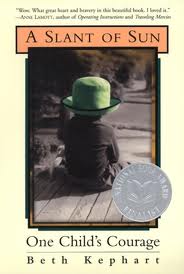 Nobody Nowhere by Donna Williams
Beyond the Wall by Stephen Shore
Pretending to Be Normal by Liane Holliday Willey
A Slant of Sun by Beth Kephart
Finding Ben by Barbara LaSalle
Currently, Amazon lists 346 biographies and memoirs about autistic children or adults.  The Autistic Me has an insightful posting about reading such memoirs. (In fact, he has a lot of wonderful postings in general concerning autism.) In his posting, he also mentions other memoirs.
What is most interesting to me is all the fiction that has begun to weave autistic characters into the storyline. Besides my own book, The Boy in the Pool (due on bookshelves by September), there are quite a number:
The Curious Incident of the Dog in the Night-time by Mark Haddon
The Civil Wars of Jonah Moran by Marjorie Reynolds 
Daniel Isn't Talking by Marti Leimbach
The Kindness of Strangers by Katrina Kittle
A Rock and a Hard Place by Anne Sutcliffe
Tilt by Elizabeth Burns
Eye Contact by Cammie McGovern
A Wild Ride Up the Cupboards by Ann Bauer
Confidential Sources by Barbara Fischkin
With the Light: Raising an Autistic Child by Keiko Tobe
Casey's Wall by Linda Rich
Keeping Keller by Tracy Winegar
Wish by Melina Gerosa Bellows
Dark Eye by William Bernhardt
For Whom the Minivan Rolls by Jeffrey Cohen 
A Farewell to Legs by Jeffrey Cohen
As Dog Is My Witness by Jeffrey Cohen
Al Capone Does My Shirts by Gennifer Cholodenk
Rules by Cynthia Lord
Nobody's Perfect by Marlee Matiln and Doug Cooney
A Corner of the Universe by Ann M. Martin
The Speed of Dark by Elizabeth Moon
Riddle Child by Annelie Botes
Death of a Thousand Cuts by Barbara D'Amato
Broken As Things Are by Martha Witt
Family Pictures by Sue Miller
Paper Fish by Tina De Rosa
I gathered the above list from a list on Amazon (by beatlebangs1964), a list on Library Journal (by Lisa Jordan), and another list on Library Journal (edited by Neal Wyatt). If these aren't enough to keep you satisfied, check this list of Fiction Including Autism.
In any case, just as the incidence of autism continues to rise, so do the number of stories, both real and fictional.