This past week, we had our driveway torn up because of cracking and appearance issues.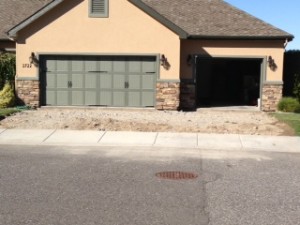 We discovered, in the process, that the pipe for the sprinkler system had been placed just under the concrete surface where it was likely to bear the most weight and wear down.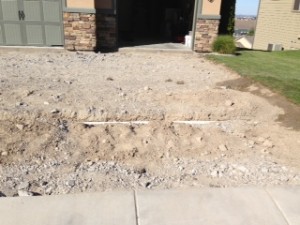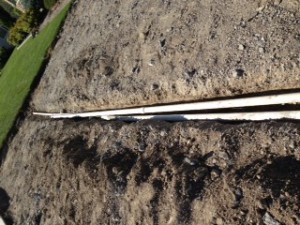 So before the new driveway can be poured, a trench needs to be dug and a new pipe fitted to lie more deeply under the ground.
Brian, the guy doing our new driveway, explained that you've really got to watch out for builders cutting corners and getting away with it simply because it's out of view. As he put it, "They come in here ready to pour concrete and they don't care what's already there. They're just going to cover it up."
Writers can't be like that. We may be ready to pour out a whole novel's worth of words, but we've got to make sure we've laid the proper foundation first. Why? Because our readers will hold us accountable. Particularly when it comes to mysteries, suspense, and thrillers. We have to place certain clues in the right places and in the right ways (there, but not too obvious) and we also have to be sure and include red herrings to keep things complicated enough. After all, our readers are going to be tearing up our "driveways" as they devour our stories and there had better not be any unacceptable surprises.
What kind of driveways are we constructing in the first place? Asphalt? Concrete? One made out of block pavers? It's pretty easy to tell the difference between all three.
But where do you draw the line in terms of genre between mystery, suspense novel, and thriller?
Author and former literary agent Nathan Bransford came up with these distinctions:
Thrillers have action
Suspense has danger, but not necessarily action
Mysteries have mysteries (something you don't know until the end)
Still confused? I am. After all, I think THE BOURNE IDENTITY and THE DA VINCI CODE has all three elements.
Another agent, Jessica Faust, says there are three different kinds of mysteries: the cozy (usually involving an amateur sleuth and not too many bloody bodies), the mystery (grittier and darker…definitely more blood), and the suspense/thriller (the darkest of the three…more about stopping a killer than solving a crime). Check out her explanation here.
There's a fascinating post by novelist Janet L. Smith describing the conclusions of suspense master, Alfred Hitchcock:
Suspense has no relationship to fear

It's the state of waiting for something to happen
Therefore, the viewer or reader must be informed of an awful, impending event in order to be held in suspense, rather than merely surprised when it happens
Smith points out that a mystery, on the other hand, "is a novel of revelation, with action more mental than physical." In this case, the audience is not kept informed.
And here's one final analysis by Maeve Maddox.
Let's say Mystery is Asphalt, Suspense is Concrete, and Thrillers are those driveways built with block pavers. What kind of driveway do you specialize in, and why? Please let me know in a comment below. I'm interested to find out which is most popular these days.
Originally posted 2013-07-22 17:40:31.