(NOTE: If you haven't yet heard about the contest I'm running through September 24th, go here to see the entry details, as well as the 50+ different prizes, and please think about entering. After all, there's no limit on number of entries and there are many ways to enter. If you've already entered, remember that leaving a comment about this interview earns you yet another entry!)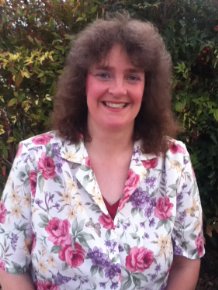 Monique Bucheger is an author best known for her "Ginnie West Adventures," a middle grade series set out west and aimed particularly at girls (though Ginnie West, the main character, does have a twin brother). She got as far as the top 5% in Amazon's Break Through Novel Award Contest with an excerpt from one of her books in the series.
Me:  What about your childhood influenced the kind of fiction you write today?
Monique:  Many people feel like misfits within their own families. Dysfunctional families have always existed and are entertaining to watch, but not so fun when you have to live in them. In the 70's, it seemed that dysfunctional families became the new "normal"–especially in literature. There doesn't seem to be any turning back. The weirder, the more horrific, or more tragic . . . the better.
And yet, several decades later, I think people want to see families pull together when life gets rough. Life is hard enough when people behave well, but I've heard many unhappy, discouraged people wish for a better family life. I think the Wests provide that–even for just a few hours, while people read my books. Who wouldn't love a cool dad who actually listens to you when you need him or who takes you go-carting when you are trying to set him up on a date? Or an uncle who "gets" you when you are so unlike the rest of your family? (Me: Okay, I think that's a clue to her childhood there.)
One comment I hear often is readers feel like when they visit the West farm, they are spending time with good friends. The West family has experienced much tragedy, but at the end of the day, each member of the family knows they are welcome to come home. I explore dark themes in my books: child abuse, death, abandonment, peer pressure, overwhelming fears. I also explore what it looks like to have healthy friendships, struggling to find courage to make hard choices, and staying true to who you are or who you want to be.
My goal is to deal with these true life subjects in a way that empowers and uplifts my readers, making them stronger and more able to deal with trials and conflicts in real life.
Me:  Tell me some of your favorite memories from your own middle grade years.
Monique:  I loved recess–making up and acting out stories with my friends. Creating worlds where anything could happen. Where wonder and imagination ruled the day. Think Bridge to Terabithia. I was Leslie, concocting exciting characters and exotic settings out of dirt, trees and grass–worlds out of swing sets–don't walk on the sand–it's really made of lava. The top of the slide was a castle, the sandbox: a cave. In high school I took a creative writing class and started writing down my stories.
Me:  When and why did you start believing you could be a writer?
Monique:  My high school creative writing teacher was my first writing cheerleader. At 18 and 1/2, I married my best friend because I wanted to. We are still married 27 years later. My creative writing teacher was the only one to protest, saying: "You're too smart to get married so young." When I asked her why, she predicted that if I got married, I would have a bunch of kids and never write my books. Twenty-two years later, I had 12 kids and no books written.
Today, I wouldn't change having the kids, but I do wish I had written more. (Me: This, I understand . . . I, too, got serious about my writing way later than I should have.) One day, after I watched her astronaut son fly off in a space shuttle, I kept hearing her ask: So when are you going to write those books? For months the question haunted me. Then I remembered what a fun character Ginnie was and started writing her story.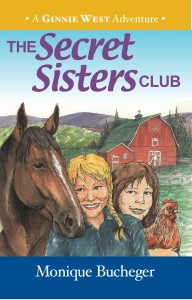 Me:  Please describe your writing process and how Ginnie West would do it differently.
Monique:  I used to figure out a scene in my head and repeat it over and over, memorizing every line each character would say before I wrote the scene. Then I took some plotting classes and learned about character arcs, conflict, and weaving a story together. Now I start a new book with an idea and a rough outline, and try to write a couple query-like paragraphs before I get too far into the book to clarify each character's arc and go from there. I usually start each chapter with an idea of what I want to happen and then start typing. Sometimes I end where I planned and sometimes Ginnie hijacks my efforts and I end up in a whole different place. Almost always, her way is better. :D
Ginnie doesn't give many things much forethought. (Me: Of course not. Does any adolescent?) She might ponder the assignment while riding her horse, but after putting off the assignment until the last possible minute, she would come up with some fantastical idea and make it work. Her imagination is limitless. 'Can't' and 'no' aren't words that exist in her personal dictionary.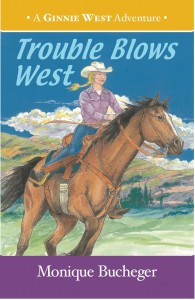 Me:  Where and how do you manage to write with 12 children running around?
Monique:  I usually write in my room while trying to be available to my kids if they need me. If I have a deadline, sometimes I hide at a restaurant and try not to feel guilty about it. (Me: Hmmm . . . I wonder which restaurant?) Next year will be the first time all of my children will be in school full time. I am looking forward to some guilt-free writing time.
Me:  Have some of them now grown up and gone off to college or on missions?
Monique:  My three oldest daughters live elsewhere. One is married, one has a good job, and the third is in an intense educational program. My oldest son is serving a mission for our church and my second oldest son is preparing for one. My baby turns five in December.
Me:  What led you to become a foster parent?
Monique:  I had an aunt who was a foster mom. As a teen, I loved babies and writing, probably in that order. I always wanted a bunch of kids. Fostering seemed to be a good way to do what I loved and help my corner of the world.
Me:  Have you considered writing any other genre? If so, what and why?
Monique:  Yes. I am taking a lot of writing classes and everyone I know writes fantasy. I used to read a lot of fantasy and like the idea of writing stories with magical or fantastical elements in them. For now, though, I am expanding my 'slice of life' stories. I am finishing up a family drama about a 19-year-old who inherits his 3 teenage brothers and kid sister, as well as the family ranch, when his parents come back from their second honeymoon in caskets. It's called RYDING THROUGH TROUBLED WATERS and should be availabel by Thanksgiving.
Me:  When will you know you've truly made it as a writer?
Monique:  When a reader gains courage to do something they didn't think they could. Ginnie is an impulsive person with her heart in the right place. Ginnie doesn't care much about policies, but she cares deeply for her friends and family. She never intentionally breaks a rule, but doesn't mind going around or through them when someone she loves needs help. Her best friend, Tillie, starts out a timid girl who was abused and abandoned by her birth father. Ginnie gives Tillie courage to face her fears and become more than Tillie ever thought she could be. Tillie is also a stabilizing force for Ginnie. The two complement each other nicely, as well as Ginnie's twin brother, Toran.
Me:  Finally, which was the better ranch–The Ponderosa ("Bonanza") or the Barkley ranch ("The Big Valley") and why, or am I just showing my age here?
Monique:  I am too young to remember. :D
(Me:  Okay, I'm officially embarrassed . . . and old.) 
The ranches I remember well are South Fork ("Dallas") and the Walton Homestead or farm community of Walnut Grove ("Little House on the Prairie"). The 'family' feel of the Waltons and the Ingalls comes through in my books. My first contract offer came because Ginnie reminded the publisher of Ramona Quimby from Beverly Cleary's series. Ginnie has also been described as a hybrid of Pippi Longstocking and Tom Sawyer. She resonates as a modern day Laura Ingalls or Jo March, as well. A more contemporary example would be Merida from Disney's "Brave"–she has all of the spirit and attitude–minus the flaming red hair.
Ginnie's adventures will continue to explore tough modern day issues while embracing a strong, loving family. The Wests aren't perfect, but they are dependable.
Look for the third book of the Ginnie West Adventure series–SIMPLY WEST OF HEAVEN–to be available this fall. If any reader wants signed copies of Monique's books, she promises to give them a good deal if they simply email her at monique(dot)bucheger(at)gmail.com. You can also read more about Monique on her blog.
Originally posted 2012-09-15 16:37:21.