(NOTE: If you haven't yet heard about the contest I'm running through September 24th, go here to see all the prizes and details and please think about entering. After all, there's no limit on number of entries and there are many ways to enter. If you've already entered, remember that leaving a comment about this interview earns you another entry!)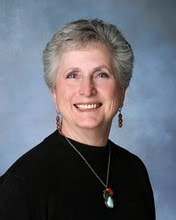 Full disclosure: Liz and I have become very good friends since we got together to form a small critique group a couple of years ago, so if I come off as a bit irreverent during this interview, please understand that I can't help myself. That's why I'm grateful to have Liz in my life. She is always a lady and sets the example I try to follow. She has led a varied and interesting life, as you will learn below.
Liz has been writing seriously since 1989–mostly mysteries and romantic suspense–but we're all grateful that she heeded the inner call to pursue a story from her own family history and penned COUNTING THE COST (more about that later). Not only did it win her the 2009 Whitney Award for Romance, but it was a finalist for the Willa Award and Arizona Publisher Association's Glyph Award! She recently became chair of the board of directors for LDStorymakers. Her latest novel, COLD RIVER, is on our prize list.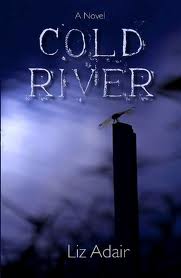 Me:  Of all the places you've lived–New Mexico, Wyoming, Alaska, Utah, Arizona, Washington, etc.–which do you return to most in your dreams? Or are your dreams in entirely different places? Or do you even remember your dreams?
Liz:  I don't remember my dreams, much. I dream in narrative, though, and sometimes I'll wake up after a particularly riveting story and think, "Dang, I'm good."
Me:  I happen to know you've held a variety of jobs throughout your life. Could you give us a quick rundown? And which provided the best fodder for your writing?
Liz:  My first job was in Alaska when I was 14. I worked at the Knik Drive In, Home of the Huskyburger. Later, I did the clerk-typist thing for the Bureau of Reclamation and kept books at an auto parts store during college, and then taught school for several years. I had a small wholesale bakery that the kids and I ran, and I've worked in construction management for the last fifteen years. It's all fodder. I used my teaching experience for COLD RIVER, but my construction experience informed Spider Latham's character. He was a man who worked with his hands.
Me:  Tell us about your writing process in the voice of either Heck Benham, the handsome cowhand, or Ruth Reynolds, beautiful city girl, in your Whitney Award-winning novel COUNTING THE COST. (I'm just trying to help you along in your current writing…consider this a writing prompt.)
Liz:  Well, my writin' process is kinda like punchin' cows. You gotta stick in that saddle, and rope and hog tie those phrases that come trottin' outa your imagination. It's long, lonely, dusty work, and sometimes at the end of the day you've just got a hole in your jeans where your backside hit the chair to show for your work. But you keep on, 'cause that's what you do.
(Well done, Heck!)
Me:  Tell us which moniker you prefer privately–Just Liz, Mother Earth, Business Mogul, or Literary Lady–and why. (I'm not making this easy for you, am I? But hey, I left out Storymakers Queen Bee, so you should feel fortunate.)
Liz:  I guess 'Just Tudy' would suit me fine. It's a nickname, the name I grew up with and preferred. (Elizabeth was soooo stuffy.) But in college we had 2 Judys in our apartment, and adding a Tudy made for more confusion. My roommates declared that I MUST become Liz. So I did. I have to admit that once I finally grew up, I kinda liked my given name.
Me:  Of all the characters in your books, which most closely resembles the love of your life, your husband, Derrill? Details please. (You may never want to do an interview with me again. LOL.)
Liz:  Oh, I freely admit that Spider Latham is Derrill. I've had men that read the book wonder how I could write so convincingly from the male point of view, and I can't count the women who have said to me, "I just love Spider latham." I had one say so just the other night. How are they alike? Hmmm. Derrill is a problem solver. So is Spider. Spider's a deep thinker–so is Derrill, but both can poke fun at themselves. Growing up in a small town where generations of family have been reared has grounded them both. They know who they are, and it gives them an inner strength.
Me:  I'd ask about your writing space, but that wouldn't be fair since you've only just moved into a new house in Southern Utah. So, instead, please describe your car and how well it might serve (or not) as a temporary office. (Also, please provide a picture, because if you don't, I'll post the one of you on the ATV.)
Liz:  My car is hugely impractical, I know. I drive a Mazda Miata and love it. It keeps my life interesting and helps on the budget because my Costco trips are limited to what I can carry home. As far as using it as an office–I do carry my Alphasmart with me in my purse in case I find time to write.
Me:  What are you working on now in terms of your writing (whether in the house, your car, an internet café, or on the ATV)?
Liz:  I'm rewriting COUNTING THE COST. Christine Thackeray worked with me on a screenplay for it and said that it wasn't really Heck's story, it was Ruth's, and it needed to start with Ruth, before she came to New Mexico. So that's what I've been doing lately. I'm also working on a romantic suspense that has illegal aliens, flying cars, dynamite, and a terrific car chase.
(Hmmm. No doubt she's conducting some actual research on the car chase in her Miata. I wonder how tough the cops are there in Kanab?)
Me:  Finally, as the new chair of LDStorymakers, how would you describe the organization and your vision for its future?
Liz:  I am so excited about LDStorymakers and what is happening there. The organization is peopled with writers dedicated to helping those who have a literary bent learn the craft. I believe that as we help good writers become better, more and more LDS writers will find themselves in the national–and world–market. My vision is that LDS writers will tip the scales towards good in the eternal 'good vs evil' scenario.
I tend to agree. If you want to learn more about Liz and her books, please check out her blog. And if you're down around Kanab, Utah, watch out for a bright red Mazda Miata. ZOOM, ZOOM!
Originally posted 2012-08-27 06:00:29.