Josi Kilpack's Tres Leches Cupcakes is being released the first week of September and to kick it all off, she's announced a contest.
In conjunction with the release of Tres Leches Cupcakes the author, Josi S. Kilpack, and the publisher, Shadow Mountain, are sponsoring a contest for free books. To enter, leave a comment in the comment section of this blog before September 16th, 2012. Winners will be announced and notified September 17th 2012.
For additional ways to enter, go to www.josiskilpack.com, or keep reading below.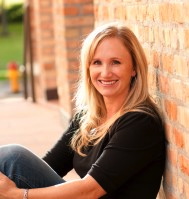 Josi's a terrific writer and if you haven't yet tasted her culinary mystery series (or Daisy, her contribution to the Newport Ladies Book Club series), you've been skipping more than dessert!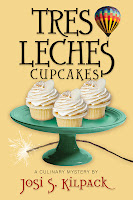 Backliner:
For Sadie Hoffmiller, going undercover as an informant for the Bureau of Land Management on an archeological site in Santa Fe, New Mexico, seems like the perfect way to stay safe and busy while a threat against her life remains unresolved. Sadie's days are spent digging up artifacts in the middle of nowhere while also digging up information on her fellow "dirt geeks." With the help of her baking prowess—no one can resist those amazing dulce de leche bars—and Pete's cousin, Caro, who takes to the detective work wholeheartedly, Sadie is finding herself again.
But the bright Southwestern sunshine only serves to illuminate the danger that lurks in the shadows. When recent burials are found on an ancient site, Sadie finds herself in the middle of an unexpected—and unwanted—investigation. The more she digs for the truth, the more secrets she uncovers—secrets that people would kill to keep hidden.
Before Sadie knows it, she's arrested for starting a bar fight (which was totally not her fault), her new friend is missing, and she's worn out her welcome in Santa Fe in more ways than one. A trip to the annual hot air balloon fiesta in Albuquerque is supposed to give her a break, but before long, she learns that when you're dealing with the black market antiquity trade, you're not really safe anywhere you go.
Contest Details
Three books are up for grabs to start the contest.
For every 50 entries (not including existing newsletter recipients) another book will be added to the pot.
No limit on number of entries.
No limit on how many books can be won by any one person.
The winner can choose any book in the Sadie Hoffmiller series, including Tres Leches Cupcakes.
Winners will be drawn via Random.org on September 17th.
Books will be signed and shipped anywhere in the US and Canada.
How to Enter (multiple entries encouraged!)
I'm too far away to attend a live event (unless she happens to come up here…hint, hint), but the rest should be a piece of cake…that is to say…cupcake!
Originally posted 2012-08-17 13:36:38.