Present word count of WIP:  57,034 (I know, I need to get writing again!)
Since this is my first posting about writing software, I may as well begin with my personal favorite: Scrivener.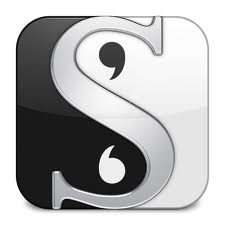 Originally created for Mac users (which I am), it's now available for regular PCs, as well, and it's very reasonably priced ($45). In fact, The Writer's Store is offering a special deal on it ($35) until August 6th, though it's currently on backorder.
What's so great about it?
All in one place, you can write, structure, and revise.
It helps you organize, whether you like to outline first or do it later.
You can keep all your research for any given project in one place.
Once you've finished revisions, it helps you prepare your manuscript for submission or self-publishing (even exporting to ePub or Kindle formats)
Personally, it's been terrific for the fantasy series I've begun. I've mapped out each volume of the series (with broad strokes to begin with) and, as I come across information that will be useful in terms of research, I can plunk it down in my series bible, tying it to the appropriate volume(s) . . . or, if it applies to the volume I'm currently working on, I can put it in a file right there.
What have been your experiences with Scrivener, both good and bad? Is there a particular writing software program you'd like me to review?
Originally posted 2012-07-23 12:45:51.