I've begun drafting my Beirut story and it's certainly pulling up a lot of memories. Here are some visual clues to the neighborhood in Ras, Beirut where I'm setting my novel. (I think I'm going to have to create a link in my menu for Beirut Photos.)
While the family in my story is fictional, the street they live on–Rue Manara–certainly isn't. Those of you who know French may have deciphered the first word (rue means "street" in French…Lebanon was a French protectorate from 1920 until sometime in the 1950's). The second word, manara is Arabic for "lighthouse."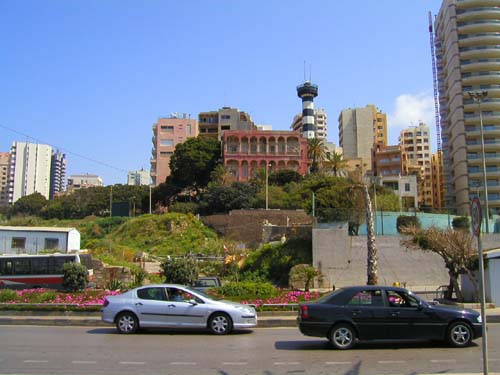 About a hundred years ago, this is what the same area looked like from a different angle (thanks to a website titled Al-Mashriq run by a fellow ACS graduate) You'll notice the Pink House existed that long ago, as well: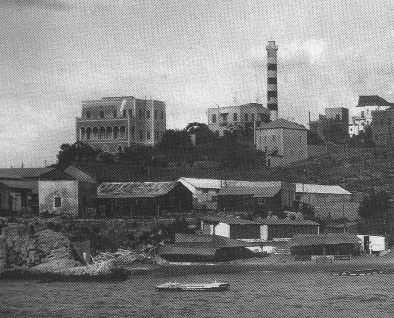 If you go to Beirut today, you won't find the black and white striped lighthouse in operation any longer. Indeed, it was supposed to be torn down to make room for the city's reconstruction program, so it may not even be there. It's sad, really, for the same family had operated that lighthouse since it was first built back in 1850.
As for the pink house, I've been trying to pin down its origin. Even while we were living there in an apartment overlooking it, we heard all kinds of rumors (some not so savory) about what went on within its walls. I can't believe it's still standing. It certainly needs a paint job. Before the civil war, its walls were a much deeper and freshly painted pink.
This is what it looks like more recently:
This
travel blog
photo's source is TravelPod page:
Day 6: Beirut – Mont Liban – Tannourine – Beirut
Originally posted 2011-06-02 17:32:48.