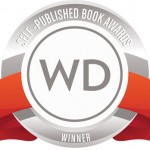 This morning, I'd planned on posting my next piece in my Publishing's Paradigm Shift series, but I'll save it for tomorrow, since I have big news to share:
The Reckoning won 1st place for Mainstream/Literary Fiction in the 2010 Writer's Digest International Self-Published Book Awards!
Not only will I receive $1,000 check, but my book will get featured in the March/April issue of Writer's Digest next year AND I'll finally get a real official review in Midwest Book Reviews. Hopefully, this will bump up sales. Naturally, I'm floating around today (and not because of my head cold).
My only question now is…do I add an addendum to my publishing history on those queries I've already sent out for my next book? And how best do I do it? I think I'd better ask Agency Gatekeeper or Rachelle Gardner. They're always open to questions from their readers.
Originally posted 2010-11-18 10:47:36.